By now everyone knows the story behind Nokia (NYSE:NOK): It made a titanic shift in strategy by dumping its in-house Symbian platform in return for a deal with Microsoft (NASDAQ:MSFT). Apple (NASDAQ:AAPL) and HTC turned into hungry sharks circling bait in the ocean, ravaging the company and stealing market share. But we may be at an important reflection point regarding the stock.
Let's be honest: This was a bad quarter. Mobile phone sales fell, inventories rose, and operating cash flow fell on a year over year basis. Apple just passed Nokia as the leading smart phone manufacturer in the world despite having no presence in the low end of the market. The stock is looked at as toxic with a significant number of investors unwilling to give the company even a cursory look.
However, Nokia continues to have a large installed global sales base that will be mobilized in full force when the Windows phones arrive in the fourth quarter of this year. In the months leading up to the launch, there will undoubtedly be a large PR campaign, as this launch is not just crucial to Nokia but also to Microsoft's future in the smart phone space.
In the past few months, I have called Nokia a short, but now that the stock has cratered there may be a short-term trading opportunity here. Looking at the technical chart for a moment; there is a huge gap between $6 and approximately $8 that needs to be filled.
[Click to enlarge]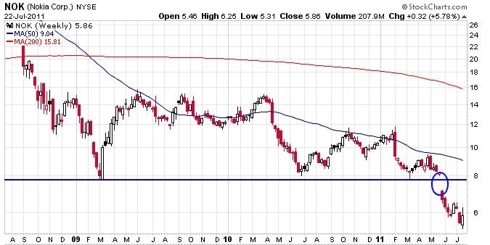 Hearkening back to last year, when BP looked as though it was finished as a company for the Deepwater Horizon disaster, the stock price bounced back and investors who were willing to kiss the pig at the bottom were well rewarded. Nokia, in my eyes, appears to be in a similar situation. The bad news is already priced into the stock and there appears to be a chance for strong gains later this year, as the news flow turns positive and the Windows phones are released. Investors willing to add some risk to their portfolios may find themselves well rewarded come the end of the year.
Disclosure: I have no positions in any stocks mentioned, and no plans to initiate any positions within the next 72 hours.