The value game has been a hard one to play in recent markets. Like many, I have been staying in growth stocks, letting the trend be my friend, as the adage goes. But though the value hunter in me has laid dormant for some time, he is always waiting for an opportunity to return. The following four stocks, all currently undervalued with impressive price performance over the past week, and all with significant analyst confidence, could be that opportunity.
Highpower International, Inc. (HPJ), with a focus on reducing our carbon footprint and exploring the new energy cause, is a developer and producer of rechargeable Nickel Metal Hydride and Lithium-ion batteries used in digital devices, wireless communications, household appliances, medical equipment, and transportation. The past year hasn't been very kind to this company's income statement nor its stock price, which was brought down to $1.24 in June, a new 52-week low. But things look to be turning around. Regardless of the recent financial miss, the company has experienced a continual increase in annual net income from $2.01 million in 2008, to $4.44 million in 2009, to $6.04 million in 2010. The stock has yielded a 7.14% return over the past week and a significant 48.85% return over the past month. Highpower International Inc.'s stock is now trading around $1.95 and has a current analyst recommendation of one strong buy with a price target of $4.00, giving us an upside potential of 105.13%. With recent, impressive price performance and significant analyst confidence it appears that investors and analysts alike are beginning to take notice of this stock.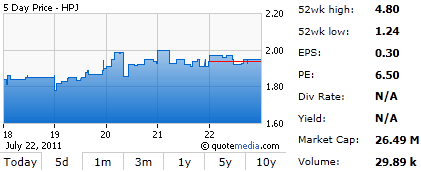 Valence Technology, Inc. (VLNC), with a focus on safe and long lasting energy solutions, manufactures, markets, and distributes their trademarked U-Charge® Lithium Iron Magnesium Phosphate (LiFeMgPO4) battery modules, command and control systems, and monitoring accessories. These products are used in applications ranging from hybrid and full electric vehicles to wheelchairs to robotics to remote power and many areas in between. Like Highpower International, Inc., Valence Technology, Inc. has also experienced a significant drop in stock price, from its 52-week high in January of $1.84 to its 52-week low of $0.70 earlier this month. But recent price performance and analyst opinion gives us a glimmer of hope. The past week treated investors very kindly yielding a 24.27% return. The stock is now trading around $1.28, 82.86% above the 52-week low mentioned above. Though the company has experienced consecutive annual net losses over the past three years, analysts are still hopeful with one moderate buy and one hold recommendation. The mean analyst price target currently stands at $3.25, 153.91% above the stock's current price.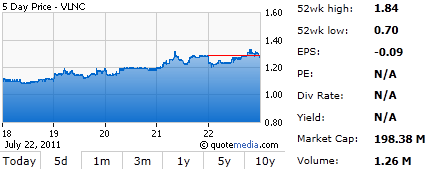 FuelCell Energy, Inc. (FCEL), also with a focus on clean energy, manufactures stationary fuel cell power plants, DirectFuel Cells®, that electrochemically produce electricity from hydrocarbon fuels, such as natural gas and biogas. These DirectFuel Cells® also give value by reducing emissions of pollutants such as nitrogen oxides and sulfur oxides. Like Valence Technology, Inc., FuelCell Energy, Inc.'s stock has yielded a dismal return this year, -36.80% return year to date (YTD). The stock has fallen from a 52-week high of $2.41 at the beginning of the year to a new low, albeit not a 52-week low, of $1.26 just last week. In similar fashion, the stock has also experienced consistent net losses over the past three years. But analysts, with five strong buy recommendations and one hold recommendation, are still confident. The mean analyst target price is currently $3.06, 109.59% above the stock's current price. The stock, like the other two mentioned, also had a good week last week, yielding a 12.31% weekly return. If analysts are correct we may begin seeing a turn around in price performance.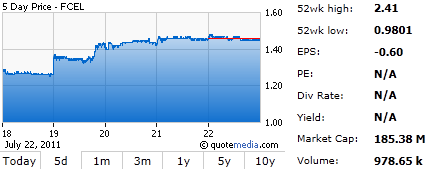 In conclusion, Highpower International, Inc., with its steady income, solid fundamentals, and significant analyst confidence, appears to be the stronger stock of the group. FuelCell Energy, Inc. and Valence Technology, Inc., on the other hand, are a slightly different story. Until the latter two companies begin producing a steady, positive net income I have a hard time seeing eye to eye with analysts' expectations. But, in my opinion, analyst confidence should never be overlooked. Regardless, with each of the three stocks holding over 100% analyst upside potential, they are all are certainly worth a second look.
Disclosure: I have no positions in any stocks mentioned, but may initiate a long position in HPJ over the next 72 hours.