Get out your crystal balls: join several analysts in today's guessing game, giving Amazon's (NASDAQ:AMZN) AWS cloud computing unit a revenue run rate.
Amazon Web Services (AWS) provide companies with an infrastructure web services platform in the cloud. The company started offering these services in 2006, but only recently analysts have started considering the unit worth a closer look.
Back in 2010, Amazon's Chief Executive Jeff Bezos said, at the company's shareholder meeting, that AWS had the potential to be as big as the firm's retail business – giving investors a good reason for some added diligence into its financials.
Unfortunately, Amazon doesn't disclose exact numbers on its AWS revenue stream. These services are included in the "other" category, with miscellaneous marketing and promotional agreements, other seller sites and co-branded credit card agreements. In Q1 2011, this category delivered about $311 million in sales (+65% Y/Y), mostly in North America (see Amazon's latest 10Q, page 18).
In 2010, UBS estimated that AWS would represent roughly $500 million revenues in 2010, about $750 million in 2011 and approximately $ 2.5 billion in 2014.
Cowen & Co.'s Jim Friedland sees AWS being a more than $4 billion business by 2016.
Citigroup's Mark Mahaney recently noted that "on each day, AWS adds enough server capacity to run the equivalent of what Amazon needed when it was a mere $3 billion company in 2000".
According to an article published today by Reuters, Citigroup believes that Amazon AWS services may be reaching a psychological inflection point:
"While still very small for Amazon (likely about $750 million revenue run rate), given the size of the market opportunity and Amazon's strong competitive positioning, we believe that this could soon be a $1 billion revenue segment," Mahaney wrote in a note to investors this week.
Amazon is heavily investing in data center infrastructure. Capital expenditures in Q1 2011 were about $300 million, including investments in technology infrastructure necessary to support AWS. Getting more metrics on this vertical will also be key to fully understand its business model. Here is a related comment taken from today's Reuter's article:
Citigroup's Mahaney said AWS gross margins may be up to four times higher than Amazon's overall margins.

"We'll be listening on the earnings call for any details on new traction for this segment," the analyst wrote in a recent note to investors.
An indirect way to try to understand AWS growth rate is to look at some data that are disclosed by the company, and related to the number of "objects" that are stored on the service.
At the end of the second quarter, S3 held more than 449 billion objects and processed up to 290,000 requests per second for them at peak times. Here is a quick look at an Amazon blog post reporting these data: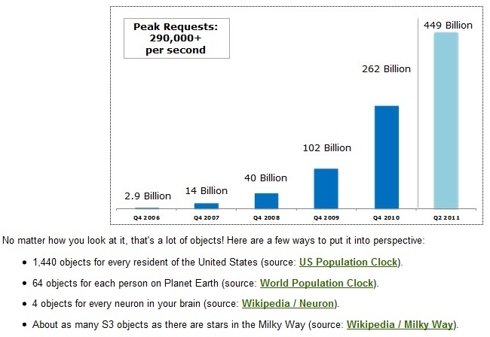 (Click to enlarge)
On June 22, Werner Vogels, AWS's CTO, while giving his presentation at the GigaOm Structure 2011 conference, talked about AWS hosting "339 billion objects, more than doubling the volume from the same time last year, when S3 stored 150 billion objects". While it is impossible to say at what exact date this number was reported, the feeling we get is that Amazon's AWS unit keeps growing at rates that don't seem to be declining at all.
While still an "ancillary" business to Amazon, AWS will be an interesting unit to watch in the future, even if it may be hard to consider Amazon as a proper way to invest in a cloud computing player. We can only reiterate our wish that the company will soon start to break down this vertical better on its balance sheet, in order to allow investors to get more clarity into its business model, including costs, CapEx, margins and growth potential.
Disclosure: I have no positions in any stocks mentioned, and no plans to initiate any positions within the next 72 hours.