While awaiting the latest underwhelming AOL quarterly report and watching yet-another re-org, long-suffering shareholders have a right to wonder whether the company can ever be a success again.
AOL (NYSE:AOL) has been making fools of Seeking Alpha contributors for a long time. Recovery on the way? May be a buy? Bullish options sentiment? Humbug.
AOL's move from circling-the-drain dial-up provider has become a move toward a circling-the-drain electronic publisher; a long march toward oblivion. The February merger with Huffington Post has yet to pay off.
Can this firm ever get its act together? It could, by taking some very simple steps.
First, ditch its tech platform. Most of it is ancient. Hire someone like CapGemini or EDS to take over, get rid of all those people and all that expense. Aim for a single platform that can run on a cloud, like Amazon's (NASDAQ:AMZN) EC2, Microsoft's (NASDAQ:MSFT) Azure or someone's OpenStack. That will let AOL serve any number of users, and minimize losses when no one shows up.
Savings from that will take time to appear, so how about a name change? AOL actually has a niche in the online market – women aged 25-42. They like AOL, and many love Huffington Post. So dump the whole AOL thing, except as a corporate logo, and make those operations WOL – Women On Line. (Yes, that includes the Patch sites.)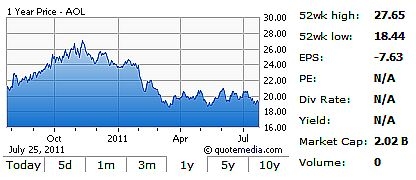 But separate that branding, and everything it represents, from other other holdings. These are AOL's tech publishing unit – TechCrunch and Engadget, your industrial marketplace unit – AOL finance, autos, AOL industry – and AOL's entertainment unit – Moviefone, streaming, AOL Music. (Change the names of the vertical-market and music units too, while you're at it. The company should change it to something that will remind no one of who owns them. No one knows AOL owns TechCrunch. (Sorry if you know now.)
Put entrepreneurial publishers in charge of all four units. Measure their performance. Invest on whoever is growing faster. Dump the rest.
AOL is going to save money and get smaller through this, so it should make a run at ComScore (OTCPK:SCOR). The great secret of electronic publishing is it's just publishing, only with lower costs. It's about creating markets around a place, industry, or lifestyle, and bringing buyers and sellers together. The key to that is information is telling sellers what they should be selling and how to do a better job of selling it.
When I started in this game 35 years ago, that was what it was about. A magazine publisher could tell an advertiser what percent of his market subscribed to your particular pub, and what they were like. So could a newspaper publisher. Somehow, American journalism has forgotten that. Its job is making markets, not telling stories, not doing "the news." The news is the sizzle – information is the steak.
Tweak the platform so AOL can deliver this information to the folks who sell to AOL's audiences. Have it do the job that used to be done by fulfillment back in the day. AOL should mine the data, help people move merchandise, and they'll be happy to give AOL a taste of their cash flow. If AOL is really doing the business, it will be a very big taste. Everyone will be happy.
I don't care what AOL is writing about. I don't care about Beyonce, or Obama. What I care about when looking at a publisher is profits, which come from making markets, moving merchandise. Period.
AOL should do that or get out of the business.

Disclosure: I have no positions in any stocks mentioned, and no plans to initiate any positions within the next 72 hours.