The crash in the price of oil (NYSEARCA:USO) is yielding uneven economic benefits. Retail and other consumer oriented companies are doing quite well, while oil service companies (NYSEARCA:OIH) are getting crushed. REITs (NYSEARCA:VNQ) have broad economic exposure, and it is worth investigating to see which will benefit and which might actually be oil service companies in REIT clothing.
American Realty Capital Properties Exposure:
One of the most controversial REITs recently has been American Realty Capital Properties (ARCP). Leaving aside the accounting and management controversies, it is instructive to evaluate ARCP's potential exposure to the drop in oil prices. A slide from its September presentation shows that ARCP may have disproportionate exposure to Texas, which may be negative: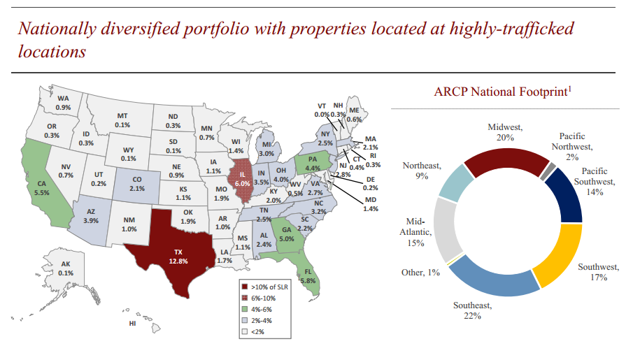 However, while 12.8% exposure to Texas is higher than any other individual state, it is still a small portion of the overall company. There is no evidence that Texas represents a higher than 12.8% economic exposure to the company, as retail and restaurant properties in places like California and Florida probably generate higher rents and earn disproportionate profits versus such properties in Texas.
This is further validated by the types of tenants, most of which in the top 10 are not highly exposed to boom and bust cycles. If anything, most of these businesses in the vast majority of the areas ARCP serves will benefit from a lower price of oil: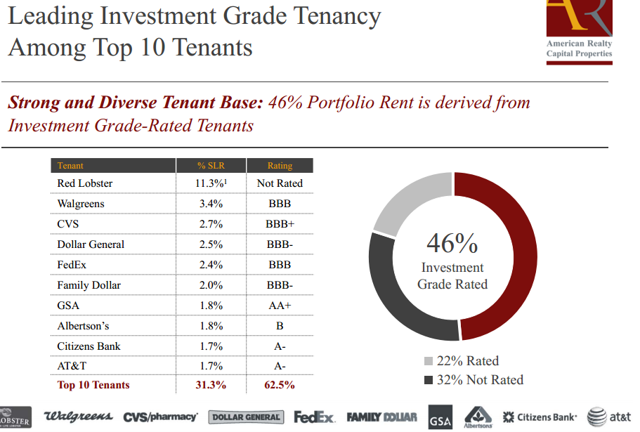 Simon Property Group:
Simon (NYSE:SPG) is one of the largest REITs, with a market cap in excess of $60 billion. Simon primarily owns shopping malls, which are economically sensitive and also are direct beneficiaries of lower oil prices. Lower cost gasoline increases driving trips by consumers to places like to the mall. And fortunately for Simon, its geographic exposure to places like Texas is quite limited, making it likely that the net impact of lower oil prices will be beneficial for Simon: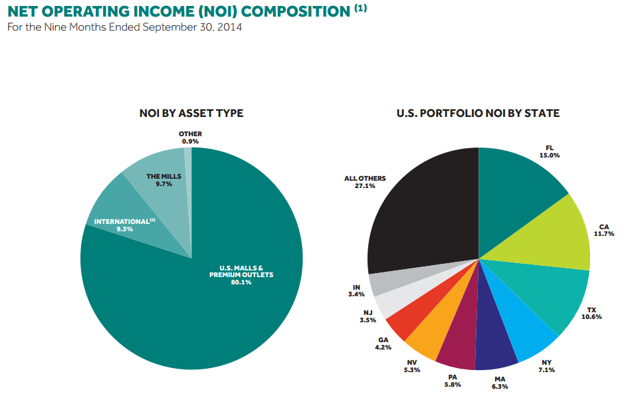 Simon is one of the largest REITs and ARCP is one of the most controversial. One company that is in the lodging space but is not a REIT, La Quinta (NYSE:LQ), has disproportionate exposure to lodging for oil companies and is worth further investigation. Below is a map of La Quinta's properties, with properties in close proximity to oil fields circled in red. La Quinta may be the most like an oil service company in the guise of a REIT / lodging C-corp.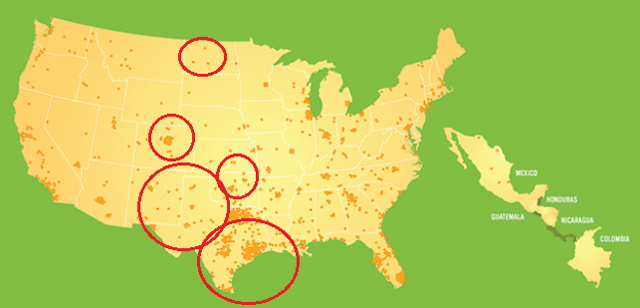 Disclaimer: Opinions expressed herein by the author are not an investment recommendation and are not meant to be relied upon in investment decisions. The author is not acting in an investment adviser capacity. This is not an investment research report. The author's opinions expressed herein address only select aspects of potential investment in securities of the companies mentioned and cannot be a substitute for comprehensive investment analysis. Any analysis presented herein is illustrative in nature, limited in scope, based on an incomplete set of information, and has limitations to its accuracy. The author recommends that potential and existing investors conduct thorough investment research of their own, including detailed review of the companies' SEC filings, and consult a qualified investment adviser. The information upon which this material is based was obtained from sources believed to be reliable, but has not been independently verified. Therefore, the author cannot guarantee its accuracy. Any opinions or estimates constitute the author's best judgment as of the date of publication, and are subject to change without notice.
Disclosure: The author is short LQ.
The author wrote this article themselves, and it expresses their own opinions. The author is not receiving compensation for it (other than from Seeking Alpha). The author has no business relationship with any company whose stock is mentioned in this article.