Sell CNH Global NV (CNH): CNH is a Netherlands-based global manufacturer of backhoe/skid steer loaders and tractors for the agricultural and construction markets. It is the number one manufacturer of agricultural tractors and combines in the world, the third largest maker of construction equipment, and has one of the industry's largest equipment finance operations. CNH shares were up 11.5% yesterday based on a blow-out June 2011 quarter report in which the company obliterated analyst revenue and earnings estimates, reporting $4.88 billion and $1.33 versus estimates of $4.56 billion and 96 cents.
CNH trades at a forward price-to-earnings ratio (P/E) of 11-12, mid-range based on its historic P/E range. Earnings meanwhile are projected to rise at a 30% compounded growth rate from $2.08 in 2010, to $3.53 in 2012. Among its peers, Deere & Co. (
DE
) trades at 11 forward P/E while earnings are projected to grow at 26% from $4.65 in 2010, to $7.40 in 2012, and AGCO Corp. (
AGCO
) trades at 11-12 forward P/E while earnings are projected to grow at 39% from $2.32 in 2010, to $4.47 in 2012. It appears that CNH is fairly valued based on a comparison to its peers. Analysts are generally neutral on CNH with a mean price target of $51; and of the seven analysts covering the stock, two rate it buy/strong buy, four rate it hold, and one rates it at underperform.

We believe that shares will continue to be range-bound between $35 and the mid-$40s in the short-term, and we would sell into any rally above $45.
Sell Westinghouse Solar Inc. (NASDAQ:WEST): WEST is engaged in the design and integration of solar power systems and panels for residential and commercial customers in the U.S. The company also designs and distributes solar panels with integrated micro inverters. WEST shares were up 23.2% yesterday after the company announced a multi-year supply agreement with homebuilder Lennar Corp. (LEN) to deliver solar power systems to new home buyers as part of its "Everything's Included" program. Under the program, new homes in certain Lennar communities will come equipped with the Westinghouse Solar Power System as a standard feature.
WEST is down 98% from the 2008 pre-crisis peak as the company continues to lose money like it was 1999. Further, revenue growth continues to be anemic as in the most recent March quarter when the company reported $2 million in revenue, which was short of two analyst's estimates of $3 million and below the prior quarter revenue of $3.6 million. We would sell into any strength from this rally. Furthermore, analysts have a mean target of $1.63, slightly above the $1.50 close yesterday; and both analysts covering the stock have a hold rating on it.
Neoprobe Corp. (NEOP): NEOP is engaged in the development and commercialization of gamma-guided surgery products for the diagnosis and treatment of cancers. It is actively developing two radiopharmaceutical agent platforms, Lymphoseek® and RIGScanTM CR, to help surgeons better identify and treat certain types of cancer. Furthermore, NEOP's subsidiary, Cira Biosciences, Inc., is also advancing a patient-specific cellular therapy technology platform called ACT.
NEOP shares were up 10.5% yesterday on news that the Food and Drug Administration (FDA) approved the use of sulfur colloid to locate lymph nodes in breast cancer patients. This approval was based on a literature review of past clinical trials and a comparison to vital blue dye. This lends optimism to the outcome of NEOP's regulatory pathway for Lymphoseek®, which it seeks to market as being superior to sulfur colloid. NEOP plans to submit a new drug application (NDA) for Lymphoseek® in the September quarter, and is optimistic about the outcome as its application will be based not on a literature review as in the case of the recently approved sulfur colloid but based on carefully designed, controlled and well executed clinical trials.
Seven Arts Pictures Plc (SAPX): SAPX is a U.K.-based independent motion picture production and distribution company engaged in the development, acquisition, financing, production, and licensing of theatrical motion pictures for exhibition in domestic (i.e. the United States and Canada) and foreign theatrical markets, and for subsequent worldwide release in other forms of media, including home video and pay and free television.
SAPX was up 235.1% yesterday based on the announcement mid-day yesterday of an agreement with Prodigy Pictures to jointly produce and distribute the motion picture "Neuromancer" based on the best-selling science fiction novel by William Gibson. The agreement is for Prodigy to finance the $60 million budget for "Neuromancer." We believe that shares have over-reacted here to the financing news, and would not be buyers here.
Transatlantic Petroleum (TAT): TAT is engaged in crude oil and natural gas exploration and production in Turkey, Morocco, Bulgaria and Romania. The stock was up 12.8% yesterday on no news, and appears to be just basing at the bottom on high volume after a steep 60% drop from earlier this year.
Altair Nanotechnologies (NASDAQ:ALTI): ALTI is an innovator and supplier of advanced novel, ceramic nano-materials and titanium dioxide pigment technology for lithium batteries and other materials. Its shares were up 15.7% yesterday after the company closed on the investment of $57.5 million by Canon Investment Holdings Ltd. by issuing 37 million additional shares, so that they now own 51% of ALTI. We do not believe that this is actionable news.
ZBB Energy Corp. (ZBB): ZBB manufactures rechargeable electrical energy storage and hybrid power conversion systems for utility and industrial markets. The stock was up 10.5% yesterday on no news.
China Advanced Construction Materials (
CADC
)
: CADC is a Chinese provider of ready-mix concrete and related products for infrastructure and construction projects in China. The stock was up 13.9% yesterday on no news.
(Click chart to enlarge)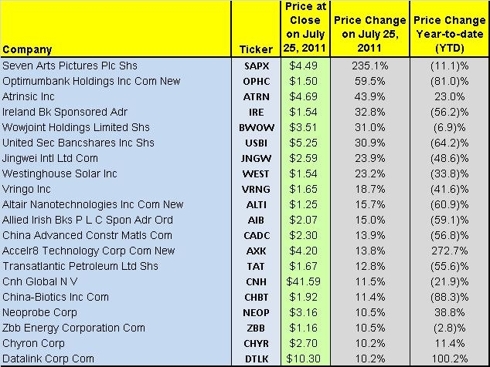 Credit: Historical fundamentals including operating metrics and stock ownership information were derived using SEC filings data, I-Metrix® by Edgar Online®, Zacks Investment Research, Thomson Reuters and Briefing.com. The information and data is believed to be accurate, but no guarantees or representations are made.

Disclosure:

I have no positions in any stocks mentioned, and no plans to initiate any positions within the next 72 hours.

Disclaimer: Material presented here is for informational purposes only. Nothing in this article should be taken as a solicitation to purchase or sell securities. Before buying or selling any stock you should do your own research and reach your own conclusion. Further, these are our 'opinions' and we may be wrong. We may have positions in securities mentioned in this article. You should take this into consideration before acting on any advice given in this article. If this makes you uncomfortable, then do not listen to our thoughts and opinions. The contents of this article do not take into consideration your individual investment objectives so consult with your own financial adviser before making an investment decision. Investing includes certain risks including loss of principal.