A year ago it looked like Bank of America (NYSE:BAC) was coming out from the black hole that so many financial firms had entered during the Financial Crisis. Big name hedge funds even took sizeable stakes in the firm because they were so confident everything was on the up and up. Fast-forward to today and the phrase "you can't get them right every time" couldn't be truer when it comes to this firm.
Bank of America in our view has officially taken Citigroup's (NYSE:C) place as the "black sheep" in the financials group. In the last two months the firm has just taken a beating in the media primarily due to the fact that it lost $9.1B in the most recent quarter, had $20.7B mortgage-related charges, and the CEO still insists it doesn't need to raise capital. Maybe it doesn't but you can't blame people for asking or suggesting the thought.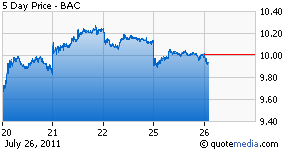 When we look at the picture with Bank of America today we feel that it's gone from a calculated risk to Russian roulette. We rate Bank of America right now a "pass" because in our view the Merrill Lynch acquisition has materially changed the earnings structure, Countrywide has turned into a closet full of skeletons, and greater risk does not entail greater potential return with this name.
A Loose Cannon with Firepower
The Merrill Lynch acquisition without a doubt has materially changed the firm's earnings structure. While the investment-banking arm delivered its strongest performance to date it's still a double-edged sword from our view. Earnings are now more complex in nature and this makes it tougher for both analysts and the firm to have accurate projections of what is ahead.
While investment banking may be getting hotter now one never knows when it might run cold again. Look over at Goldman Sachs (NYSE:GS) and that's a perfect example of what can happen - in that when the times are good they're great but when they're not it's a brutal and cutthroat world. In our view Bank of America from an operational standpoint is now multiple entities under one name.
The firm to date has done a poor job of fully integrating these entities and leveraging internal synergies from an execution standpoint. The jury is still out on the topic of ML, along with its earnings potential, in relation to whether it will become a long-term liability or asset but if things go well it could offer substantial potential down the line.
The Skeletons in the Closet Keep Slipping Out
Countrywide by far has turned into Bank of America's biggest hassle. This was a shotgun wedding from the get go in our view and Bank of America should have taken a bullet in the foot instead of going through with it. We now see the alternative has been the firm getting shot in the foot multiple times. Every time the firm starts to pick up some momentum Countrywide legacy assets seem to rear their ugly heads again. Of course this is on top of the overall mortgage fiasco it is still trying to clean up. It really makes us wonder in what world it ever made sense to pick up Countrywide no matter the incentives and or threats.
Currently the Bank of America estimates a 3% home price drop for 2011 and a 1% increase in 2012. To give you a better idea of the magnitude at hand, with these projections for every percentage point it's off the firm will incur $550M in pretax losses. This only includes put-backs and pre-existing problem loans. To be clear, this doesn't include performing loans that may sour in the future. To say the least we hope the estimates are correct and that the mortgage portfolio doesn't encounter any other substantial bumps along the road.
Conclusion
It now looks as though Bank of America may still have to go through hell and back to get the firm in order. Still, if management has the will and stomach for it then we believe it can be done. After the clouds hanging overhead disappear the firm could offer shareholders real value again from our perspective. With that being said we aren't looking to go along for the ride.
The beauty of being an investor is being able to choose when and how to take on exposure to a company such as Bank of America. In our view the prudent move would be to "pass" on the name until the US economy has more clear momentum and the firm has its house in order with things running smoothly.
Disclosure: I have no positions in any stocks mentioned, and no plans to initiate any positions within the next 72 hours.