In my first article about Cogo Group (COGO) published last week, I documented some specific worrisome facts about Cogo. Among these, the company inexplicably gave away 30% of its largest subsidiary as an employee compensation award, thus giving away $4.8 million of shareholder equity in one fell swoop. Furthermore, this transaction showed that Cogo, based on the company's own internal valuation estimate, is worth far less than the company's current market cap, leading to my $2/share price target. Finally, we saw that the company relies on an unending string of acquisitions to keep revenue growing, and that in at least of these transactions, the CEO owned the acquired party, raising serious related-party transaction concerns.
In this article, I'll show how Cogo's general business is in a general state of decline. Even if the specific red flags raised in my first article don't bother you, Cogo's reported operating results in recent quarters should give you pause before investing in the company. Cogo has seen its results suffer. Its earnings have stagnated, and despite rising revenues, the company is failing to translate the top line into any bottom line results for investors.
Analysts Dropping Coverage Due To Poor Cash Flows
One of Cogo's biggest historical cheerleaders, Ticonderoga Securities, threw in the towel in June of 2011, saying that:
Over the years, we have been among Cogo's biggest fans, as we believed in the long-term opportunity to capitalize on China's growth prospects; however, recent changes at the company, slowing trends in China and our growing concerns surrounding earnings quality is testing our patience. As such, we are downgrading Cogo to Hold.
Ticonderoga also removed its old $14.25 price target and declined to establish a new target. Ticonderoga raised a variety of concerns about Cogo's business, including poor earnings quality, the company's confusing new COGO 3.0 business model (which will be covered in Part 3 of this series), the company's inability to convert pro forma into GAAP earnings, weakening trends in China's handset and consumer electronics markets, and management's inability to effectively communicate with its investors. But the largest concern it raised is the company's inability to generate cash flow. Ticonderoga said that:
Cogo's free cash flow generation over the past nine years has been shockingly poor. For example, we calculate only $15 million in total free cash flow generation between 2002-2010, and the past two years were negative.
Since 2007, COGO's reported net income has been roughly 350 RMB ($54 million) more than its cash flow generated from operations. While the company has reported consistent profits, it has been unable to generate any cash from its business. During the past two years, its operations have been markedly cash flow negative. In fact, the company has recently taken out large loans, with debt rising from zero in 2008 to $76 million in 2010. While the company still reports more than $100 million of cash on the balance sheet, it is starting to borrow money aggressively. Just last week, subsidiaries of Cogo arranged for a new credit facility allowing borrowing up to 50 million additional RMB ($7.7 million). Why is Cogo so eager to borrow money when it reports such a large cash balance?
As investors in numerous Chinese RTOs have learned this year, when a company claims to have a great deal of cash on its balance sheet, and yet it keeps asking for new loans from banks or it repeatedly dilutes its equity, one should suspect something may be amiss. Particularly in the wake of scandals such as the one at China Biotics (OTC:CHBT) where the company went to great lengths to inflate its alleged cash balance, investors must pay close attention to the quality of a company's cash flow. Cogo's cash flows have been weak for many years now, and now the company is plunging head-long into debt.
Finding The Missing Cash: Accounts Receivables To Blame
Where has the cash gone? Much of the discrepancy between net income and cash flow can be found by looking at the accounts receivables and inventory lines of the company's cash flow statement. In the past four fiscal years, Cogo added 496 million RMB ($76 million) to accounts receivables and 178 million RMB ($27 million) to its inventories. One could say that accounts receivables and inventories grow as a company grows; this is true to some degree but this explanation is wholly inadequate in Cogo's situation. For a company with a market cap of less than $200 million, a $100 million increase in accounts receivables and inventories is far too much. And the true increase is even larger than reported. Cogo has been able to obscure the fact that its accounts receivables are rising even more quickly than reported above. According to the company's latest 10-K:
For the year ended December 31, 2010, the Group received proceeds from the sale of accounts receivable amounting to RMB455,437 (USD69,006). (Reported numbers are in thousands, so the total amount sold is $69,006,000.)
Also, 2010 was the first year that Cogo engaged in selling accounts receivables. Cogo has started factoring (selling its accounts receivables at a discount to a bank) some of its outstanding accounts receivables. In doing so, the company sacrifices 1.5% to 3% of the value of the account, and in this case, the bank also retains recourse to dump much of the accounts receivable back to Cogo should they go bad. While Cogo is able to reduce its reported accounts receivable this way, in practice, the financial transaction looks more like a loan than a sale. Without factoring, Cogo would have $69 million less in its bank account, and its accounts receivables would be even more frighteningly large. Since a bank retains recourse, Cogo could end up getting these accounts receivables put back onto its balance sheet if customers end up not paying.
Cogo's turn to factoring raises two possibilities: Either the company is really strapped for cash and needs to sell off its slow-paying accounts just to meet the bills (Cogo's recent move toward taking out large short-term loans supports this notion), or Cogo is losing the ability to collect effectively from its customers. Cogo's on-balance sheet accounts receivables is equivalent to three months of the company's reported revenues, and adding back the factored accounts receivable, we find that Cogo would have nearly two entire quarters worth of sales outstanding as accounts receivables. Cogo's days of sales outstanding (DSO), adjusting for the factoring transaction, have risen sharply since 2007.
Balance Sheet Steadily Eroding
The company's inability to collect from its customers is one large concern, and the balance sheet as a whole is becoming troubling. While the company reports roughly $7.50/share of book value ($265 million in Total Shareholder Equity), much of this is questionable. The company now has $106 million in net receivables (not counting the factored accounts receivables with recourse), $49 million in inventory, and $64 million in goodwill (in my first article, I showed why this goodwill, acquired in questionable acquisitions, is of dubious value and will likely be written down with time).
Add it all up, and you find very little in the way of tangible bankable assets. In fact, in the first quarter of 2011, for the first time, Cogo's accounts payable and short-term debt exceeded its cash and cash equivalents (the company also has "pledged bank accounts" which are listed separately from cash and whose nature seems to not be clearly disclosed in the 10-K; they may or may not be accessible during a liquidity crunch). Given the long lag in Cogo's revenue generation process (it pays its suppliers almost immediately and takes months to collect from customers), Cogo's deteriorating liquidity position should raise concerns.
Competition Leading to Decaying Margins, Falling Net Income
While Cogo appears to have been at one time quite profitable and successful, in recent years, Cogo's business has sharply deteriorated despite rising top-line revenue. Cogo's business model leaves it in an awkward position. It designs technological components for its customers at no charge, and then asks its customers to purchase parts from Cogo. While there's nothing inherently wrong with the business, Cogo is in essence a high-tech middleman. There is little to stop end customers from buying directly from suppliers and skip over using Cogo. Since Cogo's management team has many executives with former work experience at large western technology firms, I'm guessing the company was able to leverage these connections profitably at first, but in recent times, the company has started to flounder.
In fact, after adjusting for one-time events such as a gain related to the acquisition of Cogo's Long Rise subsidiary and changes in bad loan provisions, we find that Cogo's net income fell in 2009 from 2008's level, and it fell further again in 2010 from 2009's already-lower level. Please see page six of David Blumin's analysis to see the numbers in detail. I have produced a graphic showing both Cogo's reported income and Cogo's adjusted income using Blumin's analysis below. The graphic shows net income in millions of U.S. dollars with a conversion rate of 6.5 Chinese RMB to the dollar. Data from Blumin and Capital IQ.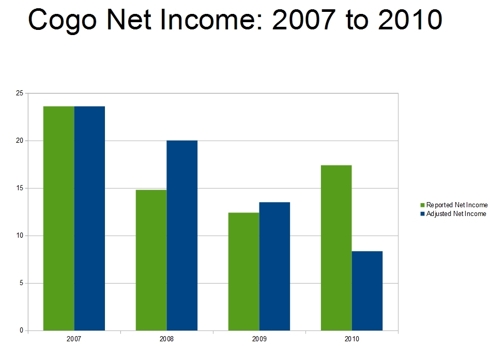 As you can see, net income is steadily falling - especially after adjusting for the impact of one-time events - and Cogo's profit margin continues to fall. It is hard to justify paying 10 times Cogo's trailing earnings when earnings keep falling, particularly as margins have been decimated. Cogo's EBITDA ratio has fallen successively for four years now, from 9.9% in 2007, to 7.6% in 2008, to 5.1% in 2009, to 4.8% in 2010. It doesn't take an expert to see that Cogo's business is in a downward slide. Though it continues to make acquisitions and increase top-line revenue, the business fails to generate positive cash flow, and it is increasingly struggling to make any profit at all. Regardless of how much revenue Cogo generates, as long as the profit margin keeps steadily trending toward zero, the company's performance will continue to stagnate.
Taxation: Yet Another Hazard for Cogo's Investors
A review of Cogo's tax situation raises more concerns. The company is highly vulnerable to rising tax rates, as many of its subsidiaries, having just become profitable, are tax-exempt or face sharply reduced tax rates in their first years of profitability. Many of Cogo's People's Republic of China (PRC)-based subsidiaries (as opposed to its Hong Kong-based subsidiaries) have benefited from extended tax holidays. Seeing how Cogo's margins are already in a sharp and unrelenting decline, seeing its PRC subsidiaries' tax rates rise from 10%, and in some cases even zero, to 25% over the next few years could push the company completely into unprofitably.
Even more troubling, however, is that at least one of Cogo's subsidiaries did not appear to have paid taxes that it owed. According to Cogo's 2010 10-K, for example, Viewtran's tax holiday ended in 2008, and as such Viewtran should have paid tax in 2009. The 10-K stated:
Viewtran PRC and Epcot were tax exempt for 2008 and are subject to income tax at 10%, 11%, 12% and 25% for 2009, 2010, 2011 and 2012 onwards, respectively.
However, a look at Viewtran's AIC filings shows that the company earned a profit of 68 million RMB ($11 million) in 2009, and yet, Viewtran paid no tax whatsoever on its stated profit. This is in contrast to the filing, which suggests that Viewtran ought to have paid taxes in 2009. I have reproduced a translation of the relevant section of Viewtran's AIC filing below:
Something appears wrong here. Did Cogo misstate Viewtran's tax situation in its 10-K, did it fail to pay owed taxes to the Chinese government, or did it overstate Viewtran's profits on the AIC filing? While it's not clear which explanation is correct, any of those possibilities should concern Cogo's investors.
For a Chinese RTO, it makes little sense to pay 10x trailing earnings for a company with declining profitability in a highly competitive business, exploding accounts receivables, and a rapidly worsening liquidity position. And as we've seen in my previous article, there are some very specific red flags related to dubious transactions, related-party dealings, and the recent bizarre giveaway of 30% of the equity of Cogo's largest subsidiary to an unnamed employee that raise even more eyebrows. Add it all up, and it is hard to disagree with the $2 price target that one can derive from Cogo's own internal valuation of its largest subsidiary. I remain convinced that Cogo's stock is greatly overvalued.
Disclosure: I am short COGO.
Additional disclosure: I and researchers who assisted me have short positions in or own options on the equity covered in this article. We stand to gain significantly if the equity of the company discussed markedly declines in price. Following publication, we may transact in securities of the company discussed. To the best of my knowledge, all information in this article is accurate, reliable, and has been obtained from public sources. However, I present the information "as is" and I will not necessarily update or supplement this article in the future. This information is not a recommendation or solicitation to buy or sell securities, nor am I a registered investment advisor.