2014 witnessed a historic drop in crude oil prices. United States West Texas Intermediate benchmark finished the year down 45% and closed at $53.27 on the final trading day of the year. After only twelve days into the new year (as of writing this article), WTI is down an astounding 14.76%, trading just above the $45 level. As oil treads lower, many Wall Street analysts and so-called "gurus" are attempting to pick the bottom and call a reversal in oil prices. Some analysts are predicting oil prices could rebound to the $75-$80 range. The boldest call of all comes from legendary oil trader Andrew John Hall, who sees prices rebounding to $150 in five years!
Saudi Arabian Prince Alwaleed bin Talal recently told USA Today that "we're never going to see $100 [oil] anymore". Well Prince Alwaleed, I would go as far as to say that we may not see oil above $50 for a very, very long time. As many know, oil prices are dictated by supply and demand. It is evident that oil is severely oversupplied, but many also attribute the decline to a lack of demand. I disagree with that. As illustrated by the chart below from the International Energy Agency, oil demand has been steadily increasing.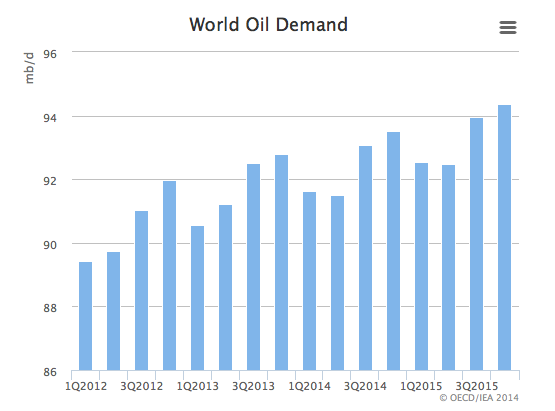 But, with new, innovative technology such as hyrdaulic fracturing and horizontal drilling, acquiring oil has never been easier. The United States is in the midst of a Shale Revolution, drilling oil at unprecedented levels. The following chart shows US weekly crude oil production tracing all the way back to January 1988.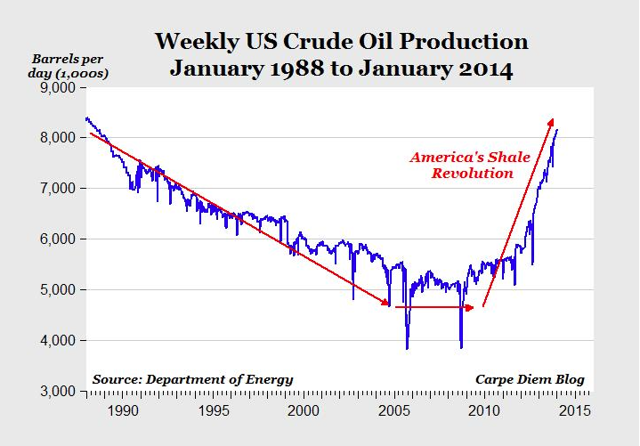 As you can see, US crude oil production has grown exponentially since 2010. The United States, along with the rest of the world, is not yet accustomed to drilling and extracting at such a pace. It is a complete shock, as reflected by the drastically sharp oil declines.
We are now entering a period of normalization where countries must adapt to such low prices. It becomes the survival of the fittest, economic take on natural selection if you may. Those able to profitably produce oil at these low levels will survive. Those unable to will face severe economic headwinds as they strive to discover an alternative absolute advantage.
There is no way to tell for sure how long this "new normal" could last. It mostly depends on the momentum of advancements in the drilling space. If we are able to maintain this unparalleled rate, it could be quite a while for demand to keep pace, especially in an era with a strong emphasis on a shift to renewable energy.
To take advantage of very low oil prices, I would look for stocks with, historically, a negative correlation to oil. What immediately stands out is the iShares Transportation Average ETF (BATS:IYT), which has exposure to U.S. airline, railroad, and trucking companies. Oil is one of the largest expenses of transport companies. Drastically low oil prices could mean huge savings for these companies.
Another name I like is United Rentals (NYSE:URI), an equipment rental company. The company acquired National Pump back in 2011, thus increasing their exposure to upstream oil and gas. As of late, the company's stock has taken a hit due to the lower oil prices. There is no fundamental reason as to why the stock is down this much. If anything, lower oil prices should be very beneficial to the company. In such an environment, energy companies are looking to cut their CAPEX. They may turn to renting, which offers greater savings on their equipment. Being that United Rentals is the largest company in the space, controlling 12% of the rentals market share, URI stand to benefit the most.
Disclosure: The author has no positions in any stocks mentioned, and no plans to initiate any positions within the next 72 hours.
The author wrote this article themselves, and it expresses their own opinions. The author is not receiving compensation for it. The author has no business relationship with any company whose stock is mentioned in this article.