The Japanese yen is pushing higher as optimistic economic data, alongside the positive impact of its safe-haven status lead investors to bid the currency higher. After CurrencyShares Japanese Yen Trust (NYSE:FXY) fell over 16% from July to early December, it has stabilized, trading sideways since then, as is seen in the chart below.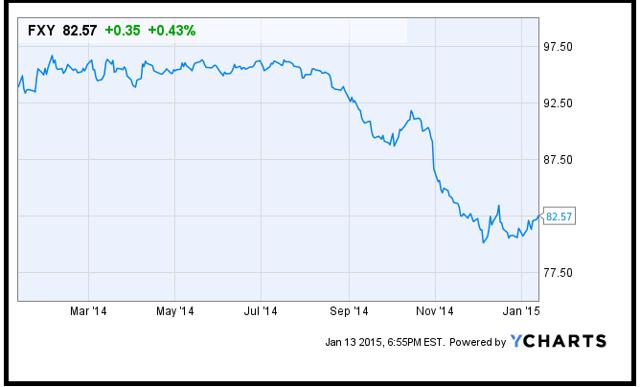 Positive economic sentiment readings in December helped stabilize the Japanese currency. On Tuesday, the Eco Watchers Survey figure came in at 45.2, well above last month's reading of 41.5, as well as exceeding forecasts for 41.5. While the indicator still remains near multi-year lows, it began stabilizing in 2014. The survey is widely watched as it represents a diverse group of "main street" Japanese workers' views on the economy.
"The survey of workers such as taxi drivers, hotel workers and restaurant staff - called "economy watchers" for their proximity to consumer and retail trends - showed their confidence about current economic conditions climbed from November," according to a report by U.K. Reuters.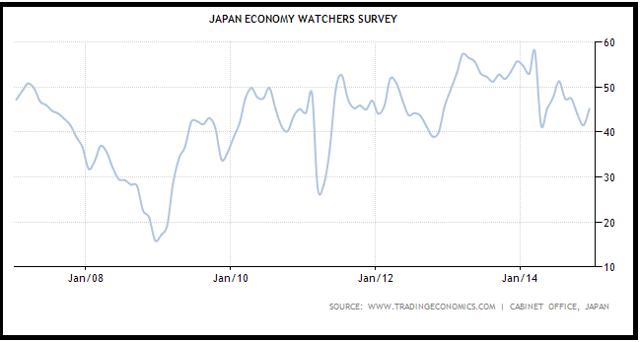 Data provided by Trading Economics.
Meanwhile, global equity markets have become more volatile in recent weeks, pushing money into the yen as it is a perceived safe-haven. The safe-haven status indicates that investors favor investing in the stable Japanese currency when volatility pushes global funds out of more high risk investments.
iPath S&P 500 VIX ST Futures ETN (NYSEARCA:VXX) is up nearly 30% since the beginning of December as investors have become anxious over geopolitical risks in the euro area, as well as the adverse effects declining oil prices have had on many countries and corporations around the globe, as is seen below.
Improving economic data out of Japan, as well as a flow of anxiety-ridden investor funds into the yen have pushed the currency higher in recent weeks. Although the primary trend of the yen is lower, in the intermediate-term, the yen could continue to move higher.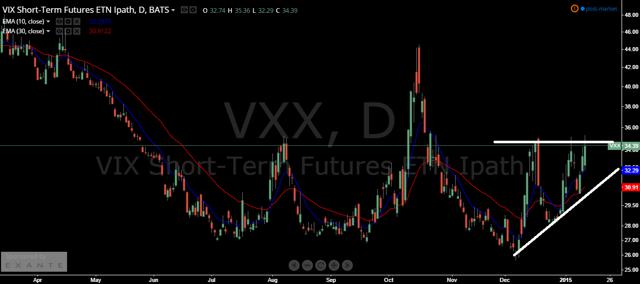 Data provided by Trading View
Disclosure: The author has no positions in any stocks mentioned, and no plans to initiate any positions within the next 72 hours.
The author wrote this article themselves, and it expresses their own opinions. The author is not receiving compensation for it (other than from Seeking Alpha). The author has no business relationship with any company whose stock is mentioned in this article.