Gold for Wednesday, January 14, 2015
Gold has enjoyed the last couple of weeks rallying strongly from around $1170 back through the key $1200 level and to a 12 week high just above the $1240 level. The $1240 level remains key as it has provided plenty of resistance over the last few months and it continues to stand tall presently. At the beginning of last month gold eased lower away from the resistance level at $1240 yet again back down to below $1200. During the second half of November gold made repeated runs at the resistance level at $1200 failing every time, before finally breaking through strongly. Since that time it has returned to back above $1220 before easing lower.
Throughout the first half of November Gold enjoyed a strong resurgence back to the key $1200 level where it has met stiff resistance up until recently. Throughout the second half of October gold fell very strongly and resumed the medium term down trend falling from above $1250 back down through the key $1240 level, down below $1200 to a multi year low near $1130. It spent a few days consolidating around $1160 after the strong fall which has allowed it to rally higher in the last couple of weeks. Earlier in October Gold ran into the previous key level at $1240, however it also managed to surge higher to a five week high at $1255.
In late August Gold enjoyed a resurgence as it moved strongly higher off the support level at $1275, however it then ran into resistance at $1290. In the week prior, Gold had been falling lower back towards the medium term support level at $1290 however to finish out last week it fell sharply down to the previous key level at $1275.
Gold hit a 12-week high on Tuesday as investors sought refuge from turbulence in stock and currency markets after crude oil prices slid to a near six-year low. The gold price peaked at $1,243.60, its highest since mid-October, before retreating as European stocks turned higher and the dollar recovered from an early low. It remained elevated, however, as oil prices languished. Spot gold was up 0.5 percent at $1,238.90 an ounce, while U.S. gold futures for February delivery were up $6.50 an ounce at $1,239.30. Gold has risen nearly 5 percent this month as equities, which were boosted last year by hopes that the U.S. economy was on the road to recovery, have come under pressure. Strength in stocks helped push gold prices down 1.5 percent in 2014. "There is an element of beginning-of-the-year exuberence in gold, carrying over from the relative weakness in the equity markets at the moment," Mitsubishi analyst Jonathan Butler said.
(Daily chart / 4 hourly chart below)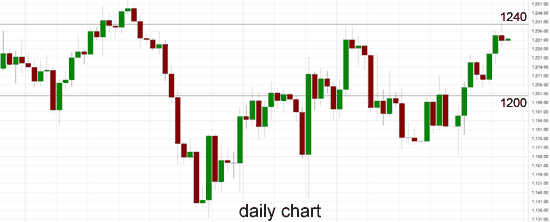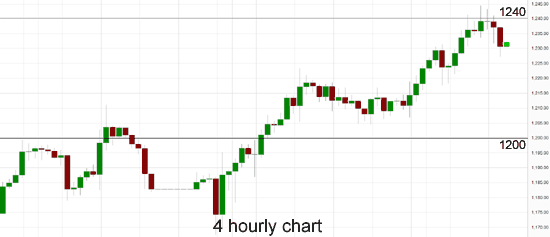 Gold January 13 at 23:35 GMT 1231.8 H: 1244.4 L: 1227.3
Gold Technical
| | | | | | |
| --- | --- | --- | --- | --- | --- |
| S3 | S2 | S1 | R1 | R2 | R3 |
| 1200 | 1170 | 1130 | 1240 | 1255 | - |
During the early hours of the Asian trading session on Wednesday, Gold is trying to rally back to the resistance level at $1240 after easing back from above there. Current range: trading just above $1230.
Further levels in both directions:
• Below: 1200, 1170 and 1130.
• Above: 1240 and 1255.
OANDA's Open Position Ratios
(Shows the ratio of long vs. short positions held for Gold among all OANDA clients. The left percentage (blue) shows long positions; the right percentage (orange) shows short positions.)
The long position ratio for Gold has moved to 50% as it has reached a 12 week high above the resistance level at $1240. The trader sentiment is ever so slightly in favour of long positions.
Economic Releases
23:50 (Tue) JP CGPI (Dec)
23:50 (Tue) JP Key Machinery Orders (Nov)
10:00 EU Industrial production (Nov)
13:30 US Import Price Index (Dec)
13:30 US Retail Sales (Dec)
15:00 US Business inventories (Nov)
* All release times are GMT