UBS AG (NYSE:UBS) has posted a sequential as well as a year-over-year drop in profit in the second quarter of 2011. The company's outlook also remained subdued in light of the new capital and regulatory requirements, coupled with a weakening economic outlook.
The company reported second quarter net profit attributable to shareholders of CHF 1.0 billion ($1.27 billion) or CHF 0.26 per share, down from CHF 1.8 billion or CHF 0.47 per share in the prior quarter and CHF 2.0 billion or CHF 0.52 per share in the prior-year quarter.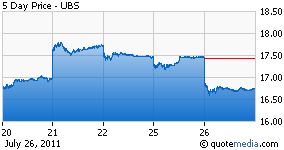 According to management at UBS AG, future returns would be affected and the company's target set in 2009 for pre-tax profit of CHF 15 billion for 2014 is unlikely to be achieved.
The company now targets CHF 1.5–2.0 billion of cost reduction over the next 2 to 3 years and expects to incur significant restructuring charges later this year as part of its effort to instigate cost reduction measures.
Quarter in Detail
Revenues at UBS AG came in at CHF 7.2 billion, down 14% sequentially. Most of its businesses reported lower revenues as a result of the stronger Swiss franc and reduced trading income in Investment Bank's fixed income, currencies and commodities (FICC) business.
However, operating expenses declined 10% from the prior quarter to CHF 5.5 billion, primarily due to lower Group personnel and general and administrative expenses.
We are discouraged to see the decrease in positive flows that UBS AG reported in the quarter. Inflows of CHF 8.7 billion were recorded, compared with CHF 22.3 billion in the prior quarter and outflows of CHF 4.7 billion in the prior-year quarter. Sequentially, inflows were down across all asset gathering businesses.
UBS AG's invested assets were CHF 2,069 billion as of June 30, 2011, down 6% from CHF 2,198 billion as of March 31, 2011 as a result of the strengthening of the Swiss franc, which was partially offset by net new money inflows.
UBS AG experienced an increase in regulatory capital that more than compensated for an increase in risk-weighted assets. The company's BIS tier 1 capital ratio inched up to 18.1% from 17.9% in the prior quarter, while core tier 1 capital ratio increased to 16.1% from 15.6%.
Risk-weighted assets increased by CHF 2.9 billion to CHF 206.2 billion, while the balance sheet stood at CHF 1,237 billion, CHF 55 billion lower than on March 31, 2011.
Outlook
Outlook seems grim with UBS AG predicting no material improvement in market conditions in the third quarter of 2011, principally due to the seasonal decline in activity levels traditionally associated with the summer holiday season.
Investment Bank segment's result before tax is expected to reduce by approximately CHF 100 million before the end of 2011 due to the levy imposed by the United Kingdom on bank liabilities, formally introduced immediately after the second quarter.
It also expects to incur substantial restructuring charges later this year. In the second half of 2011, the company may recognize deferred tax assets that could reduce its full-year effective tax rate.
Competitors
Following UBS AG, the other European banks, Credit Suisse Group (NYSE:CS) and Barclays Group Plc. (NYSE:BCS) are scheduled to report this Thursday and next Tuesday, respectively.
Our Take
The global economic turmoil had a severe impact on the Swiss banking major's balance sheet when the subprime crisis led to record losses.
Additionally, the issues emanating from alleged tax evasion investigation and the dilution of Swiss banking secrecy significantly impacted UBS AG's performance in the past several quarters, as worried clients looked for a safer refuge. Ultimately, the company agreed to transfer details of thousands of clients to the U.S. authorities.
We believe that the volatile capital market conditions will restrict top-line growth at UBS AG. The drop in results in the second quarter 2011 and the company's conservative outlook are discouraging. While the upfront costs with restructuring activities would impact its current results, we believe such efforts would help improve its operating efficiency in the years ahead.