Catalent Inc. (NYSE:CTLT) - Sell or Short Recommendation - $26.75
January 27, 2015, concludes the 180-day lockup period for Catalent Inc.

When the lockup period ends for Catalent, its pre-IPO shareholders, directors and executives will have the chance to sell their 74.8 million shares. The potential for a sudden increase in shares available in the open market may cause a significant decrease in the price of CTLT and open a short opportunity for savvy investors.
Business Summary: Provider of Development Solutions and Delivery Technology for Consumer Health Products, Biologics and Drugs
Headquartered in Somerset, New Jersey, Catalent Inc. provides development solutions and delivery technology for consumer health products, biologics and drugs. The firm's Development and Clinical Services division provides packaging, storage, manufacturing and inventory management services for biologics and drugs in various stages of clinical trials. Additionally, this division offers analytic testing for biologics, regulatory consulting, analytical chemical and cell-based testing, respiratory product manufacturing, and other scientific services.
Its Medication Delivery Solutions division provides development, formulation and manufacturing services for prefilled syringes and other injectable methods of delivery. Its Oral Technologies division develops oral dose delivery solutions, including formulation and manufacturing services for prescription and over-the-counter products. This division offers development, formulation and manufacturing solutions for immediate and modified release hard capsule medications, soft gelatin capsules, fast-dissolve tablets, and other proprietary controlled release products.
Catalent operates its biotechnology, pharmaceutical and consumer health businesses across five continents, in more than 100 markets, and its clients include 48 of the top 50 pharmaceutical companies and 41 of the top 50 biotech firms. They employ over 1,000 scientists, and their global sites package or manufacture more than 100 billion units yearly. They hold over 1,200 patents and patent applications.

For further details, see CTLT's S-1 filings, along with our prior articles here and here.
Fourth Quarter Fiscal Year 2014 Highlights
Catalent reported the following financial highlights for the fourth quarter:
Total revenue reached $519.6 million, an increase of 3% (or 2% on a constant currency basis) from fourth quarter 2013.
Net income hit $27.2 million, representing an increase of 66% from Q4 2013.
Adjusted EBITDA increased to $150.7 million (+ 18% compared with Q4 2013).
Earnings ticked in at $0.36 per share.
The company launched ADVASEPTTM, an aseptic technology for glass-free delivery of injectable drugs.
Catalent also revealed plans to open a lab in Japan to provide proof-of-concept support and feasibility studies for the proprietary Zydis platform.
Global Competitors, Well-Versed Management Team
Catalent faces competition both globally and domestically from other firms in the biotechnology, pharmaceutical and consumer health products and services sectors. They operate in North America, South America, Europe, and the Asia Pacific region, and major competitors include PPD Development, Hospira, Covance, Praxel, and LabCorp.
At present, given CTLT's market performance (see below), the competition is not dragging down the firm, perhaps bolstered by solid management.
President and CEO John Chiminski has served in his position since March 2009. Prior to joining Catalent, Mr. Chiminski held positions for over 20 years at GE Healthcare in operations, engineering and senior leadership roles. From 2007 to 2009, he was President and CEO of GE Medical Diagnostics. Mr. Chiminski holds a BS from Michigan State University and an M.S. from Purdue University, both in electrical engineering as well as a Master's Degree in Management degree from the Kellogg School of Management at Northwestern University. He is on the Board of Trustees for the HealthCare Institute of New Jersey, and also is a director of DJO Global, Inc.
EVP and CFO Matthew Walsh has been in his position since December 2012. Previously, Mr. Walsh was SVP and CFO at Catalent since April 2008. His prior experience includes Escala Group and GenTek. Mr. Walsh received a B.S. in chemical engineering and an MBA from Cornell University. He is a CFA charter holder.
Early Market Performance: Strong Start, Steady Performance
CTLTs IPO priced at $20.50, at the mid-point of its expected price range of $19 to $22. The stock closed on its first day of trading slightly lower at $19.99. However, it has climbed steadily since that time, rising to a high of $29.42 on December 10. Currently, the stock trades at $28.13 (after-market 1.13).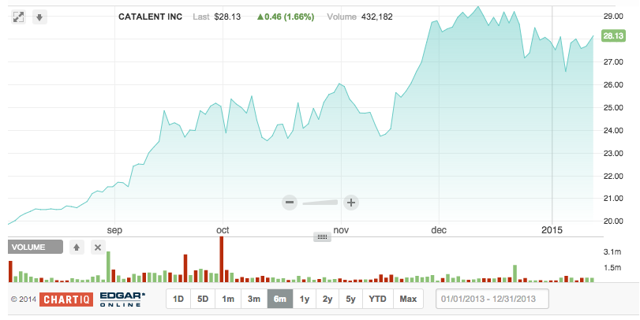 (Nasdaq.com)
Conclusion: Short Opportunity At Hand
Given Catalent's early market success, with a volume of trades at ~400,000 shares/day on average, the firm's major pre-IPO insiders could be ready to get in on the action. (As noted in the introduction, the shares have been restricted from public sale.)
Insiders, including majority holder Blackstone, Genstar Capital, and seven-plus additional executives, directors, and officers, are likely take at least some profits. If this occurs, the extra supply of shares available for trading could effect a significant price decrease. The number of shares initially offered was just ~42 million, while insiders currently hold nearly double that figure at ~74 million.
Our published research has shown negative returns as large as (-5.8%) for IPO lockup expiration plays in the period of days (-11, 9) days surrounding the event day (0). Our updated sample includes 345 companies whose IPO lockup expirations fell in 2013-December 2014. Prior studies from Harvard and Duke Universities, the Univeristy of Kentucky, and NYU support these findings.
We suggest experienced investors consider this a short opportunity.