In this week's installment of highlighting investment opportunities, today, I'm going to cover ImmunoCellular Therapeutics (NYSEMKT:IMUC).
Background
ImmunoCellular Therapeutics is a California-based oncology firm with the lead candidate ICT-107 entering Phase II for patients with a particular form of brain cancer, glioblastoma multiforme (GBM). ImmunoCellular's primary candidate targets cancer stem cells via a dendritic cell-based vaccine platform. The Phase I trial demonstrated strong survival benefits for brain tumors and the Phase II trial, which was initiated in Q1, is expected to run 1 year. The silver lining is that this same platform may also be relevant to Ovarian, Breast and Pancreatic cancers – huge market potential (and unmet medical need). As evidenced by the recent Phase I results, 37.6% of patients remained disease-free after 30 months of treatment. This was encouraging news and has propelled the candidate into Phase II.
Performance
ImmunoCellular Therapeutics, while volatile, has been on the move over various time periods as outlined below:
YTD – Up 65%

1 Year – Up 108%

2 Year – Up 462%
Financially speaking, ImmunoCellular hasn't seen the same burn rate we've seen with some other outfits in the space. For instance, last year the company only spent $5 Million on operating expenses and they've been able to fund clinical trials without issuing loads of new debt. In February, ImmunoCellular did raise $8 Million to take them through additional clinical trials now that there are multiple candidates coming through. The share performance over various recent periods speaks for itself (above).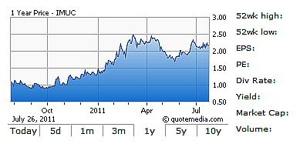 In the News
In March, Dawson James initiated coverage with a Buy rating and a $5 price target followed by a reiteration of an Outperform from Zacks Investment Research in April – Zachs has a $7 price target.
Aside from ICT-107, ImmunoCellular's next candidate is ICT-121 which is a peptide cancer vaccine for glioblastoma and other indications as well. They also have multiple monoclonal antibodies (MAB) which target cancer stem cells and antigens as well.
Upcoming Catalysts
Potential Up-Listing of ImmunoCellular on the NYSE or AmEx Exchanges

Positive interim and final results from Phase II study of ICT-107

Initiation of ICT-140 and ICT-121 clinical trials for ovarian cancer and recurrent GBM, respectively
So, aside from ImmunoCellular's lead candidate and pipeline, other activities that may move the stock further would include major licensing/development deals and/or an outright buyout. As is evident by the pharma index over the past decade, pipelines aren't delivering and cash-rich large pharmas are gobbling up biotechs with promising candidates practically weekly. In the biotech space, takeovers usually command premiums of 40% to over 100% in some cases. There are no specific rumors or talks at the moment, but it's a plausible scenario in the coming years.
Disclosure: This is part of a paid, but independent Research Series on ImmunoCellular Therapeutics. The views and opinions expressed in this Series are purely my own. I have no positions in ImmunoCellular Therapeutics, and no plans to initiate any positions within the next 72 hours.