Shares of ethanol producers have suffered large losses since peaking last September, with price decreases of up to 60% for the period being common for independent producers such as Green Plains, Inc. (NASDAQ:GPRE), Pacific Ethanol (NASDAQ:PEIX), and REX American Resources (NYSE:REX). Shares of diversified producers such as Andersons, Inc. (NASDAQ:ANDE) and Valero (NYSE:VLO) have fared better, although their prices have still fallen by 30% and 15%, respectively, compared to the S&P 500's increase of 0.7% over the same period. The impetus for these movements has been the rapid fall in the price of gasoline since last summer (see figure). Ethanol is used as a gasoline substitute throughout the U.S. and its price often moves in tandem with that of gasoline as a result. The conventional wisdom therefore is that lower gasoline prices translate into reduced earnings for ethanol producers, causing their share prices to move in tandem with the price of gasoline recently.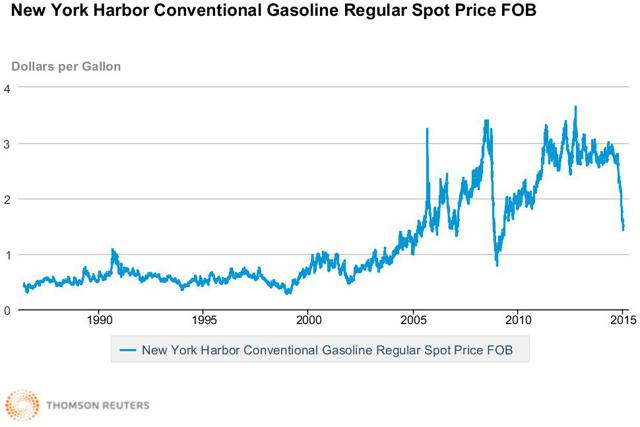 Source: EIA (2015).
One consequence of the fall in the price of gasoline that has received relatively little attention is the revision of short-term gasoline consumption projections upward. Lower prices allow drivers to consume more gasoline without spending more at the pump and, while the rise in fuel efficiency in recent years has mitigated this effect relative to past falls in the price of gasoline, it has still resulted in a rise in consumption volumes. 2014 gasoline consumption, for example, came in at 137.2 billion gallons compared to the Energy Information Administration's [EIA] earlier projection of 132 billion gallons for 2014 in its 2013 Annual Energy Outlook, a surprise to the upside of 4% (see figure). Not surprisingly the EIA is now increasing its projections for gasoline consumption in 2015 and 2016. Its projection for 2015 is now 138.2 billion gallons (compared to its earlier projection of 131.4 billion gallons) and its projection for 2016 is now 137.5 billion gallons (compared to its earlier projection of 130.8 billion gallons). These represent increases of 5% for both years over its original projections.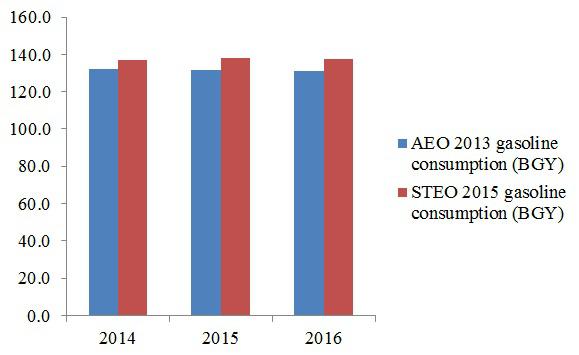 Source: EIA (2015).
Admittedly, a 5% increase in expected gasoline consumption doesn't sound all that notable. What is notable, however, is its impact on the fuel ethanol industry. Ethanol's miscibility with water prevents it from being blended at rates in excess of 10 vol% with gasoline (the Environmental Protection Agency has approved blends of 15 vol% but strong opposition from automakers and fuel retailers has greatly limited its market penetration). U.S. ethanol consumption reached this so-called "blend wall" sometime in 2013. While the wall would be of little concern in a market characterized by rising gasoline consumption, expensive petroleum and improved vehicle fuel efficiency has caused consumption to fall in recent years and, as the previous figure shows, the EIA originally forecast this decline to continue for the rest of the decade. The blend wall has therefore been a major hurdle to the ethanol industry's prospects by facing it with a static share of a shrinking fuel market. At one point the EPA even proposed to make the blend wall a regulatory reality by limiting the ethanol blending volumes required under the revised Renewable Fuel Standard [RFS2] to 10 vol% of original gasoline consumption forecasts, although it has continuously delayed finalizing the rule, leading many observers to believe that it is now considering a larger volume.
Increased gasoline consumption resulting from the crash in petroleum prices is therefore good news for ethanol producers since it drives the volumes permitted by the 10 vol% blend wall higher. The volume of ethanol consumption permitted by the 10 vol% ceiling was 520 million gallons greater in 2014 than it was originally projected to be (see figure). Furthermore, the EIA's new gasoline consumption forecasts indicate that ethanol consumption will be 680 million gallons and 670 million gallons greater in 2015 and 2016, respectively, than would be expected based on the consumption forecasts published in 2013. In absolute terms, these increases represent 13.8 billion gallons of ethanol consumption permitted by the blend wall for both years (compared to 13.7 billion gallons in 2014). E85 (i.e., blends of up to 85 vol% used in modified flex-fuel vehicles) sales are estimated to result in the consumption of at least another 500 million gallons of ethanol annually when the higher blend achieves parity pricing with E10 at the pump, which allows us to anticipate total annual ethanol consumption of 14.3 billion gallons under the RFS2 in 2015 and 2016, up from 14 billion gallons in 2013. This increase is important to ethanol producers despite the relatively small volumes since it represents a reversal of a trend that has been predicted for the last several years.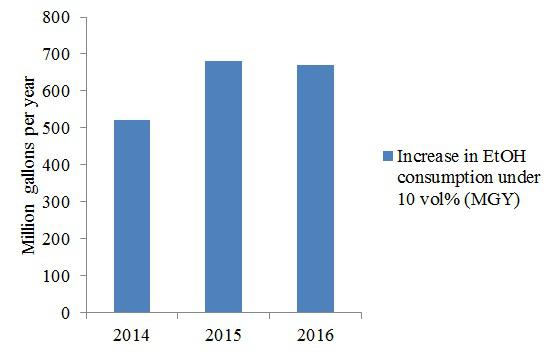 Source: EIA (2015). 2015 and 2016 volumes are forecasts.
This increase in the volume of ethanol consumption permitted by the blend wall is insufficient on its own to offset the earnings decreases that would be seen by ethanol producers due to falling gasoline prices. As I recently wrote, however, ethanol prices recently achieved a 6-year high in their premium over gasoline prices (see figure) and I believe this is due to a rapid increase in Renewable Identification Number [RIN] prices in recent months. Greater gasoline consumption will prop up the indirect value of RINs to ethanol producers in the face of declining operating margins by increasing the ethanol volume permitted by the blend wall, which is likely part of the reason for the EPA's decision to release the final blending volumes for 2014 and 2015 at the same time. Ethanol investors should keep a close eye on gasoline consumption trends in the coming year, especially if actual gasoline prices in 2015 are as low as forecast.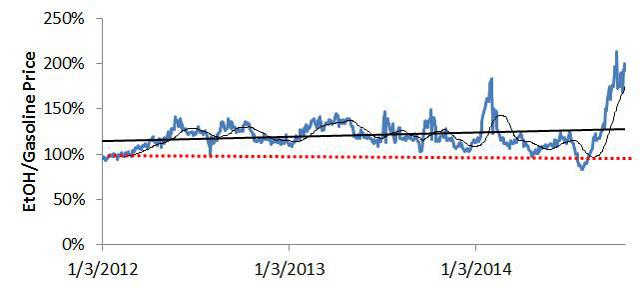 Source: CARD (2014).
Conclusion
Falling gasoline prices prompted gasoline consumption in 2014 to exceed original expectations. Consumption projections for 2015 and 2016 have been increased due to the magnitude of petroleum's price decline and gasoline consumption is now expected to increase in the short-term, interrupting what was expected to be a steady decline for the rest of the decade. The amount of ethanol that can be blended with gasoline at a rate of 10 vol% is now expected to increase as well, with ethanol consumption forecasts for 2015 and 2016 now coming in 680 million gallons and 670 million gallons higher, respectively, than the original forecasts. While increased blending volumes are not sufficient to offset the negative effect on earnings caused by low gasoline prices, the combination of a growing market size and a strong ethanol price premium relative to gasoline will help ethanol producers weather the current storm.
Disclosure: The author is long GPRE.
The author wrote this article themselves, and it expresses their own opinions. The author is not receiving compensation for it (other than from Seeking Alpha). The author has no business relationship with any company whose stock is mentioned in this article.