While the market has been selling, the CEO has been buying. That's the case with Richard "
Dick" Braun, chairman, CEO and president of Medtox Scientific (NASDAQ:MTOX), who recently picked up 10,000 shares at $14.57 per, spending $145,690 of his own money chasing cheap shares after they dropped over 12% in mid-July -- despite the company reporting that its profits grew in the second quarter as demand for drug testing increased.
The company said its net income reached $1.4 million, or 16 cents per share, compared to $1 million, or 11 cents per share, a year earlier. The problem? It missed Wall Street analyst expectations by two cents and the low-float stock moved exactly how a low-floater does.
This is a profitable company with a market cap of $134.83M with
only 8.8 million shares outstanding
(15% held by insiders and 61% owned by institutions). I see this as a bottom bouncer from a technical standpoint as well.
[Click to enlarge]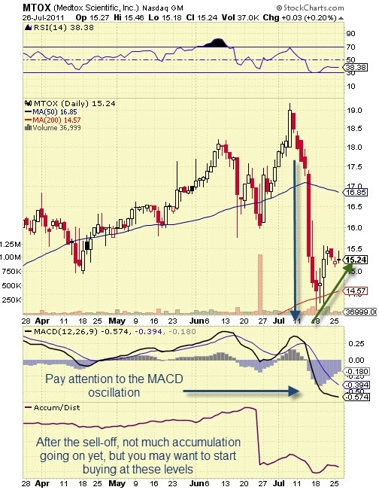 The chart looks like it has hit bottom and is trying to break past some minor resistance at $15.50. If it does, prices could be back at the $16 level where they'll have to get past a bit of stronger resistance. Even at $16, the company looks slightly undervalued. It has cash in the bank, profits and some nice alliances with Cardinal Health (NYSE:CAH), Datatrak International, DaVita (NYSE:DVA), Allegiance Corporation and Spectral Diagnostics ( DIAGF.PK).
The business operates two distinct divisions: Medtox Laboratories, Inc. and Medtox Diagnostics, Inc. Medtox Laboratories provides all required services for human clinical trials to pharmaceutical sponsors. The division has developed over 900 individual assays for use in bio-analytical studies for the pharmaceutical industry. It provides employment drug testing, toxicology reference laboratory services and clinical trials services. It also offers toxicology services such as metals and biological monitoring, which offer testing for a wide variety of environmental and occupational toxins, including heavy metals, solvents, volatiles and polychlorinated biphenyls (PCBs); emergency toxicology, which offers emergency toxicology services 24/7; forensic toxicology; and therapeutic drug management.
Its clinical trials services include central lab services, bioanalytical services and PD markers/specialty testing. Therapeutic areas of experience and supporting esoteric assays include central nervous system, cardiovascular, dermatology, endocrinology, imaging, osteoporosis, oncology, pain management, inflammatory diseases and renal hepatic trials. The company offers criminal justice and rehabilitation services. Its Drug Abuse Recognition System incorporates the latest and most reliable detection system. The company also offers support services such as logistics support, full-service specialty courier specializing in the transportation of medical specimens, etc.
The diagnostics division operates a manufacturing plant for diagnostic drug screening devices. It manufactures 20 FDA-cleared diagnostic drug screening devices for use in corporate, corrections, rehabilitation and clinical trial programs. The company's Profile® line of products is available in either cassette or cup form. It offers screening results within five minutes. Its Verdict®-II utilizes colloidal gold as the detection system in a competitive binding process and are simple to run, easy to interpret and deliver quick, efficient test results. The company's Verdict®-II + LFAS devices are used for criminal justice and rehabilitation services, etc.
Disclosure: I have no positions in any stocks mentioned, and no plans to initiate any positions within the next 72 hours.