Although Caterpillar Inc. (NYSE:CAT) appears to have currently stolen the limelight with its stellar Q2 financials, there remains one competitor that seems overlooked. Joy Global Incorporated (JOYG) defines itself as the global leader in high-productivity mining solutions.
Its primary business units include P&H Mining Equipment and Joy Mining Machinery. P&H Mining Equipment serves more than 90% of the world's surface mines with its robust and reliable shovels, draglines and drilling equipment. Joy Mining Machinery produces underground mining machinery for hard natural resource extraction. These products include roof supports, face conveyors, vehicles and much more. Joy Mining Machinery strives diligently to maintain its position as a global leader in the development, manufacturing, distribution and service providing of this machinery as it has done for over ninety (90) years. JOYG, as a whole, has product and service distribution channels across six (6) continents and more than twenty (20) countries.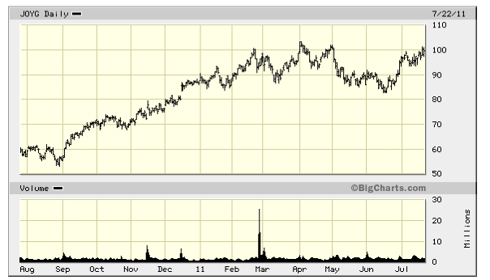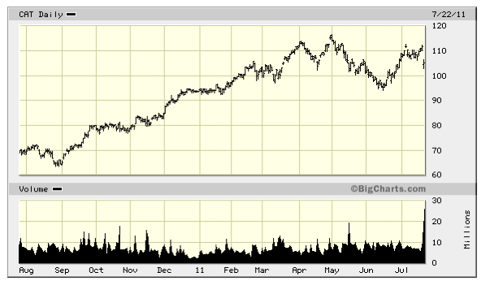 From a critical perspective, since the beginning of 2011, the outlook for JOYG has been "joyful" and quite bright. The company's industrial production and mine capacity climbed over the year-end while the company also successfully closed on a $1.1 billion purchase of drilling and mining equipment business LeTourneau Technologies from Rowan Companies Incorporated (NYSE:RDC).
But where do you fit into the schemata? With the market not giving any consistent signs as to its direction, many investors are seeking a safe-haven in hard assets like copper. Additionally, with the purchase of LeTourneau being strategic to capitalize on the mining of copper and copper's forecasted rise for the rest of the year, we anticipate the stock rising also. The Copper Miner ETF (NYSEARCA:COPX) has historically been strongly correlated with JOYG at 0.96.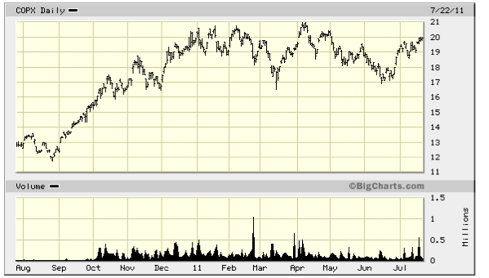 Additionally, exclusive of the acquisition, JOYG has independently exhibited steady year-on-year growth in both net and gross profit margins at 13% and 33% from 11% and 29%, respectively, in 2009. Although it is the smaller company with regard to capital, JOYG surpasses CAT with functioning sufficiency with an operating profit margin of 21% versus CAT's 11% and the industry floating around 8%.
On Friday, July 22, JOYG closed at $99.85. Using modest projections developed in-house for continued growth at the sustainable growth rate of approximately 30%, but quickly moving toward a minimal economic growth rate at around 2%, JOYG has the potential to increase by a minimum of 7% while including synergies and earnings of $815 million with the acquisition over a three-year period. Even if the acquisition is a bust and synergies prove futile, the potential to gain a handsome maximum of greater than 30% within, but not limited to a five-year period if the sustainable growth rate is maintained for a two to three year period is stalwartly probable.
CAT exhibited only a 22.77% growth rate year-on-year - impressive, but a sign of its failing to accurately combat the competition and effectively manage the components between from net revenue and net income. We advocate JOYG as a strong buy for the bright young investor. We recommend that you act quickly.
Disclosure: I have no positions in any stocks mentioned, and no plans to initiate any positions within the next 72 hours.