Buy Unisys Corp. (
UIS
)
: UIS operates as an information technology (IT) company worldwide. The company operates in two segments, Services and Technology. The Services segment provides outsourcing services, systems integration and consulting services and infrastructure services. The Technology segment designs and develops servers such as the ClearPath and ES7000 family of servers, and operating system software and middleware to enable clients to virtualize and automate their data-center environments. It serves the public sector, including the U.S. federal government; financial services; and other commercial markets comprising communications and transportation primarily through a direct sales force, as well as through distributors and alliance partners. The stock was down 12.1% yesterday, and it is down 13.8% year-to-date (YTD). Shares were down on account of the
June quarter report in which the company beat earnings estimates
, reporting 93 cents versus the 83 cents estimate, but came up short on revenue at $937 million versus the estimate of $951 million.
UIS trades at a current 6-7 P/E based on trailing-twelve-months (TTM) earnings, and it also trades at a forward 6-7 P/E, while revenue is projected to fall from $3.78 billion in 2011 to $3.71 billion in 2012. This is a significant discount to its peers, International Business Machines (
IBM
) for example trades at forward 12 P/E while revenue and earnings growth is expected at 5% and 11% respectively, Tyler Technologies Inc. (
TYL
) trades at a forward 28 P/E at projected 9% revenue and 21% earnings growth, and CGI Group Inc. (
GIB
) trades at forward 13 P/E at projected 4% revenue and 10% earnings growth. The company is in the middle of a re-structuring aimed at increasing profitability by reducing labor costs and selling non-core businesses to focus on high-growth areas such as outsourcing, and it is reducing its long-term debt every quarter prompting both S&P and Moody to recently raise its corporate credit ratings. UIS stock is currently in free fall based on the June quarter report, so we would watch from the sideline for now, with the objective of building a position near a dip to $20-$21 range. Analysts have a mean target of $31 on UIS stock, well above the current $22 price; and all three analysts that cover the company rate it at hold.
Sell Wowjoint Holdings Ltd. (
BWOW
)
: BWOW is a Chinese manufacturer engaged in the design, engineering, manufacture, installation and testing of infrastructure equipment and machinery used in the construction of railways, highways, bridges and viaducts. Its main product lines include launching gantries, tyre trolleys, special carriers and marine hoists. The company's shares were down 23.1% yesterday, and they are down 6.2% YTD.
The 23.1% down move yesterday almost completely reverses the
31% up move on Monday that we wrote about earlier
. The 31% up move Monday was on the back of a 106% increase on Friday based on news that the Shenzhen Land Investment & Development Center signed a $0.4 million contract with BWOW to purchase a 50 ton marine hoist. We had indicated in our earlier assessment our belief that BWOW shares were a bit ahead of themselves, and that they could correct very steeply very quickly. We feel vindicated by the strong move down yesterday, and would stand by our earlier assessment that we would stay out of this stock until more significant size sales can confirm the momentum of the company's product sales.
Accuray Inc. (
ARAY
)
: ARAY develops an image-guided robotic radio-surgery system, the CyberKnife system that delivers precise high dose radiation to treat solid tumors. The CyberKnife system combines continuous image-guidance technology with a compact linear accelerator to deliver high doses of radiation to a tumor from different directions. It tracks, detects, and corrects for tumor and patient movement in real-time during the treatment. The stock was down 10.2% yesterday, and it is up 12.3% YTD. The strong move yesterday was on account of the potentially dilutive event announced by the company in the form of a
proposed offering of $75 million in convertible senior notes.
Analysts are generally bullish on ARAY and have a mean target of $12, well above the current $7.58 price; and of the six analysts that cover the company, five rate it at buy/strong buy and one rates it at hold.
Neoprobe Corp. (
NEOP
)
: NEOP is engaged in the development and commercialization of gamma-guided surgery products for the diagnosis and treatment of cancers. It is actively developing two radiopharmaceutical agent platforms, Lymphosee
k and RIGScan C
R, to help surgeons better identify and treat certain types of cancer. Furthermore, NEOP's subsidiary, Cira Biosciences, Inc., is also advancing a patient-specific cellular therapy technology platform called ACT. The company's shares were down 10.1% yesterday, and they are up 37.9% YTD.
The 10.1% down move yesterday was just a reversal of the
10.5% up move on Monday that we wrote about earlier
. That move was based on the FDA approval of use of sulfur colloid to locate lymph nodes in breast cancer patients, and the potential impact of the approval on the regulatory pathway for NEOP's Lymphoseek, for which it plans to submit a new drug application (NDA) in the September quarter. NEOP is optimistic about the outcome of the Lymphoseek application as it will be based not on a literature review as in the case of the recently approved sulfur colloid but based on carefully designed, controlled and well executed clinical trials.
(Click chart to enlarge)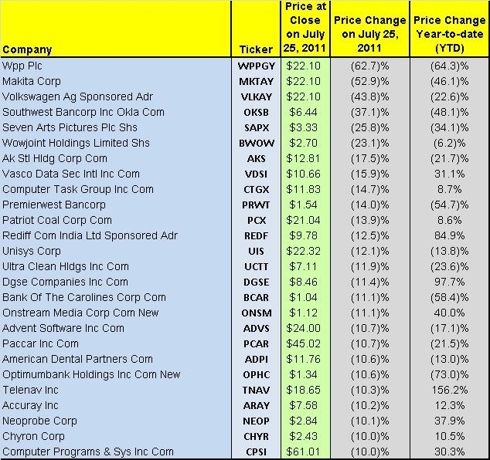 Credit: Historical fundamentals including operating metrics and stock ownership information were derived using SEC filings data, I-Metrix® by Edgar Online®, Zacks Investment Research, Thomson Reuters and Briefing.com. The information and data is believed to be accurate, but no guarantees or representations are made.
Disclosure: I have no positions in any stocks mentioned, and no plans to initiate any positions within the next 72 hours.
Disclaimer:
Material presented here is for informational purposes only. Nothing in this article should be taken as a solicitation to purchase or sell securities. Before buying or selling any stock you should do your own research and reach your own conclusion. Further, these are our 'opinions' and we may be wrong. We may have positions in securities mentioned in this article. You should take this into consideration before acting on any advice given in this article. If this makes you uncomfortable, then do not listen to our thoughts and opinions. The contents of this article do not take into consideration your individual investment objectives so consult with your own financial adviser before making an investment decision. Investing includes certain risks including loss of principal.