Sunoco Logistics Partners L.P. (NYSE:SXL) reported nothing short of a phenomenal quarter Tuesday night, as it announced record earnings and increased its distribution. For the second quarter, net income increased to a record $2.40 a share, up from $1.29 a share a year earlier. Distributable cash flow was also a record, coming in at $106 million, up from $55 million a year ago. Management cited strength in the crude oil segment for the record earnings, helped by "opportunities to capture the contango market structure, [which] led to expansion of our lease crude volumes and margins and high utilization of our services."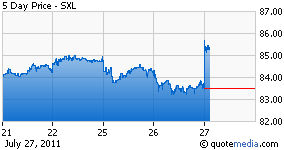 The distribution is being raised to $1.215 per unit for the quarter, marking the 25th consecutive distribution increase. The record earnings pushed the coverage ratio for the quarter to 2.0, a remarkably high number. In addition to the outstanding earnings numbers, SXL announced it will be acquiring Texon's crude oil purchasing and marking business for $205 million, plus inventory. The deal is expected to close in Q3 and will be immediately accretive. Given the record cash flows and very high distribution coverage, Sunoco Logistics Partners is worth a deeper look.
The partnership (pdf) formed by Sunoco (NYSE:SUN) in 2001 and IPO'd in 2002, owns refined product pipelines and terminals, as well as crude pipelines and storage in the US. With pipelines and terminals that criss-cross the US, spanning from the New York City/Philadelphia area, through the Marcellus Shale out to the Great Lakes and into Chicago, then down to the Gulf Coast in Texas, the partnership's assets can move oil and refined products throughout the country. It is currently working to further expand its Marcellus Shale offerings, looking to complete the Mariner West Ethane Pipeline [jointly owned with MarkWest Energy Partners L.P. (NYSE:MWE)] in Q3 of 2012, and the Mariner East in mid-2013. These pipelines will connect the Marcellus Shale to Canada and the Gulf Coast, allowing producers there to move ethane to various markets in North America, as well as to export facilities in the Gulf Coast. SXL is also targeting Q3 2012 start-up of its West Texas Expansion, increasing capacity by at least 100 M/bpd. These organic expansion projects provide investors foresight into future distribution growth, showing that management at SXL is constantly evaluating new ways to grow the partnership's assets.
SXL's distribution growth has been fueled over the years by a combination of acquisitions and organic growth, with more than 20 acquisitions since the partnership came public. It expects to spend between $100-$150 million on organic projects this year, excluding acquisition costs and major projects. Distributions should easily grow at the conservative 6% rate the partnership had given as guidance, especially with a coverage ratio of 2 for the most recent quarter and the recently announce acquisition. Even if the partnership decides not to increase the distribution much more rapidly, the extra capital will be reinvested, adding to growth projects and cutting down on the need for secondary offerings to fund growth. Trading at $83, SXL has a current yield of 5.8%.
With record earnings, a sky high distribution coverage, and good growth prospects thanks to Marcellus Shale exposure, Sunoco Logistics Partners looks like a solid MLP for those looking for both income as well as unit appreciation. While shares are likely to pop on the good news going into Wednesday, investors should wait a few days for a possible equity offering in order to get into the name. I say this because the paragraph announcing the Texon acquisition says the purchase will be funded using the credit facilities "pending more permanent financing," which sounds like hinting at an offering. I think this offering will be a great chance to get into a strong partnership that looks positioned to only get stronger.
Disclosure: I have no positions in any stocks mentioned, and no plans to initiate any positions within the next 72 hours.