There were a great many crosscurrents in the markets Wednesday that resulted in the usual, high levels of volatility. The major averages were set to open lower on the day and after giving up a rally of over 280 points on the Dow Industrial average in the prior trading session only to finish slightly in the red. Prior to the market's opening came earnings reports from two major financial companies and a host of economic data to consider. So Let's take a look at those big bank earnings first.
JPMorgan Chase (NYSE:JPM) announced earnings per share of $1.19 in the fourth quarter of fiscal 2014, compared with $1.30 in the fourth quarter of 2013 and the expected earnings per share during this quarter of $1.31 per share. Earnings per share for full fiscal 2014 came in at $5.29, compared with earnings per share of $4.35 in 2013; good for a 21.6% increase. The company noted a strong, one-time legal expense was to blame for its earnings shortfall, but the market wasn't buying it and the stock fell on the day by roughly 3.5 percent.
Wells Fargo (NYSE:WFC) fared much better during the trading session compared to its peer JPMorgan Chase. After releasing Q4 2014 earnings that met the streets expectations on the bottom line and beat estimates on the top-line, shares only fell by roughly 1.15% on the trading day. Wells Fargo reported net income of $5.71 billion, compared with year-earlier net income of $5.61 billion. Per-share earnings, reflecting the payment of preferred dividends, were $1.02 versus $1 in the same period a year ago. Revenue increased 3.8% to $21.44 billion. Analysts polled by Thomson Reuters expected per-share earnings of $1.02 on revenue of $21.23 billion.
Equity futures did not improve after these two financial behemoths reported earnings. In fact, equity futures continued to descend. The looming effects from the outside reversal in the prior trading session persisted as futures fell greater than 150 points on the Dow Industrials. And then came the December 2014 Retail Sales Report. With gas prices down nearly $1.10 through the holiday shopping period and all that extra money to spend during the gift-giving season, expectations were high.
U.S. retail sales fell sharply in December largely because of cheaper gasoline prices, but most stores posted surprisingly weak results during the busiest month of the shopping season, government data show. Sales at retailers dropped 0.9% last month to mark the biggest decline in nearly a year, the Commerce Department said Wednesday. Plunging oil prices led to a 6.5% drop in gasoline sales, the largest reversal since 2008. And auto sales retreated 0.7% in the final month of the year. Yet even if autos and gasoline are excluded, retail sales fell 0.3%. Wall Street was expecting a strong gain in the 0.3% to 0.5% range. Most retail segments fared poorly. Sales fell for Internet sellers, department stores and retailers that sell clothing, sporting goods, books, electronics, appliances and home-improvement supplies. Among the few retailers to stand out were stores bars, restaurants and stores that sell home furnishings. Sales were also revised lower for November and October. The gain in November was revised down to 0.4% from 0.7%, while the increase in October was lowered to 0.3% from 0.5%. Lower gasoline prices were a big culprit. In 2014, overall retail sales rose just 4%, the smallest increase since the recovery began more than five years ago. Yet sales excluding gasoline rose a somewhat healthier 4.8%.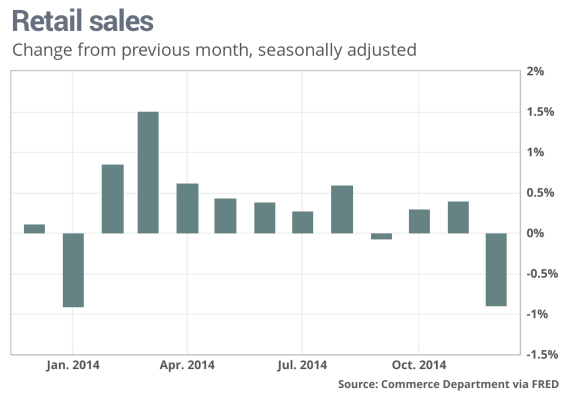 Unfortunately, it wasn't just brick and mortar retailers that took a hit during the month of December. Sales declined for e-commerce retailers, department stores and companies that sell clothing, sporting goods, books, electronics, appliances and home-improvement supplies, according to the Commerce Department report. If you can buy it on-line or in a store, the results showed that sales declined in the retail sector almost across the board.
The only standouts in the December Retail Sales report were bars, restaurants and stores that sell home furnishings. On that note, El Pollo Loco's (NASDAQ:LOCO) CEO was featured on CNBC on January 13th outlining that his company's restaurants were seeing incremental feed through from lower gasoline prices on the consumer spending front.Spending at bars and restaurants climbed 0.8% and continued their upward trend through the last several months of 2014.
All in all, during 2014 retail sales in the U.S. rose 4%, the smallest increase since the recovery began more than five years ago. If we exclude gasoline sales, retail sales rose 4.8%, which is faster than both 2013 and 2012.
With the final, monthly 2014 retail sales report out of the way, the National Retail Federation said holiday sales climbed 4% in 2014. This marked the biggest gain since 2011. This result also fell short of the NRF's estimate of 4.1-4.5 percent for the total holiday period. The holiday period begins in late November and extends through New Year's. This was not the first time the NRF failed to achieve its estimates for retail sales; in fact, more often than not the research firm misses its forecast. I find it odd that the NRF waits, every year, to release their results until after the final December Retail Sales report.
With the highly disappointing retail sales figures and against the backdrop of falling oil prices, the 10 year U.S. treasury note falling below 1.8% and a dismal quarterly report from JPMorgan Chase, equities dropped sharply at the opening of the trading day. It wasn't until the Fed Beige Book came out at 2:00 p.m. est. that equities started to rally alongside both the 10 year U.S. treasury note and crude oil. Crude-oil futures shedded earlier weakness and overcame an increase in inventories to rally more than 5% on Wednesday.
During the trading day, the Dow fell more than 330 points and the S&P (SPX) was well below the all-important 2,000 mark. Fortunately, as crude oil surged, equities followed. By the end of the trading day, the Dow finished off roughly 186 points, the Nasdaq (COMP) finished off roughly 22 points and the S&P finished down almost 12 points to 2,011. It's anybody's guess what tomorrow will bring, but one thing is probably a certainty, there will be continued volatility.
On tap for Thursday are continued earnings results from some big names including Bank of America (NYSE:BAC), Blackrock (NYSE:BLK) and Citigroup (NYSE:C) before the bell. After the closing bell Intel (NASDAQ:INTC) will release their Q4 2014 results.
Disclosure: The author has no positions in any stocks mentioned, and no plans to initiate any positions within the next 72 hours.
The author wrote this article themselves, and it expresses their own opinions. The author is not receiving compensation for it (other than from Seeking Alpha). The author has no business relationship with any company whose stock is mentioned in this article.