With earnings season fully engaged, my focus zeroes in on the stocks I have been bullish on over the past few months in my articles. While I often suggest swing trades or non-directional options strangles or straddles around quarterly reports, I view the following stocks as long-term investments.

When I refer to a stock as a long-term investment, I expect the company to be around 5, 10, 15, 20 years burnin' down the road. In essence, I consider these companies the blue chips of tomorrow. They are the stocks you introduce your kid or grandkid to with one share in a custodial or simple brokerage account. With this in mind, entry price does not matter much because I anticipate massive appreciation from these stocks over the next several decades.

That said, buying stock outright, particularly in high-priced companies, does not work for everybody. Therefore, I often advocate buying LEAPS call options as a way to play long-term gains at a fraction of the cost it takes to buy 100 shares, for instance, of an underlying stock. With this approach, you could always roll your LEAPS into new contracts or use the proceeds from the trade to buy actual shares of the security.

In each case that follows, I also advocate dollar-cost-averaging accounts, particularly if you do not have the means to justify the commissions on small lots at a traditional brokerage.

Amazon.com (NASDAQ:AMZN): I have been bullish on AMZN for some time. Back in early March, I suggested going long when AMZN traded for $166.14. AMZN opened today's session at $224.39 after turning in an earnings report that, once again, inspires confidence in the company's ability to execute. Simply put, unlike your local school district, when Amazon spends money it generates ROI.

More recently, in anticipation of earnings, I suggested using the proceeds generated from selling AMZN puts to buy AMZN January 2013 LEAPS call options. Here's how several attractive AMZN LEAPS looked as the market opened this morning, courtesy of Schwab's StreetSmart Edge trading platform.

Click to enlarge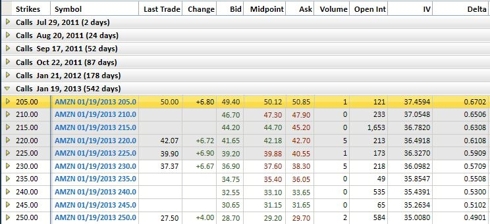 I've said about all I can say about Amazon in my previous articles on the company. Nobody beats this company in terms of innovation and creating seamless synergy across multiple dynamic - and fast growing - revenue streams.

Electronic Arts (ERTS): Not only did Electronic Arts post a sound earnings report, the company shows impressive vision and execution revenue-wise on the social front. Simply put, EA builds franchises. This notion does not differ much from the way Amazon builds loyalty through initiatives such as Prime and Subscribe and Save.

Back in late March, I put forth the possibility of building a media/entertainment portfolio using LEAPS options on two names - future blue chip ERTS and current blue chip Disney (NYSE:DIS).
Executing the Media/Entertainment LEAPS Portfolio with $10,000
| | | | | | |
| --- | --- | --- | --- | --- | --- |
| Contract | Quantity | Entry Price | Cost Basis | Initial Target | Initial Profit |
| DIS Jan 2013 $40 Calls | 5 | $7.65 | $3,825 | $10.00 | $1,175 |
| DIS Jan 2013 $45 Calls | 3 | $5.15 | $1,545 | $8.15 | $900 |
| ETRS Jan 2013 $20 Calls | 10 | $3.70 | $3,700* | $10.00 | $6,300 |
| ETRS Jan 2013 $30 Calls | 7 | $1.02 | $714* | $5.00 | $2,786 |
*Attempt to secure a better price for the ETRS calls

Fast forward to Wednesday morning and here's how that portfolio shapes up just after the opening bell and EA's aforementioned earnings report.
| | | | | |
| --- | --- | --- | --- | --- |
| Contract | Quantity | Current Option Premium (Midpoint) | Current Value | Initial Target |
| DIS Jan 2013 $40 Calls | 5 | $5.10 | $2,550 | $10.00 |
| DIS Jan 2013 $45 Calls | 3 | $2.96 | $888 | $8.15 |
| ETRS Jan 2013 $20 Calls | 10 | $6.58 | $6,580 | $10.00 |
| ETRS Jan 2013 $30 Calls | 7 | $2.21 | $1,547 | $5.00 |
Taking the good with the bad, the DIS call does not look so good right now, as the stock has pulled back about $2.00 since I assembled this portfolio. That said, I'm still bullish on the stock, therefore I would consider adding to this position or just buying the stock on a regular basis going forward.

The massive gains in ERTS, however, more than make up for DIS's laggard performance. I guess that's diversification in action.

Ford (NYSE:F): Like Disney, Ford is one of those blue chips of today that I expect to remain a blue chip tomorrow. Of course, you could logically argue that the company lost and is in the process of regaining blue chip status. Either way, the company continues to show long-term promise despite near-term weakness in its stock price.

Ford beat EPS estimates, but the stock did not react in any meaningful way, making the trades I suggested on the automaker a bit of a yawn. No real harm, no serious foul. I still subscribe to a strategy of selling puts in an effort to get long on a pullback, which could happen to sellers of $13 puts, and using the premium income to partially fund the purchase of F LEAPS call options.

Undoubtedly, this tactic takes a hardline bullish stance that F, the stock, will do what Ford, the company, appears to be doing, and turn things around.

Disclosure: I am long F.