As it stands, Brazil has lagged behind the rest of the BRIC economies for some years in terms of GDP performance, with overexposure to commodity prices derailing the country's competitiveness. However, I wish to argue in this article that Brazil has attractive economic fundamentals compared to more developed nations, and I believe that Brazil will succeed in further industrializing its economy in the coming years through weaning of its dependence on commodities.
Lower commodity prices are no doubt having an impact on Brazil, which is heavily commodity-exposed. In looking at 10-year trends, we can see that prices for coffee, orange juice, soybeans and sugar have all been on the decline since 2011: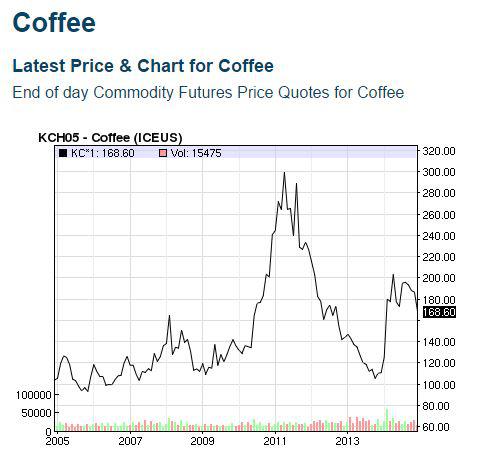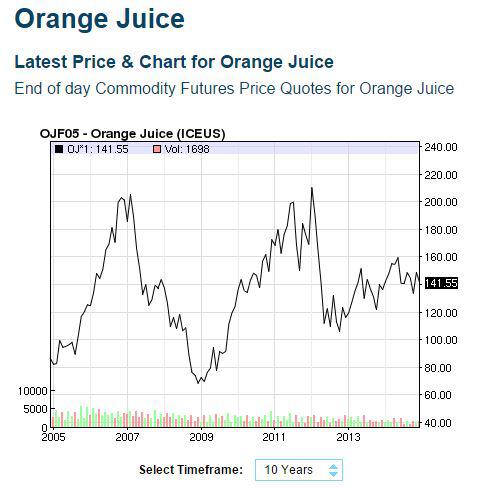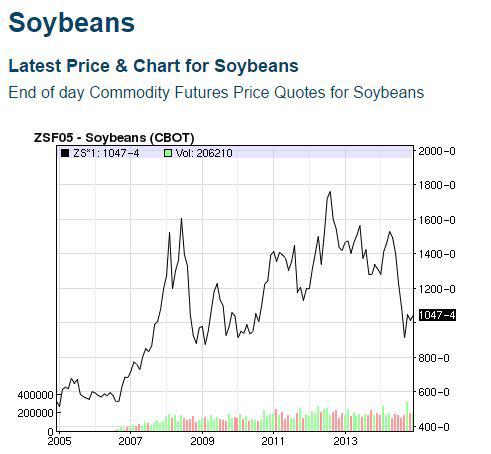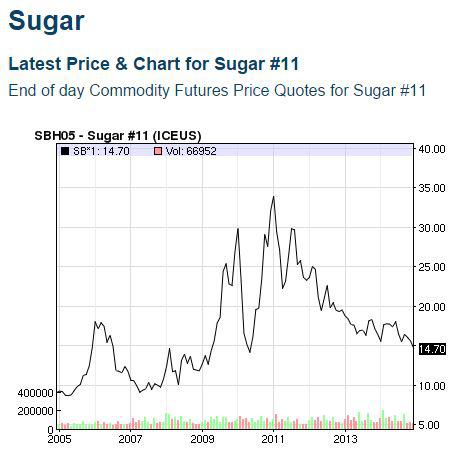 Sources: nasdaq.com
The sugar industry in particular has been problematic for Brazil in recent years. Brazil is arguably the world leader in sugar production, and despite the apparent monopoly Brazil has little control over the global sugar price. For instance, lack of subsidies and low storage facilities means that growers are typically forced to sell sugar at the market price. This is in contrast to a country like Thailand where sugar can be stored and sold when the market price is favourable. This industry is just one example of how Brazil cannot continue to rely on rising commodity prices to bolster economic growth. While having a virtual monopoly over an asset typically allows for a significant degree of pricing power, this is not the case with many commodities.
In addition to sugar, Brazil must focus on easing its reliance on the other commodities to which it has significant overexposure. For instance, Brazil is the world's leading producer of orange juice, manufacturing more than 50% of the world's supply of the commodity. However, according to Quartz, the global annual orange juice consumption is falling significantly. In addition, Brazil exports over 98% of all the orange juice it produces which is problematic given shrinking profit margins. At the very least, Brazil would need to focus on redirecting exports to emerging markets such as China and Russia where orange juice demand is growing, albeit modestly.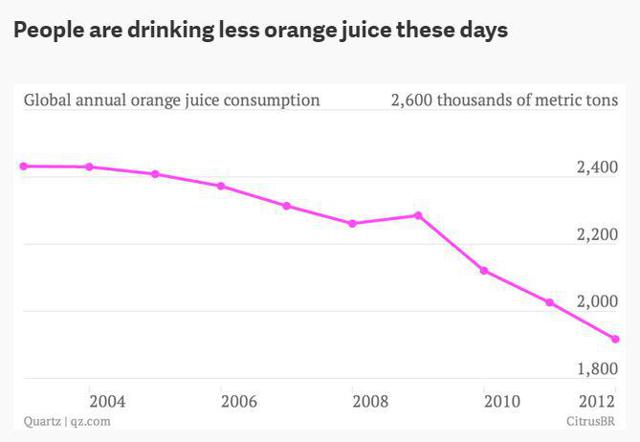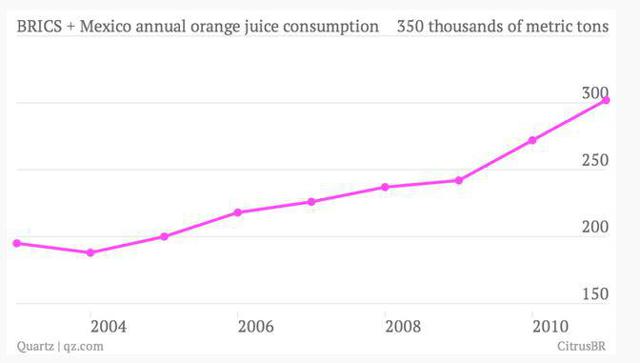 Sources: Quartz
Additionally, coffee is a commodity which is highly weather-dependent and one for which Brazil is the largest producer and exporter. For instance, while coffee had ended 2014 on lower prices due to heavy November rains, return of dry weather along with associated damage risks to coffee trees had sent prices up by 12 per cent. Nevertheless, dependence on a weather-dependent commodity does not allow Brazil to adequately assess its risks in this area.
Finally, there is not much good news in the pipeline for soybeans either. As the second-largest global grower of soybeans, dry weather (which ironically is what has boosted coffee prices) has the potential to affect the growth of soybean crops this year. Additionally, despite the fact that Brazil may only incur a production loss of 2 to 4 million tons, soybean supplies in the United States remain high and significant competition exists in this regard.
Clearly, investors keen on getting in on the Brazilian growth story are in many ways taking a stab in the dark when it comes to growth prospects. Commodities are far too dependent on a range of highly unpredictable variables. In the long term, Brazil needs to wean off its dependency on commodities and more towards services-led growth. It is fair to say that Brazil has succeeded in doing this to a greater extent than the rest of the BRIC economies. For example, when taking into account the value added of services as a percentage of GDP, we can see that in 2013 almost 70% of Brazil's GDP came from the service sector, and this was significantly higher than China, India or Russia: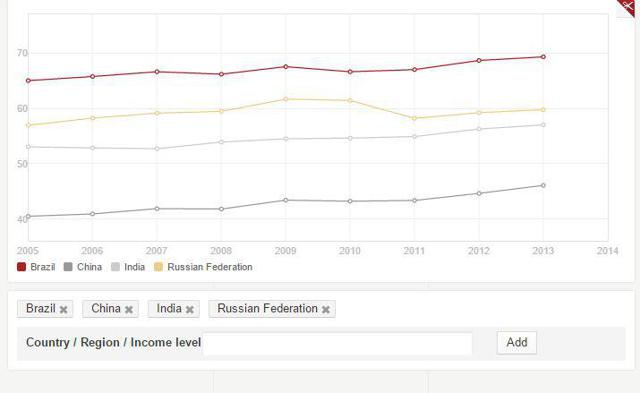 Source: World Bank
Ultimately, I believe that with the continuing contribution of service-led growth to Brazil's GDP, the country will succeed in further industrializing its economy and reduce dependence on commodity-led growth, while still benefiting from growth in this sector during times of higher commodity prices. Furthermore, with the exception of China, Brazil has come to outpace India and Russia in net inflows of foreign direct investment (current US$):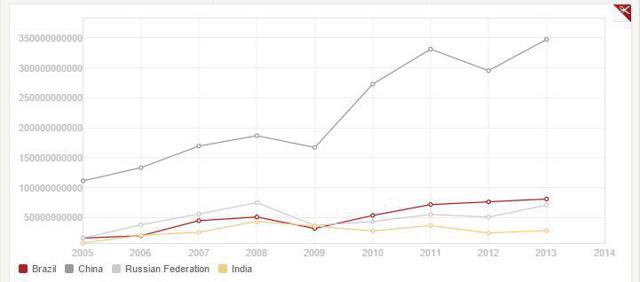 Source: World Bank
While Brazil has succeeded in becoming a more service-led economy, the continuing dependence on the commodity sector can be overcome through strengthening of foreign direct investment. This is important because this indicates that Brazil is shifting towards that of a European-style "knowledge-based economy", which is highly attractive for companies looking to establish a base in emerging markets. I am optimistic on future trends in this regard, with FDI in September of this year rising from $5.9 billion to $6.8 billion. Furthermore, while yearly GDP has been slightly negative and has underperformed other BRIC economies in this regard, Brazil still has solid macroeconomic fundamentals relative to the Eurozone and United States, with lower Debt/GDP levels and jobless rates. In addition, while the inflation rate of 6.56 percent is somewhat higher than the target rate of 4.5 percent, overall price levels in Brazil appear stable.

Source: Trading Economics
In conclusion, Brazil's economy has much potential in terms of growing foreign direct investment and further development of the service sector. While the country must focus on lowering dependence on commodity sales, the country's service sector and potential to attract FDI leave the long-term economic prospects for Brazil on quite solid ground. However, commodity prices remain unpredictable and therefore short-term investment risks for this emerging market remain high.
Disclosure: The author has no positions in any stocks mentioned, and no plans to initiate any positions within the next 72 hours.
The author wrote this article themselves, and it expresses their own opinions. The author is not receiving compensation for it (other than from Seeking Alpha). The author has no business relationship with any company whose stock is mentioned in this article.