For most Americans who drink coffee, Dunkin' Donuts (NASDAQ:DNKN), Starbucks (SBUX), and lately, McDonald's (MCD) have been synonymous with good coffee, but with a different twist: Dunkin' Donuts and McDonald's provide convenience, while Starbucks offers comfort.
Dunkin' Donuts—now a publicly traded company under the name Dunkin'' Brands rode the favorable demographics of the 1960s for fast and inexpensive breakfasts, though its early focus was donuts sold by the dozen rather than on coffee—a strategy the company changed in the 1990s. Convenience came with small stores located in central locations where working people will grab a coffee to go.
McDonald's has also rode the favorable demographics of the 1960s for fast and inexpensive food, offering lunch and dinner in addition to breakfast, with coffee becoming a major item in the last decade, either sold inside conventional stores or as part of Cafes. McDonald's also offers convenience, with thousands of stores located in prime locations around the world.
Starbucks rode the baby boomer trend in the 1990s and the Internet revolution that fueled the need for public places to fill in the gap of missing social interaction.
Starbucks offered baby-boomers and ailing telecommuters comfort, a "third place," an "affordable luxury" where they could share and enjoy a cup of coffee with friends and colleagues, away from work and home. The chain has inserted itself into the American urban landscape more quickly and craftily than any retail company in history, and has forever changed the way Western companies market themselves to consumers.
Starbucks would not have worked twenty years ago; the demographics weren't just right. Starbucks offered an antidote to an overworked culture: somewhere to just hang out. It eased the problem of social disconnection, while offering a product that filled America's need for a public gathering spot--what sociology Professor Ray Oldenburg called a "third place," with home and work being the first and the second place. Starbucks wasn't just a coffee company, but a place for bringing people together through the social glue of coffee.
So, which of the three companies makes the best bet for investors? So far, Starbucks seems to be the winner, both in terms of technical and fundamentals. We don't have historical data for Dunkin' Donuts, but judging from its performance, it is holding a great promise. By contrast to McDonald's and Starbucks, Dunkin' Donuts has a tremendous room for growth; the company's presence is mostly confined to Northeast US, while McDonald's and Starbuck have been all over the world.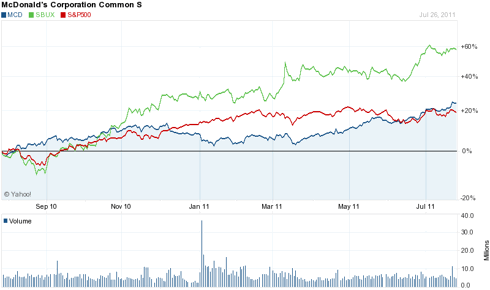 Starbucks versus McDonald's Financial Performance Statistics in 2011

Starbucks

McDonald's

Dividend

2.5%

0.40%

Operating Margins

39.01

15.29

Qtrly Earnings Growth (yoy):

67

35.60

| | |
| --- | --- |
| Qtrly Revenue Growth (yoy): | |

16.40

4.10
Disclosure: I have no positions in any stocks mentioned, but may initiate a long position in DNKN over the next 72 hours.