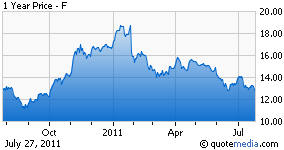 One reason analysts like Citi's Itay Michaeli have started pounding the table for Ford (NYSE:F) is that it could become a dividend stock by this time next year.
In discussing the second quarter with CNBC yesterday, Ford CEO Alan Mullaly said the company's game plan is to improve the balance sheet, "get $10 billion in there," and then start paying dividends again.
The $10 billion he's probably talking about is the balance sheet entry for equity, which was at a negative $5.475 billion as recently as March of 2010. It now stands at a positive $2.426 billion, a turnaround of about $7.5 billion in just 15 months.
At that rate of improvement Ford could easily have $10 billion in equity by this time next year, maybe sooner.
There is a lot to like in the company's latest earnings report, not just growth in U.S. sales but accelerating growth in Europe. Bottom-line results there are hurt by the faltering dollar, but sales are increasing 17-20% across the board.
Ford is using its momentum to improve all its internals, and so much of this momentum isn't seen on the bottom line. The near-death experience of the last few years left the company's numbers as thin as those of a starvation victim, and it is taking time to put meat back on its financial bones.
Meanwhile, investors have taken nearly 50% off the stock's value during the year, and at its present price of $12.71 its price-earnings multiple is a paltry 7.6. But it has a healthier balance sheet and sales momentum.
Some analysts, like our own Spencer Osborne, are warning that its strong balance sheet and the fact it didn't take bail out money may hamper it in coming talks with the UAW. Given the weakness of unions generally, and the recent near-death experience of the whole industry, it's really doubtful the UAW will cause trouble in these negotiations, it seems to me.
Ford is in the process of moving from a speculation to an investment. That's less exciting as a trade, but healthier for everyone in the long run.
Disclosure: I am long F.

Additional disclosure: I took a flyer on Ford over a year ago at $4 and am holding it in my retirement account for long term appreciation.