Gold has lost favor among investors since it peaked in late 2011. Most economists and money managers have expected inflation to creep into our daily lives in the wake of repeated quantitative easing initiatives by the Fed. Buying gold is supposed to be a good hedge against inflation. As inflation was insignificant, the precious metal fell from grace. Meanwhile, thanks to the zero interest rate policy spearheaded by the Fed, investors have been craving for yield-producing assets since bank deposits produce next to nil interest income. As gold does not produce any recurrent income, this particular asset class has encountered particularly strong selling pressure and bad press publicity. Shorting gold futures, in fact, has been a favorite moneymaking tool for professional shorts.
Price actions of gold have shown downward momentum consistently over the past three years until the last quarter of 2014. Gold has not only stabilized against the strong US dollar but also managed to stay above the key support level around $1,180. That critical long-term support level has so far successfully held up gold from further decline. The bottoming process appears to be nearing completion.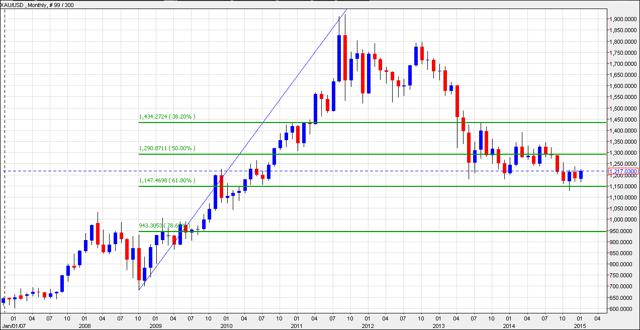 Source: Monthly chart of gold, DailyFX.com
At the same time, smart money has started piling up on gold miners as if the money mangers know in advance that the worst beaten sector would resurrect from the ashes in 2015. Gold miners, regardless major or junior, are the most underperformed stocks. Their performance is about as worse as the most turbulent times during the 2008 financial crisis. At the start of the New Year, things have changed dramatically. In the first 10 trading days, stock prices of the world's leading miners, represented by Market Vectors Gold Miners ETF (NYSE: GDX), rose over 10%. Compared with the near historic low recorded last November, it has increased by about 20%.
As a contrarian and deep value investor, I saw a great opportune moment to zero in on a rare chance to make some decent profits from the gold miners (as with oil tankers). There are good reasons why smart money is eyeing the most beaten sector for a speculative play. Nevertheless, medium to long-term investors may hit a home run in the event that investors fall in love with gold again in the days to come. The best way to play with gold miners is to use the popular exchange-trade fund GDX if investors have little knowledge about specific stocks. The all-important key to a successful play out is gold's future price movements. I see three positive signs on the horizon.
1. Gold stands firm at key long-term support level
Despite the free fall of gold for three full years, it hit a rock bottom around $1,180 three times during the period. While leading investment banks have made "sell" calls repeatedly, predicting gold price would fall below $1,000, the precious metal simply refused to yield.

Source: World Gold Council
The phenomenon implies that someone sees irresistible value at this level and jumps in to buy gold. China, India, Russia and central banks around the world are probably the key supporters. They scoop up whatever they could to satisfy either the demand of their consumers or the needs of their foreign reserve policies. In fact, 2014 saw the greatest amount of gold produced in recent years.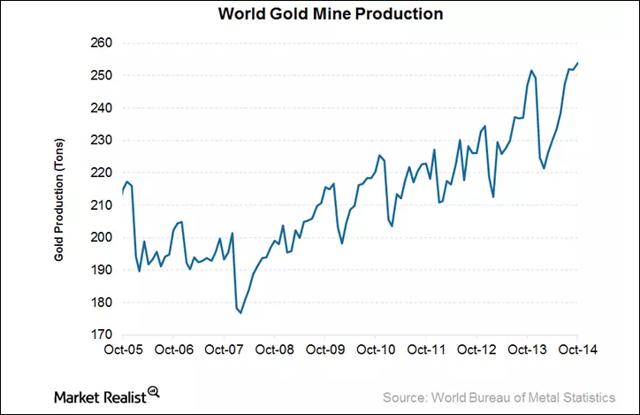 Source: Realist
However, analysts suspect the production amount would peak in 2015 and starts slowing down in the years to come. This anticipated drop is due to the so-called "high-grading mining strategy" adopted by leading miners to compensate for lower gold prices these years. A plunge in new discoveries of gold reserve is another crucial factor.
2. Gold stands out as the second most resilient "currency" in 2014
Gold price closed at $1,184 by the end of 2014 - more or less the same as that one year ago. Taking into account the spectacular strength of the US dollar throughout 2014, gold has a de facto appreciation of over 10% against other world currencies. For instance, the price of gold rose about 12.5% against Yen and 16.7% against EUR during the period.

Source: Gold pricing in Japanese Yen, World Gold Council

Source: Gold pricing in Euro, World Gold Council
Against the greenback, gold is in fact the second best performing global "currency" in 2014. It is outperforming the rest of the world's major currencies, not to mention those in the emerging markets such as Russia, Brazil or Argentina.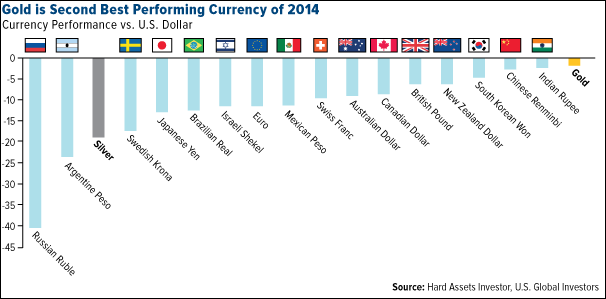 Source: Hard Assets Investor, US Global Investors
Unlike fiat currencies, gold cannot roll off from any printing press. The fact that countries all around the world have been printing "paper money" in the past decades to finance their national debts reminds investors gold remains the most reliable and valuable universal currency known to mankind. As of today, the world's total outstanding debt amounts to $100 trillion. Yet the average annual growth in gold productions worldwide is only 1.5% between 2002 and 2014. From this perspective, investors would appreciate better why gold is a genuine "precious metal".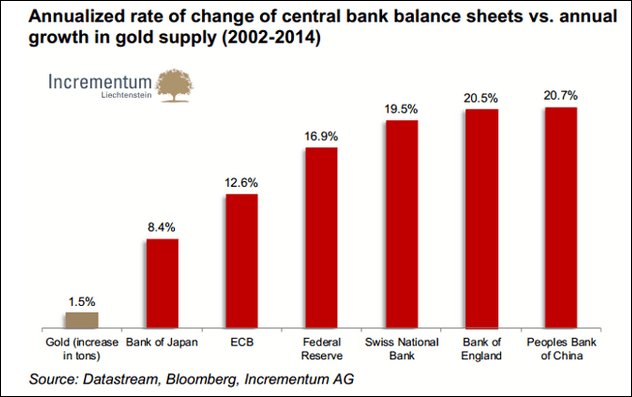 Source: Incrementum AG
This truism would become even more self-evident when the world begins to cast doubt on existing financial systems and instruments in a new crisis. Unfortunately, this is exactly what is happening. While stock investors are still in a state of euphoria, red flags appear here and there signaling the possible coming of yet another astounding event of a significant magnitude
3. Gold performs best when fear abounds
This author has warned investors against self-complacency at the beginning of 2015. More and more respectable investment gurus have sounded out similar warnings. Bill Gross, former PIMCO CEO, said on Seeking Alpha Tuesday that unexpected consequences are on the way after years of excessive quantitative easing. He reminded investors "the time for risk taking has passed".
"When the year is done, there will be minus signs in front of returns for many asset classes. The good times are over."
Look at a few asset classes besides equities. They are all flashing warning signs.
Declining yields of long-term government bonds worldwide implies fear about deflation and distrust of the policy effectiveness of central bankers in achieving economic growth by printing money.
Free falling prices of oil and copper suggest fear about gloomy economic prospects around the globe.
Rising CBOE Volatility Index (VIX) indicates fear about the vulnerability of the stock markets where cracks are appearing since the start of the year
Trend of rising credit spread hints fear of a probable bad-ending of the high yield bond market
When investors notice all kinds of worrisome signals, one of their alternatives is to "go back to the basic" - start taking a second look at gold. This is probably the principal reason for gold to stay strong since the last quarter of 2014.
Gold shows impressive technical strength despite shorts pressure
Professional shorts have driven down gold prices by as much as 40.6% in the past three years. Every time gold touched the key Fibonacci 61.8% retracement level around $1,180, gold rebounded. This has happened three times, namely, in June 2013, December 2013 and finally November 2014. These rebounds have strong implications in that there is immense buying interest when gold hits the "floor price". There is no absolute certainty as to whether the shorts could eventually break below this level. Nonetheless, the probability would be small if shorts tried three times and found a "rock bottom". Psychologically, it would be more rewarding to trade the other way. That is why I see a greater likelihood that gold price would go up in 2015. Alternatively, gold may attempt to break below $1,000 for a short while to complete the widely expected "final capitulation" before heading north in the years to come.
For conservative investors, they could simply buy physical gold or gold ETF at this level. For more aggressive investors, gold miners would probably be a better albeit risky alternative. My investment thesis is simple. Gold miners today offer a better risk/reward proposition as to pure gold. Downside risks are minimal yet upside gains are phenomenal. The rationale is as follows:
Investors will pay miners a premium if they are convinced that the future direction of gold price is nothing but north. It is clear that despite the strong dollar since late 2014, gold has been heading north and has broken above the downward trend line in early 2015. Both MACD and RSI are very bullish, signaling the turnaround has just started.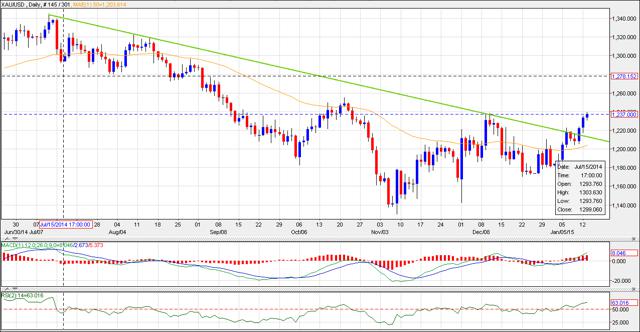 Source: Stockcharts.com
2. Bottom line would go up as gold miners could reduce their energy costs due to falling oil prices. According to the world's leading producer, Barrick Gold (NYSE: ABX), they could reap a $25 per ounce reduction in their all-in costs because of lower energy costs incurred in their exploration and production activities.
3. Miners' decision not to do hedging for their output implies that they reckon gold prices would not fall far below current levels. In the likely scenario of a reduction in operating costs plus an increase in gold price, their earnings could stun the market.
4. Stock prices of gold miners relative to gold price (as represented by GDX: GLD) are at a historic low ratio. The following chart shows the relationship of the two in the past three years. The consistent drop of the red line implies when gold price falls, stock prices of gold miners fall even faster and further. The worst time is last November when the ratio hit 0.15.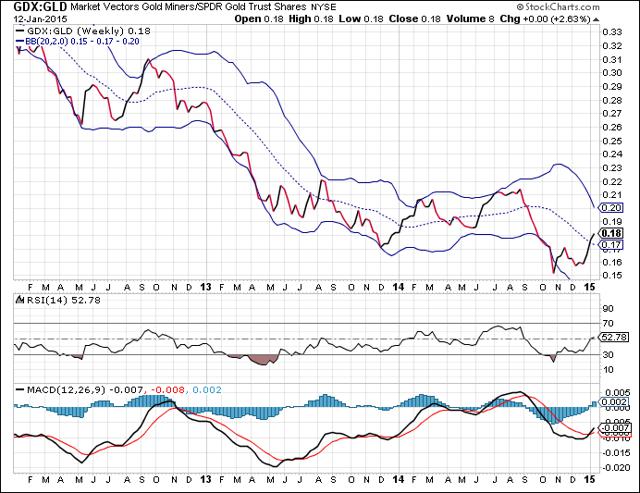 Source: Stockcharts.com
At one point during the financial crisis, GDX recorded a historic low price of $16.39. This is close to the 52-week low at $16.48 witnessed on 5 November 2014. Nevertheless, gold price was at $732 back in 2008 whereas it was $1,142 last November. Few could dispute the extreme undervaluation of the gold mining sector at today's price. One of the SA contributors called the distortion "fundamentally absurd" compared to current gold prices. Any swing back to a more normal scenario represents a tremendous upside for gold miners. In the past, the leveraging ratio between gold and gold miners could be as high as three times, meaning when gold price went up 10%, miners would jump as much as 30%.
How to play with gold miners
It is difficult for investors without any prior exposure to the sector to pick a gold miner to capitalize on the current investment opportunity. Even they could, possible gains may not be able to offset the management, financial or geopolitical risks inherent in any individual mining company. I would strongly recommend using the "follow the lion" strategy by buying the most popular gold miner ETF GDX or its leveraged alternative Direxional Daily Gold Miners Bull 3X Shares (NYSE: NUGT). The former has a 10-day average daily trading volume of 57 million shares whereas the latter 18 million. It is easy to get in and get out without worrying about the buy-sell spread or trading fees.
At the outset, I mentioned about smart money moving into the sector. How did I know? Look at the volumes of NUGT and its counterpart Direxional Daily Gold Miner Bears 3X Shares (NYSE: DUST). It is easy to track the moves of smart money, which always uses leverage to achieve maximum returns.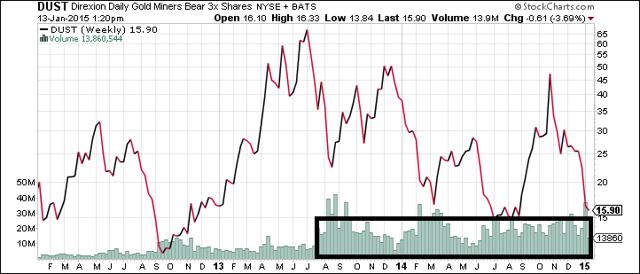 When gold's downtrend was firmly in place by late 2012, smart investors started pouring money into the bearish ETF. The amount was 5-6 times of early 2012.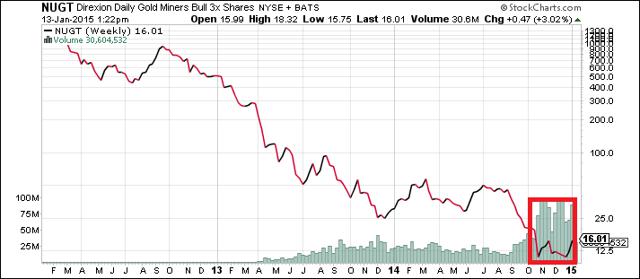 Source: Stockcharts.com
However, when some other smart people knew that gold might reverse its trend in mid 2013 (first bottom indeed hit in June 2013), they started switching their money into the other bullish pool NUGT. Before 2013, very few investors traded NUGT. Starting from late 2013, more and more smart money flowed into the ETF. The trading volumes, as shown in the chart, jumped three to four times since last October.
One may call these investors speculators and risk takers. If they dare making their bets with real money, there must be some wisdom in their move. To me, they are the "lion". I decide to follow the "lion" because the 20% price increase since last November confirmed they have been right. The ETF was particularly strong in the first 10 trading days in 2015. Now it is apparently overbought. Accompanying the general market selloff, it is now in a consolidation mode, providing a good entry point. Both technical indicators, MACD and RSI, continue to show the equity remains on the upward trend. Once new price action could break above the neckline of the double-bottom trough, it would very bullish for the ETF in the medium term. The price could surge up to as high as $27.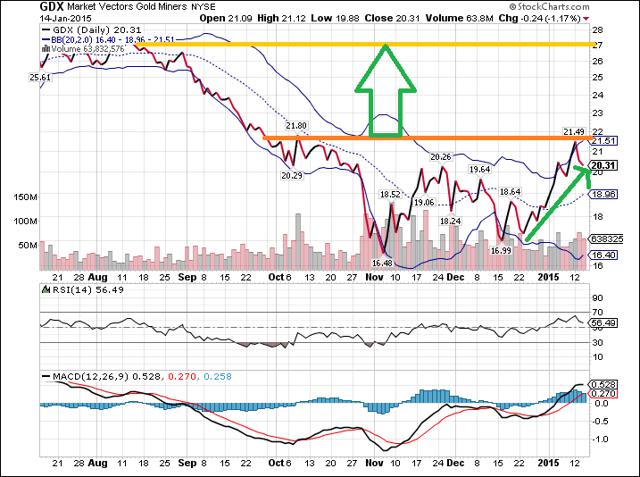 I am confident that rising gold prices would benefit GDX and the sector will gradually swing back to the normal course in a zigzag manner. For aggressive investors who could stomach the big swings in price movements, they could choose NUGT. For those who do not want to risk so much money, they can buy some 3-6 month GDX or NUGT call options to see if they could cash in on this rare investment/trading opportunity. One caveat must be made clear here. When there is a market crash, gold miners would surely falter with their peers in other sectors. However, as long as gold prices remain firm, they would recover sooner than other stocks and continue to outperform.
Note: Investors must weigh their risk appetite against their investment goals before making decisions on the recommendations of this article.
Disclosure: The author is long NUGT.
The author wrote this article themselves, and it expresses their own opinions. The author is not receiving compensation for it (other than from Seeking Alpha). The author has no business relationship with any company whose stock is mentioned in this article.