Vringo Receives $2.5 Million Investment from Prominent Silicon Valley Venture Capital Firms
From the perspective of a strategic communications firm, it can be extremely difficult getting your public client's voice heard over all of the background noise that's prevalent in the markets today. As Chairman and CEO of Trilogy Capital Partners, a leading New York-based boutique merchant bank and financial communications firm focusing on helping small cap companies do just that, it's manna from heaven when a client company receives an extraordinary validation from a highly reputable source.
In this sense, all dollars are not created equal. Sure, they spend the same at the store, have the same intrinsic value, and look the same in the bank. But some dollars are worth more than any numeric valuation.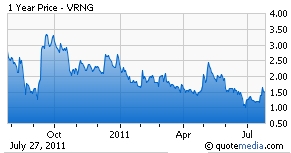 Such may be the case with the recent $2.5 million investment reported by our emerging mobile technology client Vringo (AMEX: VRNG), which provides software platforms for mobile video applications and video ringtones. As their strategic partner, Trilogy receives a monthly retainer and owns shares of VRNG, but we believe this news stands on its own two feet and here is why. Assuredly, the capital infusion will expedite product development and accelerate revenues. But the source of the influx may be every bit as important as the money itself. It is ultimately about validation.
A large part of the investment is supplied by Benchmark Capital, one of the world's leading venture capital firms and an early investor in top technology companies like eBay (NASDAQ:EBAY), Twitter, Zipcar (ZIP), Juniper Networks (NYSE:JNPR), Red Hat Software (RHAT), and MySQL. Benchmark is well respected for its ability to discern emerging technology companies and to assist in their development. The other participant in the $2.5 million financing, DAG Ventures, also adds to the validation quotient beyond the funds invested. DAG was an investor in AdMob (acquired by Google (NASDAQ:GOOG)), Plaxo (acquired by Comcast (NASDAQ:CMCSA)), Chegg, Segway, and Yelp.
Undoubtedly, the combination of Benchmark and DAG sends a loud signal to a market yearning for marks of credibility in the technology sector where most investors and institutions find out who has the goods long after smarter minds have made their play. The fact that the retail investor can now get behind "smart money" like Benchmark and DAG in a liquid, public investment like VRNG is rather unusual. These kinds of leading Silicon Valley Venture Capital funds do not make a lot of public investments. When combined with VRNG's rather modest market cap of approximately $10 million, this certainly deserves some attention.
This new pedigreed funding for VRNG is linked to the signing of an LOI for the acquisition of mobile messaging technology innovator Zlango. This should also attract investors who both like cutting edge technology and the lucrative and dynamic mobile messaging market. Zlango is addressing the huge market of mobile messaging that according to Portio Research will reach over $200 billion in value in 2011. While Zlango has already garnered 4 million users who have sent over 8 billion icons using its fun "messaging with attitude" platform, this is still a small drop in the huge sea of almost 8 trillion text messages to be sent this year.
But Zlango is growing fast in this market and according to the company is nearing almost 100,000 downloads of its new Android messaging app in just a few weeks since launch. By acquiring Zlango's unique and personalized icon-based messaging platform, VRNG will forge another new path in a hot vertical in addition to its current mobile social and video applications focus. Zlango's icon-based messaging services should be to texting what Twitter was/is to social media, a short and easy way to get a point across. And more fun.
Add Zlango's panache to Vringo's core offerings and the picture gets even brighter… especially with an initial $2.5 million catalyst in hand. VRNG's new Facetones product, for example, adds some sizzle to the product line as a hot mobile social "must have" app, which allowing users to get their friends' Facebook pictures to automatically pop up in a video slide show, each time they make and receive phone calls. This product will gain the company important traction and stickiness in the enormous social mobile marketplace. Facetones and Zlango are both zeroing in on the rapidly growing market for Android handsets and apps, which bodes well for the company's positioning.
In the last several months Vringo has announced various new partnerships and signed a slew of new agreements as they continue their global expansion. The company continues to penetrate the mobile video market in the UK, having recently partnered with The Carphone Warehouse, which is owned by Bust Buy and is the UK's largest independent mobile phone retailer. The validations keep on coming.
However, by far one of the most significant future growth drivers for this mobile growth company involves the launch of Vringo's service in India, one of the world's fastest-growing mobile markets with over 750 million mobile subscribers. Its new service with Hungama – which, for anyone not familiar, is the largest source of digitally available Bollywood and South-Asian entertainment content in the world – is available to a potential 500 million mobile subscribers on 15 different Indian mobile carriers including Reliance, BhartiAirtel and Tata. Needless to say, these are the biggest carriers in this mammoth mobile market, another huge win for Vringo.
If Vringo can continue to penetrate these lucrative arenas - and with Zlango's rich media technology on board one would expect more doors to open - companies like Benchmark and DAG may well be adding Vringo's story to their impressive list of past successes. Validation indeed.

Disclosure: Trilogy Capital Partners is VRNG's strategic communications firm and a shareholder. For full disclosure and 17(b) language, please navigate to here.
Additional Disclosure: I am long VRNG.