Not All Oil Companies Suffering Equally
In what may sound like the epic "duh" statement of 2015 so far, in the research for this article it jumped out at me rather strongly that all of the oil companies in my holdings are not suffering the ill-effects of the collapse in ICE Brent Oil prices equally. I did expect to see some small differences in relative exposure to oil prices, but despite this expectation I was still surprised to see that opportunities exist even if the direction of oil prices is impossible to discern now and the basic assumption is that the breakdown will continue down to and past 2009 lows.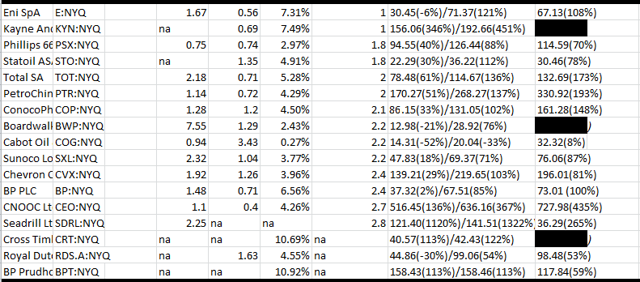 As can be seen above, I have 17 holdings in the basic materials sector which I have determined are correlated to the price of oil, leaving out Repsol (OTCQX:REPYY)-due to lack of metric information necessary for comparison to the rest.
The overall graph shows the metrics I most commonly use, from left to right: PEG ratio, mPEG ratio, dividend yield, mean recommended analyst score, Discounted Fair value excluding Tangible Book Value (DCFx) and including TBV (DCFi) and the corresponding percentage gain/loss, and finally the intrinsic value (IVC) as calculated via my proprietary process. Where you see the blacked out IVC's are where one or more input data points were not available or beyond the scope of calculation. The graph was sorted based on the analyst score, with the three holdings where this was unavailable placed at the bottom.
What I will be doing in this article is setting the baseline approach for appraisal of opportunities in my small area of the oil patch from here and going forward through 2015. As full year results arrive for 2014 the metrics will naturally shift and as the oil route develops it should be possible to identify the very best stocks to accumulate.
What Stale Metrics Can Tell Us Here
I remain most interested to evaluate how well each of the analyzed sector holdings would have likely ended up had the price of oil not collapsed in the second half of 2014. In doing so I will be looking specifically at how close the DCF's and IVC would have related to the 52-week high and Tangible Book Value of each holding, which will hopefully show how close these valuation methods would have been in the past year and the likely success of these measures to divine 2015 possibilities. Once revisions are available after 2014 full-year results are announced it may be quite valuable to know the accuracy of such valuation methods.
Additionally, I would expect that another round of analyst downgrades are likely to follow this upcoming earnings season, which will further reorder the above graph, with the obvious better positioned stocks rising to the top and the bad ones sinking further.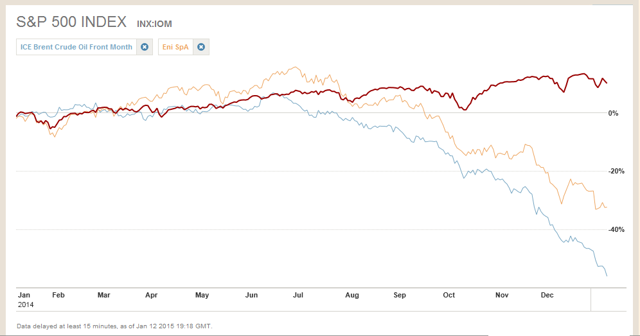 Eni SpA (NYSE:E)
While Eni SPA was slightly outperforming the S&P 500 until a little past midyear, it quickly tracked down with the price of oil once the price collapse began in July. Third-Quarter results beat street estimates however reflected lower production in part due to mature field decline. In the current environment it will be difficult if not impossible for E to overcome this with increased capital spending. Further concern should be raised by the payout ratio of 253%, which must be read as a tremendous danger to the currently very high dividend yield of 7.31%.
The DCFx remains a few percentage points below the current price, and the DCFi as well as IVC both represent an almost doubling of the most recent closing price. Had the E chart not broken down midway through 2014 it is entirely possible that the price could have reached the mid-60's. As it sits now E is 40% below the 52 week high of 54.01. E currently sits 27% below it's tangible book value of 40.92.
Kayne Anderson MLP Investment Company (NYSE:KYN)
The above graph appears a bit more smoothly than the KYN graph on its own, which was on a steady march upwards until September 2014, and a sideways October has been followed by quite dramatic swings since. KYN is trading at a discount to the announced December 31, 2014 book price of 34.31. KYN's portfolio of largely Midstream MLP's has buffered KYN from the brunt of the current oil route, and while it has dropped about 15% since January 2014, this compares very favorably to the more than 50% Brent Crude has fallen.
One of the drawbacks many have cited in KYN previous has been it's trading premium-and this has been eliminated as it sits now-KYN is about 18% below the 52-week high of 40.64. The DCF's seem to be so far out of whack as to indicate that there is an issue in using this information in regards to this fund, and it was not possible to calculate an IVC. I expect KYN to remain largely insulated from the crude oil decline and possibly even rebound before a general reversal of oil prices. KYN is currently trading about 10% below the tangible book value of 36.60.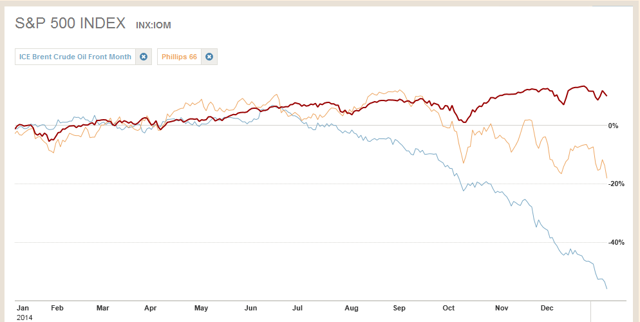 Phillips 66 (NYSE:PSX)
PSX, another Midstream exposed oil play, has been shielded from over half of the decline in the price of oil. PSX is about 26% below it's 52-week high, which was itself about 14% below the DCFx of 94.55. While the price of crude oil is not likely to effect PSX operations considerably, it may provide a tailwind in lowered cost of production for their refining, chemicals and specialties segments. PSX would have likely hit the DCFi projection and been on its way toward the IVC of 114.59 had the upward trend not been interrupted by the crude oil decline. PSX is currently trading more than 50% above the tangible book value of 31.89.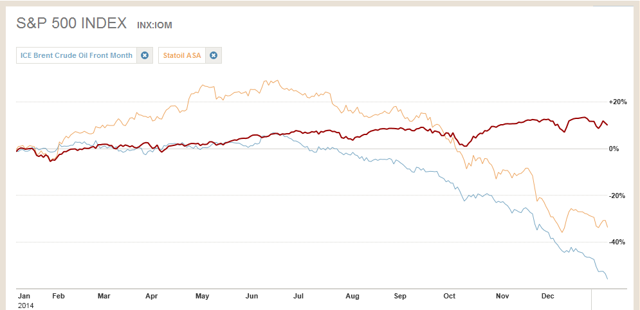 Statoil ASA (NYSE:STO)
STO spent most of 2014 outperforming the S&P 500 considerably, finally succumbing to the crude oil decline in early October and closely tracking the decline since. STO may need to further delay the Castberg project due to the current market conditions, and other projects could be threatened as well. As a consequence of diversifying away from Norwegian production STO finds itself in the same crosshairs as other producers of US-based shale oil.
STO is sitting 48% below the 52-week high of 31.22, which was itself above the IVC and 16% below the projected DCFi. Full-year results could give a very clear approximation of where STO trends for the next 12 months. STO's payout ratio of 78% is also high and renders the dividend to be in danger should conditions deteriorate further. STO is trading about 19% above the tangible book value of 13.93.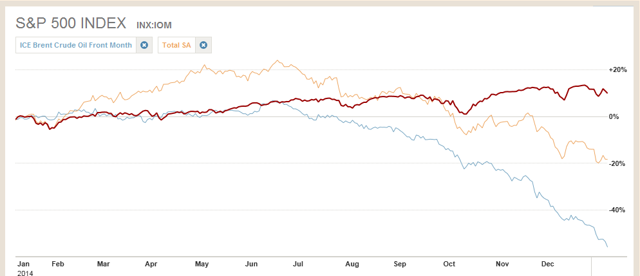 Total SA (NYSE:TOT)
Like STO, TOT spend more than half of 2014 outperforming the S&P 500, eventually capitulating this lead near the beginning of October and declining nearly 20% on the year. Unlike STO it has not tracked down further with the decline of crude oil, which is reassuring, and the 59.5% payout ratio is considerably lower than STO at this time. Bob Ciura recently stated that TOT is undervalued and the +5% dividend is safe. I agree, and the 52-week high of 72.25 was within striking distance of the DCFx of 78.48, while TOT now sits 33% below that now distant high. The mPEG of 0.71 also indicates a significant value opportunity in comparison to STO as it sits currently. TOT is trading 26% above the tangible book value of 36.19.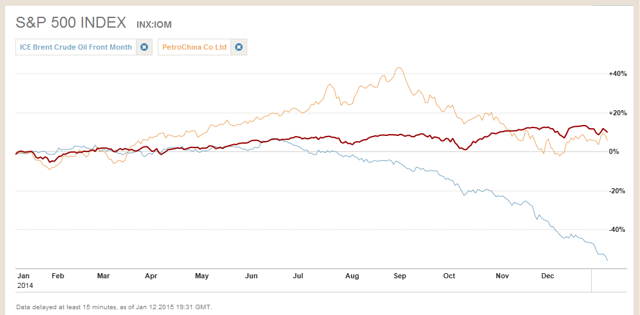 PetroChina Co Ltd. (NYSE:PTR)
One of the two Chinese oil companies I follow, PTR's 2014 chart looks a lot like a mountain range, with the zenith reached in early September. PTR tracked above the S&P 500 until just before November, and has only barely gone below thus far, still showing a percentage gain for the last year. While PTR is 23% below the 52-week high of 148.03, the DCFx was projecting a fair value of 170.27, a 50% increase from current levels. The payout percentage of 30.7% suggests the dividend should be secure, despite delays in projects. The tangible book value of PTR is 98, which is a 14% decline from the most recent price.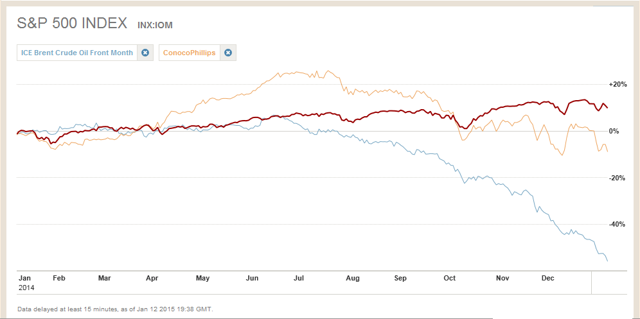 ConocoPhillips (NYSE:COP)
COP is considered one of the super-majors, and as such has been well cushioned thus far from the crude oil price collapse as evidenced above. While no longer "integrated" like it's peers Chevron (NYSE:CVX) and Exxon (NYSE:XOM) since the spin-off of PSX, COP sits 30% below the 52-week high, which was itself above the DCFx. The DCFi and possibly the IVC could have been reached possibly within 2-3 years of steady progress, and may still get there if COP continues to levitate above the drop in crude. The 36.8% payout ratio would suggest that the healthy dividend yield of 4.5% is safe, as well as the stated management commitment to protect the dividend. Stock Gamer agrees, calling COP a "a bargain from an income investing perspective ". COP is currently trading about 28% above the tangible book value of 44.90.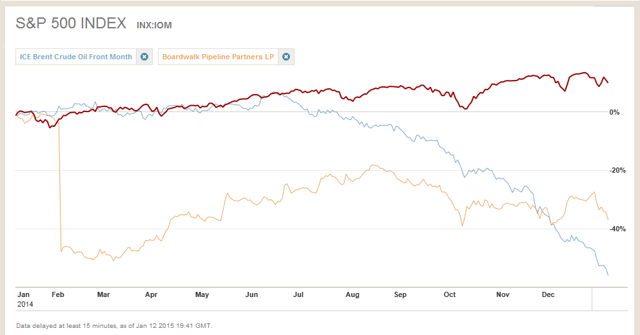 Boardwalk Pipeline Partners LP (NYSE:BWP)
BWP had a seriously impaired 2014 as it was, and the collapse of crude oil prices may have prevented what looks like a regeneration pattern from getting back above the waterline. The halving of share price in one February session occurred when BWP adjusted its quarterly distribution from 53.25 cents to just 10 cents per share. This had the expected effect of shaking a lot of the loose-leaf investors out of BWP at the time, but the trend for the next 6 months was a steady recovery in price until the effects of the crude decline could not be avoided. BWP currently trades almost exactly in line with the tangible book price of 15.94, and the DCFi projects a fair value of 28.92, a 76% increase from current levels.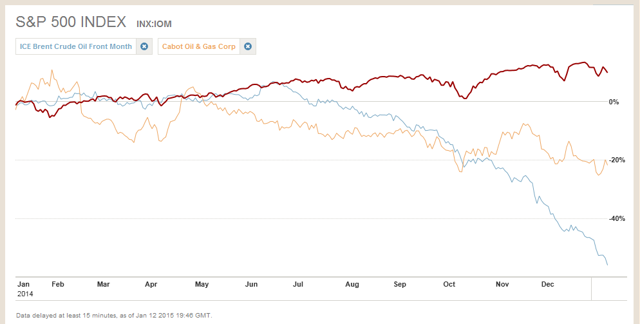 Cabot Oil & Gas Corp (NYSE:COG)
COG also had a difficult 2015, long before the collapse of crude oil. In fact, once the cross-over of Brent falling below COG, COG has actually shown resilience against further decline. The metrics for COG tell me I should stay away-the PEG would have been interesting, but the mPEG reveals that the slow growth and low dividend would be problems going forward. The DCF's agree, pointing toward declines, and COG trades just 8% below the IVC as it sits now. The tangible book value is 5.73, an 80% decline from the most recent price-a very large premium in comparison to the other names on this list. Sarfaraz A. Khan thinks "the current dip could be an investment opportunity for long-term-oriented investors". I will wait and see if 2014 full-year numbers support this idea.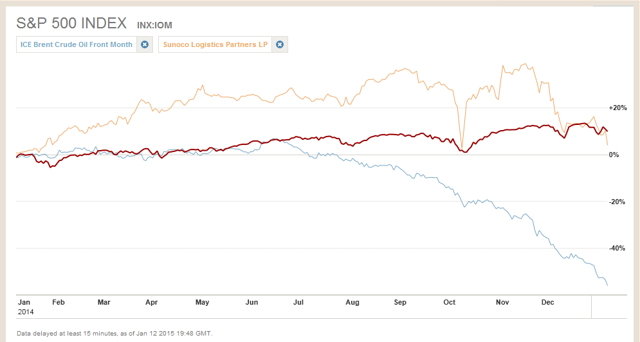 Sunoco Logistics Partners LP (NYSE:SXL)
Taking the cake for the most time and proportion above the S&P 500 out of the stocks on this list is my much-avowed favorite holding in the oil patch. SXL is also probably the one holding that is staying the closest relatively to the S&P 500 trend line. It may be a good sign for KYN, PSX and other midstream and logistics plays that SXL has not been noticeably hampered by the current route going on. While in the past the PEG ratio may have put me off, the mPEG shows a very healthy level. The dividend sits well above the 3% waterline, and the DCFi and IVC show healthy run-room for SXL once it again reaches the 52-week high, which is almost 30% above where SXL sits now. The only real negative I can find for SXL at this time is that it is trading at a 44% premium to the book price of 21.54.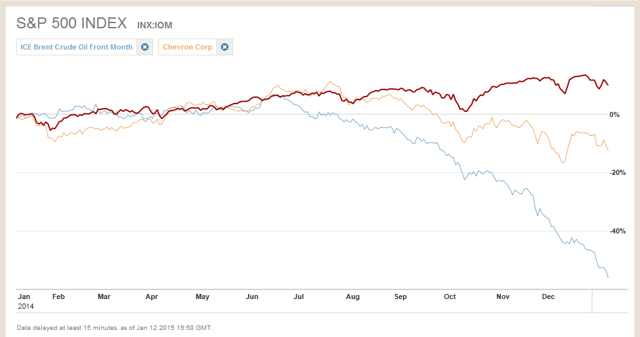 Chevron Corp
CVX traded much more in line with the S&P 500 for the first half of the year in comparison to peer COP, and suffered more of a crude related sink in the second half. All of the metrics for CVX are still positive despite the recent downtrend and the current price may represent a very good entry point or time to average down. One thing to keep in mind is that CVX still trades at a 25% premium to the tangible book price so it will be interesting to see how the release of 2014 full-year numbers recalibrate all of these metrics and forecasts. The slightly higher payout percentage of 37.8% could be of concern.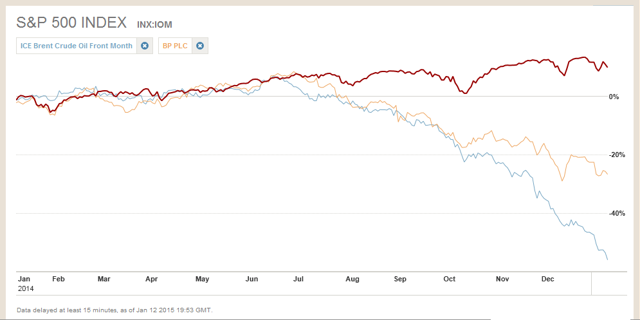 BP PLC (NYSE:BP)
Unlike peers CVX and COP, BP's second-half 2014 slide tracked much closer to the price of oil. The sharp downturn in share price has inflated the current dividend yield to 6.56% and it will be interesting to see if this dividend is at all safe considering the payout percentage is 175%. BP currently sits more than 30% below the 52-week high of 52.08, and 16% above the tangible book value of 30.19. Of the super-major's at risk I would have BP near the top of the list.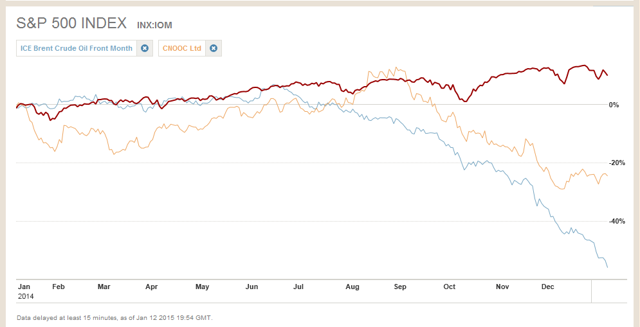 CNOOC Ltd (NYSE:CEO)
Reaching the bearish side of this list we have CEO, whose price action throughout 2014-except for a small time in August and early September-was under challenge all year. Unlike PTR, the price decline has closely tracked the price of oil. CEO sports a very conservative 20.9% payout percentage, some list leading margin and return-on-equity numbers, and sits just 32% below the 52-week high of 181.84. Like PTR, CEO has had some very high growth numbers over the last few years and this contributes to both having much higher DCF's and IVC than their peers. CEO currently trades at 11% above the tangible book value of 119.71.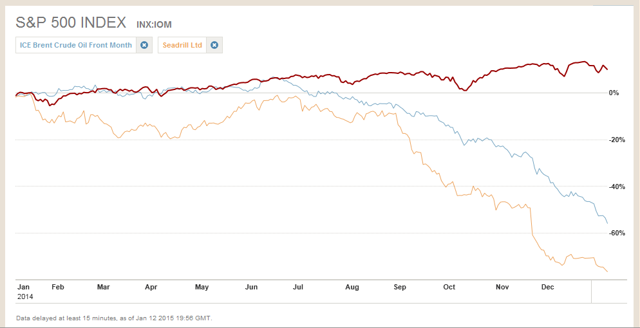 Seadrill Ltd (NYSE:SDRL)
Maybe I am a glutton for punishment, but I continue to follow SDRL even after having sold my holdings in August for a small profit. While not a leading indicator for crude oil prices, SDRL has traded below the crude trend line since January 2014-this due to the sector challenges facing SDRL such as over-capacity and more drilling units in the pipeline. Additionally, unlike most of the others on this list, a rebound or flat-lining of the oil price is not likely to immediately return SDRL to better fortunes. At this time there is not a single metric that would interest me in SDRL but one thing did catch my attention specifically-the IVC of 36.29 (based on 2013 results) nearly perfectly foretold the mid-price range of SDRL just prior to the September collapse. Quite a few have called for SDRL as a contrarian value pick at current levels, and the tangible book value of 20.11 represents more than a 100% increase, supporting this notion.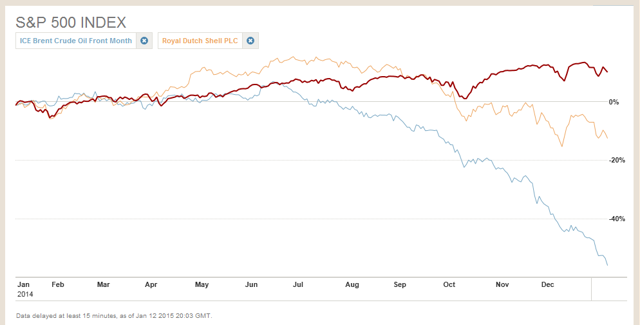 Royal Dutch Shell PLC (NYSE:RDS.A)
Like STO, RDS.A is in the 70% of payout percentage range, endangering the dividend in the short term and growth prospects for the long term. Unlike E and BP, RDS.A is not in nearly the immediate point of desperation but could be soon. The price decline has been modest compared to the decline of crude and some of the other charts we have looked at today, but RDS.A still trades at a 13% premium to the tangible book price of 54.20.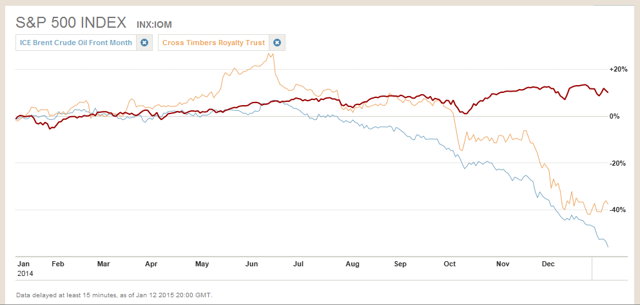 Cross Timbers Royalty Trust (NYSE:CRT)
2014 saw a 25% price increase turn into a 40% price decrease, eventually tracking the decline in crude oil. It will be interesting to see the direct effect the dividend experiences going forward as this will be linked almost entirely to the price of crude going forward.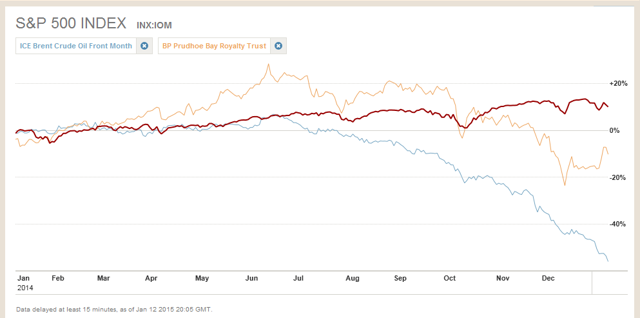 BP Prudhoe Bay Royalty Trust (NYSE:BPT)
BPT is in a similar boat as CRT while it has not been punished nearly as much thus far.
CONCLUSION
Trying to time the bottom for the crude oil price collapse will likely be very difficult if not impossible. Early false dawns and more dark days are almost certain at this time. Various OPEC and government officials have made clear that the current price war is very much "okay" with them, and if the intention is to break the back of US Shale Oil and other "expensive oil" producers, they may well succeed in whole or in part. This process is likely to take several quarters if it is taken to the full extension as it will take time for marginal producers to burn through their cash and available financing while hoping for a rebound, while Saudi Arabia and the UAE can take punishment while waiting patiently for victory.
As I do not expect a quick turn-around, there is no especial rush to make a determination of which of the above (or other) companies to take the risk on. My plan going forward is to methodically update my metric information as it becomes available and to view all below-tangible-book-value opportunities as special situations in deserving of due consideration. I would prefer to add to those positions as they become available as well as average down my other non-discounted holdings as the opportunity presents itself. I already know that my allocations for the first half of 2015 will not be taking place until April so I have time to sift through all the information carefully and re-grade as needed.
If I expected that the price of oil was going to bottom within the next few weeks, prior to most of the above companies announcing full-year 2014 results, and I had the dry powder to act, I would be most considering KYN and E (and maybe even another small allocation to SDRL) due to their below-book values, and the rest in proportion to their relationship to book as well as the run-room between their price and the 52-week high. It is almost always in hind-sight that we remember the prescient advice from Warren Buffett: "Be greedy when others are fearful".
Disclosure: The author is long BP, BPT, BWP, CEO, COG, COP, CRT, CVX, E, KYN, PSX, PTR, RDS.A, SDRL, STO, SXL, TOT.
The author wrote this article themselves, and it expresses their own opinions. The author is not receiving compensation for it (other than from Seeking Alpha). The author has no business relationship with any company whose stock is mentioned in this article.
Editor's Note: This article discusses one or more securities that do not trade on a major U.S. exchange. Please be aware of the risks associated with these stocks.