By Jennifer Coombs
Firstly, the price data from US imports and exports underscored the surprising decline in average hourly earnings from last week, and heighten the lack of pricing pressures as a concern for those at the Fed. In the month of December, import prices dropped by 2.5% after a downwardly revised contraction of -1.8%, -1.4% and -0.8% in the prior three months, respectively. On a year-over-year basis, import prices declined by 5.5%. The decline in oil prices is the central factor behind the deflation, as petroleum product prices dropped 16.6% in the month for a year-over-year decline of 30.1%. Excluding petroleum production, import prices weren't much better than flat, up 0.1% in December and unchanged over last year. Export prices declined by 1.2% in December for a year-over-year decline of 3.2%. Agriculture prices are more prominent on the export side than petroleum prices, and were down 0.7% for the month and 4.9% over last year. Prices of imported and exported finished goods show less downward pressure though there were still plenty of minus signs for the month. Year-on-year, prices of imported automobiles were down 0.8% with imported capital goods and -0.5%. This report ought to point toward further deflationary concerns on the producer price index (PPI) reading tomorrow.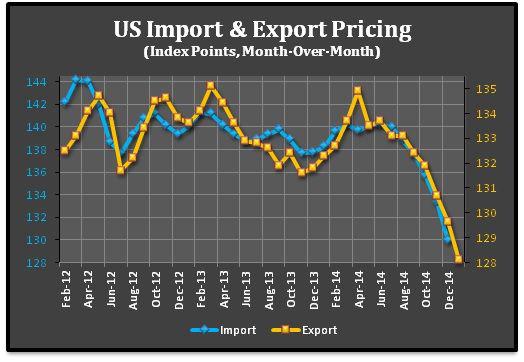 While import-export prices remain low, the level of inventory buildup at the business level remains relatively under control. In November, business inventories increased by 0.2% for the second month in a row, and were steady relative to sales which fell by 0.2% in the month after declining by 0.3% in October. This left the stock-to-sales ratio unchanged, and moderate, in November at 1.31. Within the components, there was a 0.3% decline in retail inventories, which may not be repeated in December's reading given how weak the retail sales report was this morning. Factory inventories were little changed in November, up 0.1% and wholesales also increased inventories by 0.8%. Wholesalers may have experienced an unwanted build in inventories given that wholesale sales only declined by 0.3% for the month. Nevertheless, we note that the imbalance in inventories is not a major economic growth risk right now; the bigger concern is the imbalance in oil inventories, which have gone up today.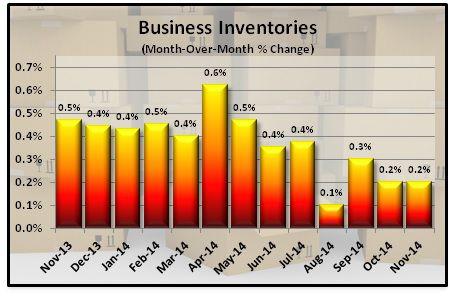 Lastly, and probably the biggest piece of good news, was an enormous surge in mortgage applications after a drop in the last two weeks of 2014. Purchase applications were up 24.0% for the week ended January 9th while refinancing applications were up a whopping 66.0%. The culprit was a major drop in mortgage rates, which fell to the lowest point since May 2013, with the average conforming loan ($417,000 or less) down by 12 basis points to 3.89%. The weekly economic data is volatile of course, but this week's surge in applications clearly points to consumers acting on lower mortgage rates and should help to boost the housing sector.