Since the end of the Asian financial crisis in 1998, the Japanese economy has been struggling with extremely low inflation. Mainstream economic theories perceive such very low inflation or even deflation as detrimental to the economy simply because people tend to postpone their spending due to falling prices, which generally causes economic malaise. While Japan's CPI has had its ups and downs over the past 20 years, the average inflation rate has been just slightly above zero and the average GDP growth rate has reached pretty much the same figure. The Japanese government has tried to kick start economic growth with a loose fiscal policy several times, but such efforts have always led only to greater debt. Unfortunately, even the BoJ has had no more room to use conventional monetary policy tools to support the ailing economy, as major interest rates are already zero.
In late 2012, Prime Minister Shinzo Abe persuaded Japanese voters again that this time his cabinet might have the medicine for long lasting economic misery. And indeed, shortly after Harukiho Kuroda was appointed as the new BoJ Governor, ongoing attempts to revive the third largest economy shifted to a whole new dimension. BoJ introduced an extensive QE program designed to double the monetary base over the next two years.
Initially, the results of this step appeared very promising. The yen weakened significantly and Japanese markets finally bounced back from post-crisis levels. For the first time in the last 20 years, media began to talk about the revival of the Japanese economy and the term "Abenomics" became basically a synonym for economic resurrection.
Nevertheless, a nationwide sales tax hike and the global economy, especially plummeting oil prices, thwarted the BoJ's goal of 2% inflation. Therefore, on the last day of October 2014, Kuroda made an unexpected announcement - additional quantitative easing. Markets were shocked by this move in terms of size, scope, and timing, as it came just two days after the FED halted its monetary stimulus. The BoJ would now increase its balance sheet by 15% of GDP annually and extend the average duration of its bond purchases from 7 years to 10 years, well outside any established norms.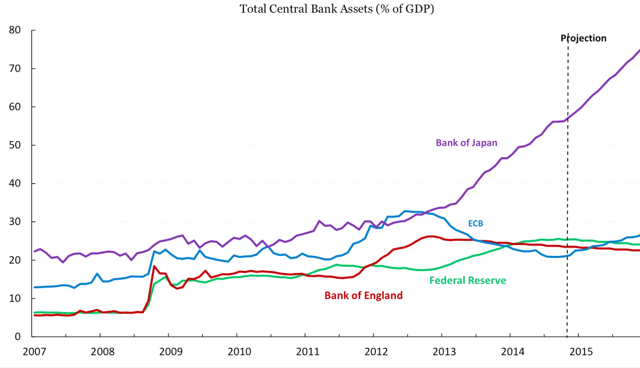 Source: Financial Times
Whatever outcome this gigantic economic experiment will have, one thing based on recent BoJ's decisions is almost certain - the Japanese yen will continue losing strength and Japanese assets will likely benefit in the foreseeable future. However, there is one danger that might slowdown or reverse these trends. Japan's main trade partners could one day classify Japanese expansive monetary policy as a threat to their economies and take defensive measures.
Besides the weakening yen, favorable primarily for exporters, there are a few more reasons Japanese stocks will probably surge in the coming years. In addition to increasing purchases of Japanese government bonds, the BoJ also decided to increase purchases of Japanese ETFs and REITs. The Government Pension Investment Fund of Japan, the second largest pool of retirement savings in the world, said last year that it would reduce its domestic bond holdings from 60% of its portfolio to 35%, while increasing its overall equity holdings from 24% to 50%. And on top of that, Abe promised corporate income tax rate cuts in the upcoming years.
Apparently the easiest way to play this game is through ETFs. The most popular ETF, which tracks the MSCI Japan Index, is traded under the ticker (NYSEARCA:EWJ). However, when the yen is weakening against the U.S. dollar, it would be preferable to pick some currency-hedged ETFs like (NYSEARCA:DXJ) or (NYSEARCA:HEWJ) which seek to track the performance of equity securities in Japan, attributable solely to stock prices without the effect of currency fluctuations which could negatively impact the investment return. For investors who are more currency oriented and have relatively higher risk tolerance, inverse, double-leveraged (NYSEARCA:YCS) would be a good choice.
Disclosure: The author is long DXJ.
The author wrote this article themselves, and it expresses their own opinions. The author is not receiving compensation for it (other than from Seeking Alpha). The author has no business relationship with any company whose stock is mentioned in this article.