The surprise of 2015 will be the labor market. While unemployment will drop to 5.0% by year-end, there will be pressures on labor rates to go up.
Wage pressures will begin to build as pay raises have been below its long-term trend line and employees will be looking to play "catch-up" after several years of minuscule pay increases.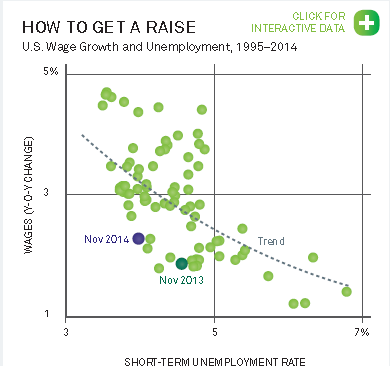 Sources: BlackRock Investment Institute and U.S. Bureau of Labor Statistics as of November 2014. Notes: The short-term unemployment rate is defined as those unemployed less than six months as a share of the total labor force. Wages are represented by the Employment Cost Index, which tracks the total cost of U.S. labor including wages, benefits and bonuses.
As shown by the Blackrock graphic above [pdf], as short-term unemployment rates decline, wages begin to increase. While 2014-wage increases were above those in 2013, they are still below the trend line and should be exceeding 3.0%. 2015 could become the year where wage inflation begins to occasionally creep back into the financial lexicon.
According to the US Bureau of Labor Statistics., the private sector created an average of 240,000 jobs per month in 2014. At the current pace, the unemployment rate may hit the Federal Reserve's Non-Accelerating Inflation Rate of Unemployment (NAIRU) of 5.0% by the third quarter. This is the unemployment rate at which the Fed pegs for inflationary pressures to begin building.
The NY Times reported today three items that point to higher wage growth.
1) Job openings vs job hires. The ratio of openings to people hired matches some of the highest levels on record (though the data goes back only to 2002). In other words, employers are saying they have a lot more openings, but seem to be having trouble filling those jobs as quickly as historical patterns would suggest. As we have argued before, that suggests they will have to make those jobs more attractive to fill those openings more rapidly, either with higher pay, improved benefits, better working conditions or a combination of these.

2) The second piece of news is the latest survey from the National Federation of Independent Business. Its members, small businesses around the country, reported the highest level of overall optimism since 2006, and, more to the point, showed that small businesses were expecting to increase worker pay. The proportion of small businesses planning to increase compensation in the next three months was 17 percentage points higher than those that planned decreases, the widest margin since 2007.

3) But the most interesting piece of evidence for rising wage pressure was in an announcement by Aetna, the giant health insurer. The company said it would set a minimum hourly pay for its workers at $16 an hour starting in April, which will mean a raise averaging 11 percent for 5,700 claims administrators and other low-level workers. That works out to total earnings of about $33,000 a year for a person working a 40-hour week. And next year, the company plans to offer a new health benefits program to lower out-of-pocket expenses for low-income workers that the company says could save employees up to $4,000, essentially combining the raise this year with better benefits next year. The company is counting on the raise to make it easier to retain good employees and recruit for vacant positions. Turnover is expensive for a company like Aetna, as it must attract and retain thousands of workers who are less likely to feel attachment to a job if it offers rock-bottom pay and few benefits."
ritholtz.com offers a reprint of a Deutsche Bank graphic showing wages and salary growth year over year and the number of companies looking to raise workers compensation over the next 9 months, going back to 1986. As shown, wage growth since the bottom of the recession has been the worst over the past 28 years.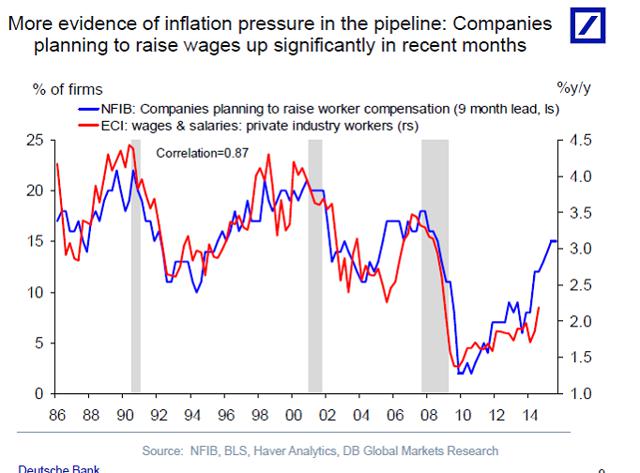 Source: ritholtz.com
As shown, wage growth since the bottom of the recession has been the worst over the past 28 years. This is nothing new for anyone working in the US, but employers seem to be poised to reverse this trend.
According to a WorldAtWork.com survey taken in May and published in July 2014, the projected US wage increase across the board for 2015 will be 3.1%. The wage study reviewed 5,200 responses to a salary budget increase questionnaire from 17 countries, and separates the anticipated increase by employee category.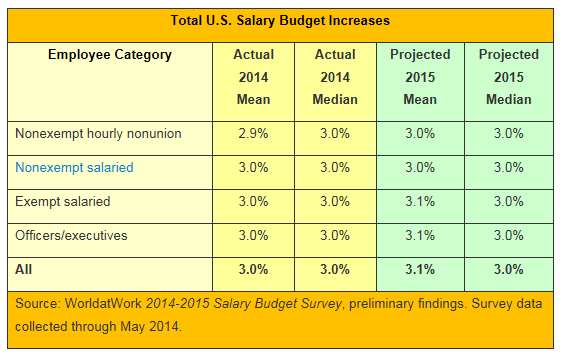 In a speech this week titled A Potentially Momentous Year for Policy, Mr. Dennis Lockhart, President and Chief Executive Officer of the Federal Reserve Bank of Atlanta, also indicated wage growth could be higher in 2015. However, he conceded that while the positive wage growth momentum in 2014 will continue in 2015, the rate of wage growth so far has been sub-par.
"Another reason for optimism is that 2014 was a year of significantly improved employment conditions. Payrolls increased by almost 3 million, the strongest reading since 2000, and the gains were spread across a wide range of industries. The headline unemployment rate fell by more than a percent over the year. The long-term unemployment rate, defined as 27 weeks or more, also declined meaningfully.

Also, we saw the smallest decline in five years in the participation in the labor market of working-age people. We believe this indicates increasing confidence in labor market prospects.

Over the last year as the labor market has improved, we have paid special attention to trends in wages. Growing wages would validate tightening employment conditions and would also support growth of consumer activity and prices. Both are highly desirable in current circumstances.

The recent evidence on wages has been mixed. A number of measures of wage growth remained well below historical norms throughout most of last year, while others did tick up slightly in the second and third quarters.

Based on research, my team has advanced the thesis that the elevated number of people working part-time involuntarily is restraining wage growth. There are about 6.8 million such workers as of December. It is encouraging that the number of involuntary part-time workers declined by almost a million over the past year, four times the decrease in 2013.

Overall, there was more improvement in labor markets in 2014 than in any other year of the recovery. Employment conditions are improving, and improving faster, and prospects of continued progress are encouraging moving into the New Year.

The behavior of wages and prices, in contrast, remains less encouraging, and, frankly, somewhat puzzling in light of recent growth and jobs number."
The risks to the wage growth story include:
Weak global demand
The strong dollar hurting exports
Rising student debt burdens due to the soaring cost of education
Financial instability
Slowing of the unemployment rate due to lower capital expenditures and layoffs in the oil patch.
For example, in a SA article also by the Atlanta Fed, the following graph was offered outlining the impact of reduced oil capital expenditures will play on overall business investment: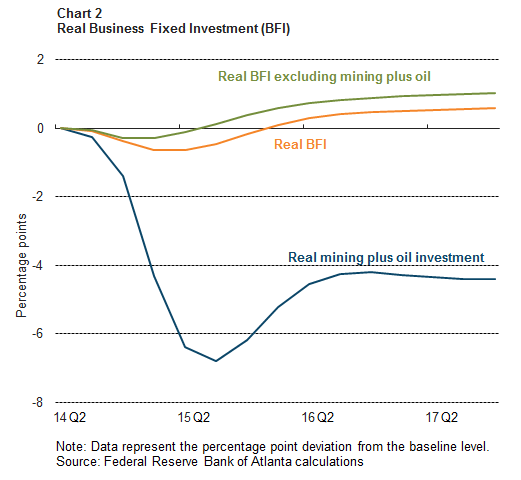 As shown, real business fixed investment is expected to dip into negative territory in 2015, led by a collapse of mining and oil investments.
Investors will want to watch two important numbers as we traverse 2015: wage growth and an unemployment rate closing in on 5.0%, as these may signal an interest rate hike is imminent.
Disclosure: The author has no positions in any stocks mentioned, and no plans to initiate any positions within the next 72 hours.
The author wrote this article themselves, and it expresses their own opinions. The author is not receiving compensation for it (other than from Seeking Alpha). The author has no business relationship with any company whose stock is mentioned in this article.
Additional disclosure: An abbreviated version of this article first appeared in the Jan 2015 issue of My Investment Navigator