Whiting Petroleum (NYSE:WLL) reported an in line quarter, announced success in multiple new plays and boosted its budget to capitalize on them, but without lifting production guidance, which will likely initially pressure the name.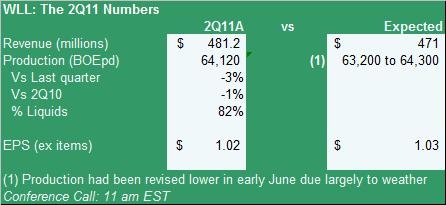 Highlights
The 2Q Numbers: Production was down 3% (largely due to weather) for the second consecutive quarter. Guidance and common sense would indicate that the next quarter, with a drier operating schedule in the Basin and some improved uptime in their secondary recovery projects, will show a 10% bump as things essentially get back on track.
Comments on the Weather in the Williston Basin: "After three weeks of mostly dry weather, we are making good progress fracing new wells and returning wells to production."
Guidance: Flat Production, Higher Spending

Production

3Q11: 70,650 BOEpd which equates to 10% sequential growth, and 7% YoY growth.
2011: Flat with prior guidance, up 7% on the mid for the year. They have left themselves some room for production guidance increase on the next call but this won't be a crowd pleaser this morning.

Costs: Up modestly. Also not going to be crowd pleaser.
Capital Budget: Going up due to drilling success:

Rising $250 mm to $1.6 B

+$90 mm for increased leasehold acquisition budget
+$160 mm for additional drilling in new areas due to strong results (see below)

Segment Update: But There is some stuff in this part that is part of why I continue to hold the name. They continue to be able to branch out from their core areas and establish new cores.

Williston Basin: New production record reached in the Williston Basin at 58,105 BOEpd (or 91% of total production in the quarter).

Have Crews Will Frac

Running 2.5 dedicated frac crews
Thinking they can complete 18 to 20 wells per month with these crews
They see working the backlog down to more normal levels by November.
Meanwhile, they are running 17 rigs in the Basin

Sanish- they announced a set of nice wells for the quarter, nothing out of the ordinary for this sweet spot of the Basin.
Lewis & Clark

Production grew 93% sequentially to 2,640 BOEpd despite weather related delays and they are just getting started as they have 255 ,000 net acres here, largely derisked by drilling along the length and breadth of the position.
WLL commenting the area appears to be a low decline rate area ... will be doing a well study to take a look at that in the near future.

Other Areas

Hidden Bench (McKensie county, ND)

First IP out of the gate comes in at 3,092 BOEpd from the Arnegard 21-26H well, a 8,900', 30 stage lateral (sliding sleeves). This area is just west of KOG's Smokey area, and DNR and NFX have a couple of rigs working in close proximity to this somewhat undrilled portion of the county.
WLL had 30,900 net acres in the area so they could be looking a new small core with roughly 145 potential drilling locations
A big piece of the new budget expansion will be spent here drill 18 more wells in the second half of 2011. In other words, they were pleased with this first well.

Cassandra (Williams County, ND) - 5 wells planned,
Starbuck (Richland County, MT) - 5 more wells planned

Niobrara (Red Tail Prospect - Weld County Colorado)

Fourth well IP'd at 1,321 BOEpd,
Note that this more than respectable rate among Niobrara wells was achieved after drilling 3 sub par wells. They reoriented the direction of the lateral for the 4th effort and also changed the frac methodology.
They'll have well #5 completed by the end of this month and hopefully soon after they will advise that they've cracked the code (or not) for the area. Note that they now plan to drill 4 more wells here this year.
They have 75,700 net acres in this prospect and they will be using a portion of the increased 2011 budget to add to this position and to drill those extra wells mentioned above.

Delaware Basin (West Texas) - (Big Tex Prospect - Pecos, Reed, and Ward counties, TX)

88,062 net acres (and counting)
Another first for them, fraced first well and got a seemingly respectable initial production rate of 788 BOEpd from the Wolfbone.

Balance Sheet:

Debt to cap of 28% ... this will be rising slightly in the second half as they add to the revolver.
They continue to very little cash
Nutshell / Knee Jerk Reaction Watch
The normal reaction for retail holders and some analysts is to sell/downgrade whenever an E&P ups spending without an immediate commensurate bump in production guidance. I'm expecting that to be the case early today, and perhaps for a few days. It looks like they are "kitchen sinking" the year and setting the stage for 2012, but we will know more after the call.
The well results in new plays are good, the Niobrara was bad on the first three wells with the fourth well being reoriented and completed differently to achieve the much more respectable rate. If they make a good hole with the fifth effort, they should see some credit for the play in their share price.
More importantly, to me at least, are the continued strong efforts outside of Sanish. Lewis and Clark appears to be highly derisked and they continue to take expertise from Sanish and move it about the Willistion map. The Hidden Bench well was nearly alone on the map but for a Petro Hunt horizontal for many, many sections. Good results down in Texas would be icing on the cake.
Later this year I expect the stock to recover towards the highs seen prior to the 1Q results at which time I'd be shocked if they didn't float a secondary to help fund exploration and development of their expanding roster of plays. In the meantime, the name remains one of the cheaper oily names on forward cash flow amongst the mid caps. I continue to own it in the ZLT.
Disclosure: I am long WLL.