<<< Go To Part 1

Sell Trinity Industries Inc. (NYSE:TRN): TRN manufactures and markets railcars, inland barges, concrete and aggregates, highway safety products, beams and girders. Its shares traded down 11.0% on Wednesday, and they are up 17.6% YTD. Its shares were down on account of a weak June quarter as the company missed earnings estimate by 1c, but more importantly it guided down September quarter earnings to 32c-37c versus the 44c estimate.
We believe that TRN shares were expensive even before the disappointment, and would not hitch a ride on this railcar manufacturing company. At a current P/E of 25 on a TTM basis, and a forward 22 P/E based on the company's projection of $1.35-$1.45 annual earnings for fiscal year 2011, this cyclical company with long-term growth in the single digital trades at top of its valuation range, and we believe is certain to come down in reaction to the poor projections going forward. Furthermore, the company is highly levered, and has less than $300 million in cash and almost $2.9 billion in long-term debt, which is more than its market-cap.
Emcore Corp (NASDAQ:EMKR): EMKR is an Albuquerque, New Mexico-based manufacturer of optical IC components/ systems and solar cell panels for broadband, satellite and defense markets. Its shares were down 11.5% on Wednesday, and they are up 140.6% YTD. The shares were down on no significant news; the only recent news is a non-dilutive 4.4 million share common stock offering by selling shareholders.
Kandi Technologies Corp. (NASDAQ:KNDI): KNDI is a Chinese manufacturer of high-quality, fuel-efficient, specialized motor vehicles, including all-terrain vehicles. At present, it is among the leading producers of go-karts in the world, with an estimated 15% share of China's global export market and a goal of doubling this share, in large part by becoming the leading producer of this increasingly popular recreational product in China. Its shares were down 11.6% on Wednesday, and are down 50.7% YTD. There has been no significant recent news prompting the drop, but it appears to be just a corrective move to the 62% rise since the company announced a $5 million stock repurchase program on July 19th.
Quantum Fuel System Tech (NASDAQ:QTWW): QTWW is a manufacturer of advanced propulsion systems, energy storage technologies and alternative fuel vehicles. It focuses on three main areas: Transportation, Stationary Power, and Refueling Infrastructure. It manufactures both components and end products. In the Transportation sector, QTWW designs and supplies state-of-the-art fuel system technologies to many of the world's leading OEMs with Hydrogen systems for both Internal Combustion Engine and Fuel Cell applications and Natural Gas and LPG fuel systems for internal combustion applications. Its shares dropped 9.9% on Wednesday, and they are down 48.7% YTD. There has been no recent news prompting the drop in price.
Sky-mobi Ltd. Ads (NASDAQ:MOBI): MOBI is China-based company engaged in the retail and development of mobile phone software platforms through its Maopao application store. It enables mobile applications and content to be downloaded and run on a variety of mobile handsets with different hardware and operating system configurations. It offers its users the ability to browse, download and purchase a wide range of applications and content such as single-player games, mobile music and books along a social networking community. Its shares were down 9.9% on Wednesday, and it is up 60.2% YTD. There has been no recent news about the company that would explain the sharp drop on Wednesday.
Sell PF Changs China Bistro (NASDAQ:PFCB): PFCB is an operator of 369 PF Chang's Bistros and Pei Wei restaurants that feature traditional Chinese cuisine and American hospitality in a contemporary bistro setting. Their restaurants offer culinary creations, prepared from fresh ingredients, including premium herbs and spices imported directly from China. The menu is focused on select dishes created to capture the distinct flavors and styles of the five major culinary regions of China: Canton, Hunan, Mongolia, Shanghai and Szechwan. Its shares were down 12.1% on Wednesday and it is down 28.8% YTD.
The company reported its June quarter on Wednesday before the market open, with revenue and earnings at $311 million and 40c versus analyst estimates of $311 million and 55c. It also guided down fiscal year 2011 revenues and earnings, expecting $1.25 billion and $1.60-$1.70 versus analyst estimates of $1.26 billion and $2.08. Thus, earnings are projected to fall from $2.01 in 2010 to $1.60-$1.70 in 2011. The stock meanwhile still trades at forward 21 P/E based on 2011 numbers, in the top one-third of its historic P/E range. We would be sellers here based on valuation.


Table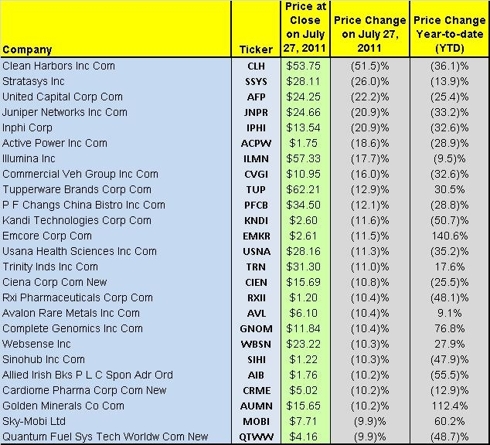 Credit: Historical fundamentals including operating metrics and stock ownership information were derived using SEC filings data, I-Metrix® by Edgar Online®, Zacks Investment Research, Thomson Reuters and Briefing.com. The information and data is believed to be accurate, but no guarantees or representations are made.
Disclosure: I have no positions in any stocks mentioned, and no plans to initiate any positions within the next 72 hours.
Disclaimer: Material presented here is for informational purposes only. Nothing in this article should be taken as a solicitation to purchase or sell securities. Before buying or selling any stock you should do your own research and reach your own conclusion. Further, these are our 'opinions' and we may be wrong. We may have positions in securities mentioned in this article. You should take this into consideration before acting on any advice given in this article. If this makes you uncomfortable, then do not listen to our thoughts and opinions. The contents of this article do not take into consideration your individual investment objectives so consult with your own financial adviser before making an investment decision. Investing includes certain risks including loss of principal.