With the price of oil (NYSEARCA:USO) having fallen more than 50%, and with rig activity (NYSEARCA:OIH) and capital expenditures in the space falling rapidly, it makes sense to assess the potential impact to adjacent businesses. Lodging is one of the most economically sensitive and short cycle businesses is lodging, so it makes sense to look at publicly traded hotel companies and evaluate those companies exposure to these areas. Big chains like Host, Hyatt and Hilton seem to be well positioned, while smaller chains like La Quinta may bear the brunt of the negative impact.
Host Hotels:
Host Hotels (NYSE:HST) is one of the largest publicly traded hotel companies in the US. Host owns hotels that are managed by such companies as Hyatt, Marriott and The Ritz Carlton, owning almost 70,000 rooms in the US and abroad. Host breaks out its US geographic exposure in this map: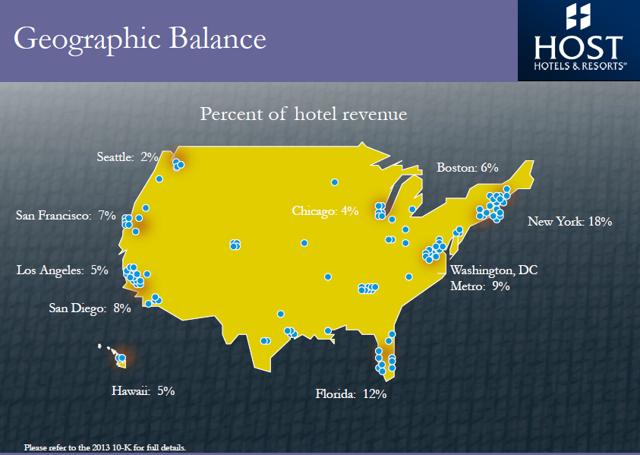 With only a few properties in Texas and a few in Denver, compared to the large number along the East Coast and West Coast, Host has minimal exposure to areas likely to be negatively affected by a downturn in oil prices and oil drilling. If anything, Host may be a net beneficiary of lower prices, as lower oil prices lead to more travel and more overall demand for hotels.
Hilton:
Hilton (NYSE:HLT) is the largest hotel company in the world (their claim in their investor presentation) with 4,625 hotels and 705,000 rooms. On the State of Texas Comptroller's website, there is a list of every hotel in Texas. There are fewer than 70 Hilton managed hotels on the list, which means around 1.5% of Hilton's hotels are located there. This means Hilton is more likely to be a beneficiary of low oil prices than to be hurt by low oil prices. Here is a system-wide map of Hilton hotels worldwide: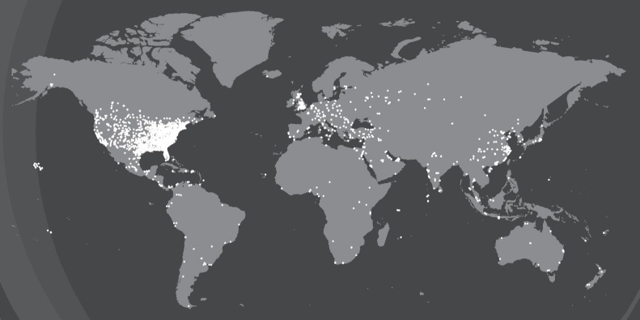 Hyatt Hotels:
Hyatt (NYSE:H) is also one of the biggest hotel companies in the world, with 152,000 rooms and 573 properties. With fewer than 15 hotels in Texas, according to the Texas state comptroller's website, Texas hotels represent only 2.5% of all of Hyatt's hotels. This means Hyatt's likely exposure to the oilfield is limited, and Hyatt hotel stays and rates system wide may benefit from lower oil prices. Here is a map of Hyatt's hotels: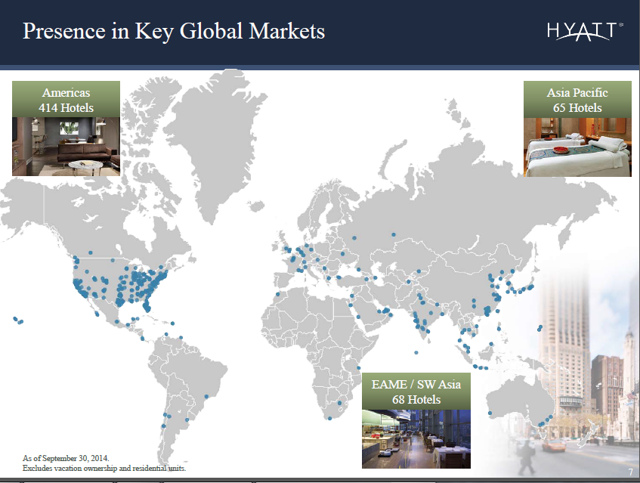 La Quinta:
La Quinta (NYSE:LQ) is a large hotel company with hotels around the US and abroad. According to La Quinta's filings, over 25% of its hotels are in Texas and an additional 10% are in places like North Dakota and Denver, which are heavily exposed to oil fields and oil company headquarters and regional offices. La Quinta mentions in its financial disclosures that it has unusual geographic concentration, which may incur additional risk to investors. And its room rates are much higher in rural areas near oil fields, as high as $290 per night for motel rooms in Midland, Texas which cost as little as $60 per night in places like Little Rock, Arkansas. And insiders are selling, with the CFO and CEO having sold more than $3.5 million of stock in the past week.
Based on the above, La Quinta may be hurt substantially more than it is helped by lower oil prices. Based on the crash in oil prices and recent drops in room rates, accompanied by aggressive insider selling, La Quinta may be a good stock to avoid until oil prices and drilling activity recover. Here is a map of La Quinta hotels, with oil field locations circled: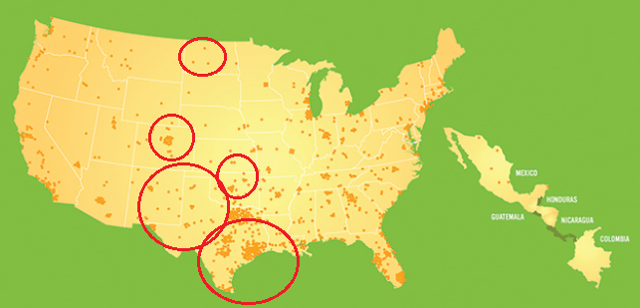 Conclusion:
As can be seen above, of the hotels mentioned La Quinta has by far the most exposure to oil field driven demand. It is perhaps a surprise that La Quinta's stock price is near its all time high while oil prices and oil service stocks are down 50% in the past few months. Below is a chart of La Quinta stock versus the price of oil and oil services companies, which may give an indication of how far La Quinta stock could trade down if it traded in concert.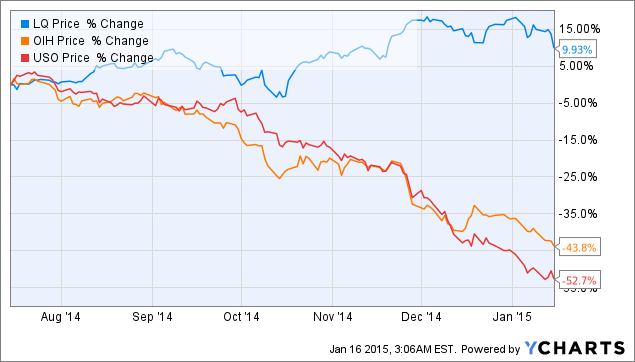 Disclaimer: Opinions expressed herein by the author are not an investment recommendation and are not meant to be relied upon in investment decisions. The author is not acting in an investment adviser capacity. This is not an investment research report. The author's opinions expressed herein address only select aspects of potential investment in securities of the companies mentioned and cannot be a substitute for comprehensive investment analysis. Any analysis presented herein is illustrative in nature, limited in scope, based on an incomplete set of information, and has limitations to its accuracy. The author recommends that potential and existing investors conduct thorough investment research of their own, including detailed review of the companies' SEC filings, and consult a qualified investment adviser. The information upon which this material is based was obtained from sources believed to be reliable, but has not been independently verified. Therefore, the author cannot guarantee its accuracy. Any opinions or estimates constitute the author's best judgment as of the date of publication, and are subject to change without notice.
Disclosure: The author is short LQ.
The author wrote this article themselves, and it expresses their own opinions. The author is not receiving compensation for it (other than from Seeking Alpha). The author has no business relationship with any company whose stock is mentioned in this article.