The U.S. economy continues to have significant headwinds (e.g., high unemployment, end of QE2, a weak housing market, etc.) and the looming debt ceiling deadline has certainly enhanced investor uncertainty. In the current market environment, it is important for income investors to choose their dividend stocks wisely as they are putting new money to work. As volatility increases (especially downside volatility), investors may want to add some low beta stocks to their holdings to help dampen portfolio volatility. In general, companies with low betas will tend to be less volatile than the general market.
With that in mind, we did a screen with the following parameters to find ultra low beta stocks with high dividend yields and P/E ratios under 20:

Dividend yield > 5%

Stock price > $10.00

Market cap > $1 billion

P/E ratio < 20.0x

Beta < 0.20
The stocks below meet these parameters. Use this data as a starting point for your own analysis.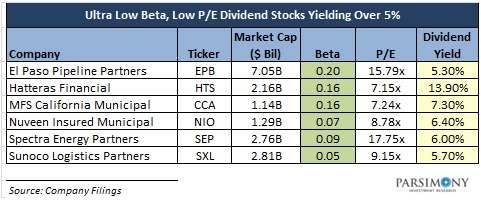 On average, these stocks have a beta of 0.12 and a yield of 7.4%, a great combination for times of uncertainty.
Disclosure: I have no positions in any stocks mentioned, and no plans to initiate any positions within the next 72 hours.