Realty Income Corp. (NYSE:O) is a REIT that purchases established retail real estate sites and holds long-term contracts with tenants. Rent collected goes mainly toward distributions to shareholders.

Distribution Yield: 5.25%
Five Year Distribution Growth: 5.5%
Five Year FFO per-share Growth: 2.5%
Balance Sheet: Fairly Conservative

With the REIT surge in 2010, I think Realty Income is overvalued, and may be worth buying if a significant dip occurs. The business is well-run, provides a significant distribution yield along with fair distribution growth, maintains a fairly conservative financial position, and pays distributions on a monthly basis, but I wouldn't buy at the current price.
Click to enlarge charts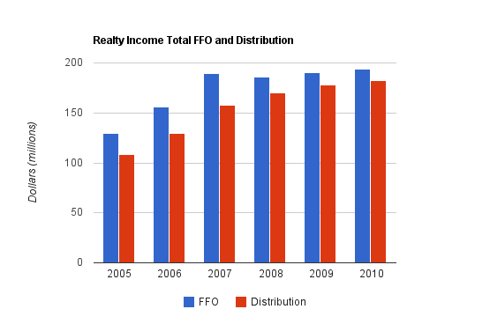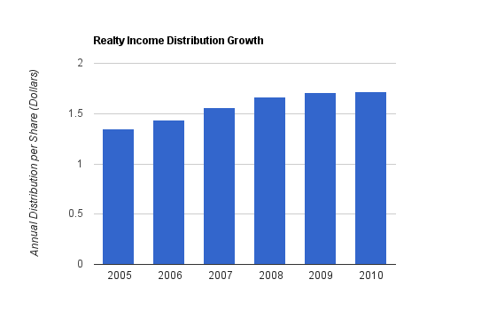 Overview
Realty Income Corp. is a real estate investment trust. The business must pay out at least 90% of income as dividends to shareholders, and there is little to no double taxation.
Realty Income focuses on buying retail properties that are already established. It owns 2,500 properties in 49 states, and it is continually expanding its portfolio of property. Realty Income has been paying distributions for over four decades.
Financial
Realty Income has generated regular revenue and FFO increases over its four-decade operating history. Among the most important metrics for a REIT and especially Realty Income is Funds From Operations (FFO), which approximates the true distributable income of the business. It is out of FFO, rather than net income, that a REIT can substantiate and pay its distributions to shareholders.
| Year | Revenue | FFO | Distributions |
| --- | --- | --- | --- |
| 2005 | $197.8 million | $129.6 million | $108.6 million |
| 2006 | $240.6 million | $155.8 million | $129.7 million |
| 2007 | $297.4 million | $189.7 million | $157.7 million |
| 2008 | $331.7 million | $185.5 million | $169.6 million |
| 2009 | $328.8 million | $190.4 million | $178.0 million |
| 2010 | $346.7 million | $193.7 million | $182.5 million |











Although Realty Income was moderately disrupted by the economic difficulty for the 2008-2009 period, the company remained sturdy and has continued to grow.
| Year | Net Income | FFO | Distributions |
| --- | --- | --- | --- |
| 2005 | $1.12 | $1.62 | $1.346 |
| 2006 | $1.11 | $1.73 | $1.437 |
| 2007 | $1.16 | $1.89 | $1.560 |
| 2008 | $1.06 | $1.83 | $1.662 |
| 2009 | $1.03 | $1.84 | $1.707 |
| 2010 | $1.01 | $1.83 | $1.772 |











The above chart shows per-share data of net income, FFO and distributions over the same period. Per-share data takes into account the issuance of new shares by Realty Income to fund its growth. Since a REIT pays out 90% or more of its income and a substantial percentage of FFO as distributions, in order to grow, REIT management typically finds attractive places to invest capital, and issues new shares to do so, to the benefit of all existing shareholders if valued appropriately.
FFO per share has remained flat over the course of this period of economic trouble. This per-share data is more telling in regard to company health than figures for the whole company, and the numbers aren't too solid.
The distribution has grown by an average of 5.5% annually over this period. In the most recent two years, however, the distribution growth has barely exceeded an average of 3%. A red flag is that rather than the distribution growing along with FFO, it is growing into FFO. There is now little margin of safety between the distribution and the funds to actually pay and grow that distribution.
Balance Sheet
Realty Income doesn't hold mortgages on most of its properties. Instead, as leverage, it holds mortgage-free property but issues notes and utilizes a credit facility. Total debt/equity is less than 80%. The interest coverage ratio is only 1.3, but when depreciation is factored out, it's 1.77, and when using an operating cash flow figure reported by the company, it's 3.3. For real estate, these numbers are pretty conservative.
Investment Thesis
Realty Income is an extremely shareholder friendly business. Most of its website is tailored to the individual investor, with videos and tutorials explaining dividend paying stocks, describing its business in straightforward terms, and boasting of its long history of paying solid dividends. The monthly rather than quarterly dividend policy can help smooth out income for those living off of dividends.
Over the 42-year operating history, realty income has been increasing distributions, and has kept the occupancy rate of its properties at over 96%. This is because it purchases properties with tenants already present, and it signs very long-term contracts. For most of Realty Income's property, it uses net-lease agreements with terms of 15-20 years. This means that Realty Income collects the rent, and the tenant is responsible for most expenses including property tax and maintenance. It can typically raise rent along with inflation, and/or raise rent if the tenant is performing well.
Most of Realty Income's property is retail, and it pays close attention to which sites are performing and which are not. The two largest types of investments are restaurants and convenience stores (19.1% and 17.4% of total rental revenue, respectively). It also owns health and fitness center property, theaters and a host of other property types.
A few months ago, Realty Income announced plans to acquire $544 million worth of non-retail property. Although most of Realty Income's revenue will still come from retail, this is a larger than typical deviation. This new property includes distribution, office and manufacturing properties, with tenants such as FedEx (NYSE:FDX) and Caterpillar (NYSE:CAT). Including this acquisition, Realty Income management has predicted $500-$700 million worth of acquisitions in 2011, and for total FFO to increase by approximately 9-10% over 2010 levels.
Valuation, however, is a problem, and is discussed below in the Conclusion and Valuation section.
Risks
Realty Income is a conservatively managed real estate business, but there is always risk. Depending on economic conditions, it could see occupancy rates fall. Approximately 2-5% of revenue expires each year, so management must renew these deals or find replacements. Costs of capital could increase, lowering the profitability of the business, since it relies on leverage. Management could prove to be less adept at handling non-retail assets as they become a bigger part of their real estate portfolio. The valuation of the shares could fall, as they are historically high.
Conclusion and Valuation
In conclusion, I think Realty Income is a great business, but the shares are currently expensive. Historically, Realty Income's distribution yield has been in the 6-8% range or more, but recently has fallen to the lower 5% range.
At the current price of around $33, an investor is paying 18x FFO and more than 2.5 times book value. Plus, the distribution is inching very close to FFO. If FFO increases to around $2 for 2011 like management expects, it may relieve some of the distribution pressure, but it's still on the high end. In order to rebuild a cushion between FFO and the distribution, management would have to grow the distribution more slowly than FFO for a few years.
With nearly full occupancy as Realty Income has historically maintained, there isn't a whole lot of upside potential to justify the current valuation. I believe the current valuation is due to a flight of investors to perceived safety and yield. When interest rates rise, the cost of capital for Realty Income will increase, and simultaneously, a subset of investors will likely find yields elsewhere, bringing the valuation down. Prudent investors may find a better opportunity if that occurs.
In my opinion, Realty Income may be worth purchasing if the distribution yield increases to 6.5% or more, and distributions per share are less than 85% of FFO, or if the distribution yield increases to 7% or more, and the distributions per share are less than 90% of FFO.
Disclosure: I have no positions in any stocks mentioned, and no plans to initiate any positions within the next 72 hours.