Herbalife's (NYSE:HLF) annual statements of gross distributor income disclose compensation distribution that is remarkably skewed in favor of high-level recruiters. However, given their less than comprehensive content and without some reliable indication of distributorship operating costs, the company's disclosures do not tell the whole story.
SA Contributor, Jon M. Taylor, MBA, PhD and President of the Consumer Awareness Institute has published the most comprehensive body of in-depth research on multi-level marketing available to date. The 2014 edition of his 449-page report entitled, Multi-Level Marketing Unmasked includes estimated loss rates for participants in fifty MLMs. His analysis suggested a Herbalife participant loss rate of 99.2% in 2011, (Ch. 7-20).
Using a different analytical model, SA Contributor, Robert L. FitzPatrick, author and President of Pyramid Scheme Alert, SA Contributor, Douglas M. Brooks, an attorney who specializes in MLM and franchise law and SA Contributor, Bruce Craig, Assistant Attorney General for the State of Wisconsin, retired published a whitepaper on Seeking Alpha on 17 March, 2014 that addresses net MLM distributor income. Their analysis suggested that the combination of Herbalife, NuSkin, and Amway participants who netted less than a living income in 2012 was 99.6% of all participants. While MLM proponents have been quick to criticize Messrs. Taylor, FitzPatrick, Brooks and Craig's work, none have published any research that refutes their findings.
This article analyzes the viability of Herbalife's business opportunity as a function of net income for qualified Sales Leaders (Supervisors and above) and Active Sales Leaders whom Herbalife defines as "those who generated at least 2,500 points of volume in 2011 after becoming Supervisor". It excludes the more than 74% of distributors below the rank of Sales Leader, and all categories of who remained enrolled at a single point in time near the beginning of 2012. The model for this analysis is based on IRS statistics for 2011 (the most recent year for which they were available at this writing), Herbalife's 2011 distributor income disclosure and its 10-K from the same year, strictly as published.
About the Statistics Used in the Analysis
The IRS reports annual statistics compiled from randomly sampled tax returns for sole proprietorships in North American Industry Classification System (NAICS) industrial subsector 454, "Nonstore retail establishments" (non-store retailers). This analysis employs statistics for that industry sector for three reasons:
Examination of NAICS Industrial Sector definitions indicates that NAICS Industry Group 454390, sole proprietorships in the "Other direct selling establishments" (other direct sellers) industry group, which is subordinate to non-store retailers, is clearly most applicable to MLM distributorships.
Non-store retailers escape brick-and mortar overhead, as do most MLM distributorships.
The IRS recommends that MLM sole proprietorships categorize their tax returns in this industry group.
Income and expense statistics specific to other direct sellers are not available from the IRS. However, the Census Bureau reports income statistics based primarily on IRS records for establishments in that industry group with revenues of at least $1,000 in 2011, as well as those for non-store retailers. Of 796,334 non-store retailers 667,187 or 83.78% were other direct sellers. The only direct sellers the Census Bureau did not include in this industry group were 3,195 "Fuel dealers", none of which are MLM distributorships.
The Census Bureau's report also showed that sole proprietorships numbered 639,728, or 95.88% of 667,187 other direct sellers. The remaining 4.12% was comprised of 17,041 corporations and 10,418 partnerships.
The applicability of non-store sole proprietorship statistics to other direct sellers was further validated using the Census Bureau's reported numbers of non-store retailers segmented by gross income ranges and the identically segmented numbers of other direct sellers.
The correlation coefficient shown at the bottom of the table, 0.9989, is a measure of the degree to which the two segmented series are associated. Correlation coefficients can range from "negative one" through "zero" and up to "one". A coefficient of "zero" indicates that there is no correlation between two data sets. "Negative one" indicates perfect inverse correlation. A coefficient of "one" indicates perfect direct correlation. Coefficients between 0.5 and 0.9 are considered "high". Those 0.9 or greater are considered "very high". The correlation between segmented non-store retailer gross income and that for other direct sellers in identical income segments is slightly less than perfect.
The IRS corrects mis-categorized returns before compiling its statistics, minimizing the possibility of sample contamination.
The Direct Selling Association claims that MLM distributors comprised 98.7% of all direct sellers in 2011.
All these considerations, in sum suggest that the IRS' cost statistics for non-store sole proprietorships reasonably approximate those for MLM distributorships. The analysis proceeded on that basis.
Analytical Methodology
The IRS reports total income, total selected deductions and the number of returns for all filings, including 1040 EZ returns, and separately for those that declared a net income. Subtracting the totals for profitable establishments from the totals for all yielded totals for establishments that claimed a net loss. Averages were then calculated for the derived statistical data sets. The averages provided two values each for gross income and deductible expenses from which breakeven income was calculated.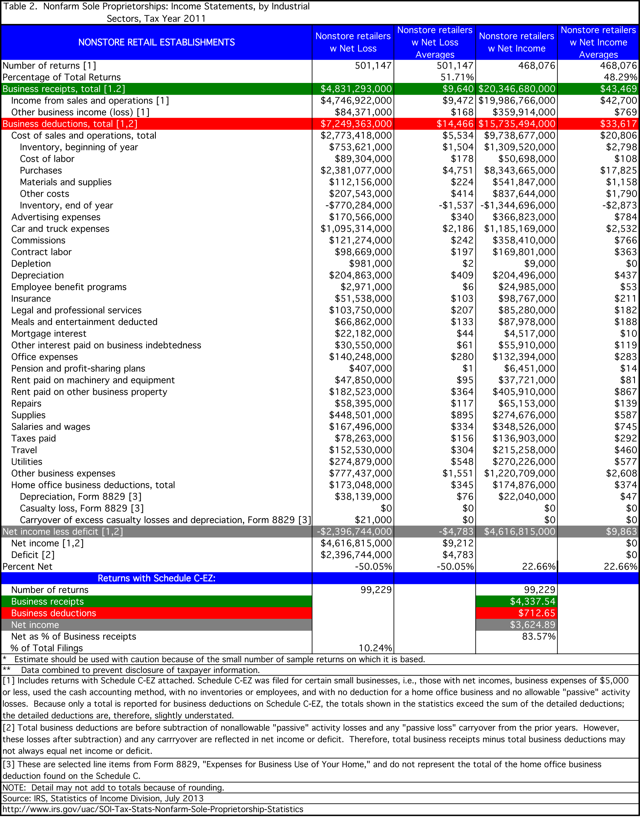 Average business receipts were $9,640 for non-store retailers who claimed a net loss and $43,469 for those who declared a net income. Average business deductions were $14,466 and $33,617 respectively. The intersection of the resulting income and expense curves approximates average breakeven income.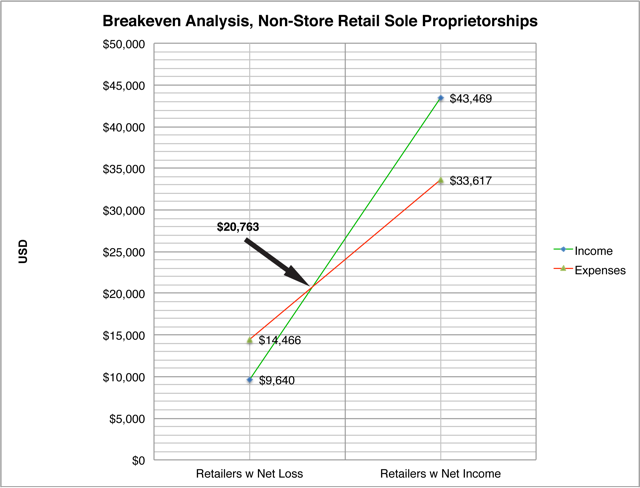 SA contributor, Dr. Kay Herbert generously lent his expertise to increase the precision of the graphed breakeven income by mathematical calculation. The precise breakeven income he calculated was $20,763.
This figure was then juxtaposed with Herbalife's "Statement of Average Gross Compensation of U.S. Supervisors - 2011" in the next step of the analysis.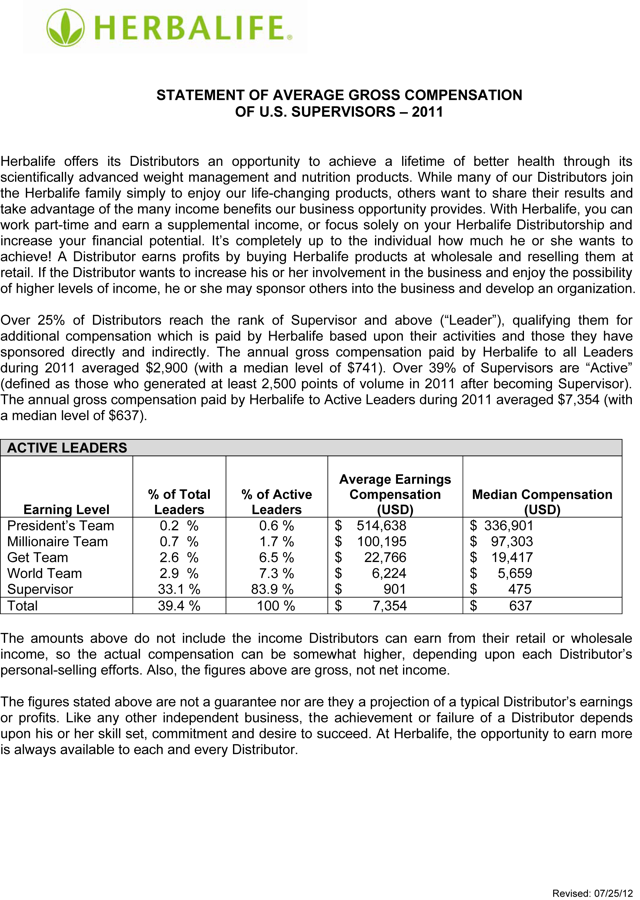 The percentages of what Herbalife terms "Leaders" (distributors who reach the rank of Supervisor and above) and "Active Leaders" (those who generated at least 2,500 points of volume in 2011 after becoming Supervisor), and Median Compensation shown in Herbalife's Statement, are the metrics essential to this analysis. Herbalife Leaders who reached "Get Team" level earned median gross income of $19,417. That is 93.5% of the $20,763 calculated breakeven income. The error this imprecision introduces can only operate in favor of the calculated percentage of net profit-earning Sales Leaders.
"Median income" can be defined as the minimum compensation Herbalife paid to the top 50% of the specified population. Expressed as a percentage of Get Team members (50% x 2.6% = ), 1.3% received payments in excess of breakeven income. Of Active Get Team members (50% x 6.5% = ), 3.25% received more than breakeven income.
Among higher-level Leaders, the median gross income for President's Team members (0.2%), and Millionaire Team members (0.7%) exceeded breakeven income. These percentages added to the 1.3% attributable to Get Team Leaders total 2.2%. This translates to a financial failure rate of 97.80%.
Among higher-level Active Leaders, President's Team (0.6%), and Millionaire Team (1.7%) members exceeded breakeven income. These percentages added to the 3.25% attributable to Get Team Leaders total 5.55%, translating to a financial failure rate of 94.45%.
The 48.6% North American Sales Leader retention Herbalife claimed on page 13 of its 2012 10-K was then factored into the analysis, increasing the calculated financial failure rates to 98.94% and 97.34% respectively. These percentages exclude the unknown number of aspiring Sales Leaders who aborted their efforts prior to qualifying in 2011.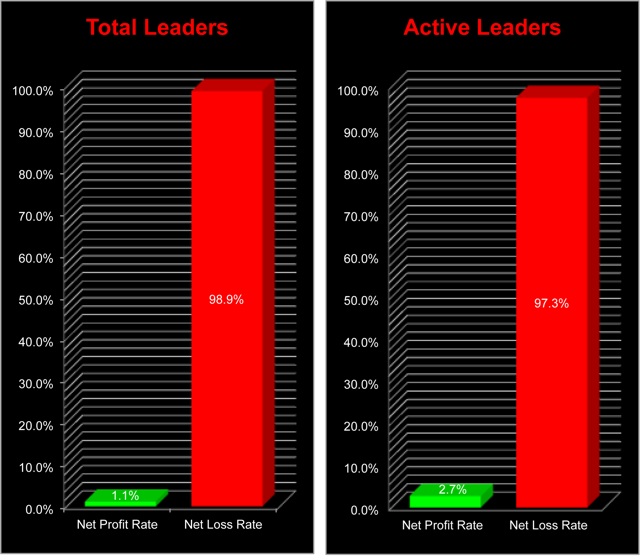 One important figure embedded in IRS statistics is net losses for failed non-store retailers. They averaged $4,783, irrespective of the millions of other direct sellers who earned $0.0 and elected not to claim a loss. SA Contributor, Rogier van Vlissingen's 23 December SA article, "Herbalife and the Black Hole in the Economy" eloquently addressed the effect of aggregate MLM distributor losses on the U.S. GDP. How this average loss figure impacts GDP deserves separate treatment beyond the scope of this article.
It should be noted that the results of this analysis are remarkably convergent with Dr. Taylor's, and Messrs. FitzPatrick, Brooks and Craig's conclusions. This consistence, despite the analysts' use of different analytical methodologies, serves as useful cross validation for all three analyses.
Conclusion
A 98.94% Sales Leader financial failure rate not only spells disaster for aspiring entrepreneurs who abandon their conventional careers to pursue the Herbalife dream, it steals the dreams of stay-at-home parents who only want to help meet household expenses or fund a family vacation, the security of military families and retirees struggling to make ends meet, and the hopes of disadvantaged immigrants seeking to make their way in their adopted country. Against this backdrop, Herbalife and its recruiters continue to promote its business opportunity as "...a solution for these tough economic times."
Section 5 of the Federal Trade Commission Act-specifically, 15 U.S.C. §45(a)(1)-reads as follows:
"Unfair methods of competition in or affecting commerce, and unfair or deceptive acts or practices [UDAP] in or affecting commerce, are hereby declared unlawful."
By any reasonable standard, Herbalife's glowing representations of its U.S. "business opportunity" are on their face deceptive, violating Section 5's UDAP prohibition. This conclusion is consistent with Douglas Brooks' 17 January, 2013 article, "Herbalife's Problem With Deceptive Earnings Claims" which covered this issue in much greater depth from his professional perspective as an attorney. Moreover, this analysis suggests that Herbalife meets the most decisive standard the FTC articulates to consumers for identifying a pyramid scheme: "...the vast majority of participants lose money." Herbalife's own published disclosures, accepted at face value and juxtaposed with IRS statistics, should alone be sufficient to warrant FTC intervention.
In an age of unparalleled transparency, the FTC can ill-afford continued inaction. Herbalife's lifeblood is its "business opportunity". Whether the FTC acts to curb Herbalife's continuing distributor recruitment or shutters the Company's U.S. operations, the result will be the same-demise of Herbalife in the U.S.
Unfortunately, Congress has only authorized the FTC to enforce its Section 5 mandate against unlawful commercial activities that take place within the U.S. However, the world is watching; and if the FTC acts decisively against Herbalife's consumer abuses, regulators in other nations are likely to follow.
Disclosure: I/we have no positions in any stocks mentioned, and no plans to initiate any positions within the next 72 hours.
I wrote this article myself, and it expresses my own opinions. I am not receiving compensation for it (other than from Seeking Alpha). I have no business relationship with any company whose stock is mentioned in this article.
Additional disclosure: The author is a counter-MLM activist. As such, he harbors a clear and acknowledged bias against the MLM "industry".