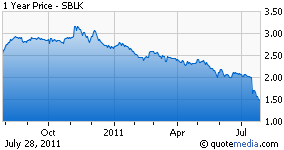 Background
Star Bulk Carriers (NASDAQ:SBLK) has taken a beating in the recent market, falling more than 25% in about two weeks. Although the shipping industry is in a major slump, nothing dramatic has changed in the past two weeks. In fact, due to the rapid stock price decline of most shipping companies, many companies are trading at, or even below, their liquidation value. I recently posted an article which suggests that an industry-wide consolidation phase is about to take place. Star Bulk is one of these companies which trades at a liquidation discount, and at the current market price of $1.50 a share, SBLK trades at an estimated liquidation discount of 27% (math below).
Recent Equity Dilution
The recent equity dilution that dropped SBLK's price has created an outstanding buying opportunity. Based on the new issue of approximately 16.7M shares at $1.80, SBLK will gain approximately $28M in cash. Taking the financial numbers from SBLKs 1Q11 report while adding in $28M in cash results in a net debt of $162M. The equity infusion takes SBLKs diluted shares to 80M outstanding, which translates into a market cap $120M at $1.50/share.
SBLK reports fixed assets (almost completely ships) of $654M in 1Q11. Assuming a liquidation value of 50% (although some older ships (90s) have sold closer to 40%, SBLK owns two brand new ships and seven additional ships under 10 years old, so 50% is pretty conservative), SBLK is worth $2.06 per share. Assuming the worst case scenario, a liquidation rate of 43.1% is required to breakeven at $1.50 a share.
Charter Coverage
Star Bulk has achieved 89% coverage for the Capesize vessels for the rest of 2011 (75% coverage overall) as of May 12.
Fleet Size/Utilization
Star Bulk has seven Capesize vessels and eight Supramax vessels. The average age of these vessels is 10.06 years, and the total carrying size is 1.6M DWT.
Star Bulk has achieved a fleet utilization rate of 99.8% thus far in 2011 (1Q11).
Long Term Financial Sustainability
Star Bulk dodged a major debt bullet by issuing its recent equity offering. Although the dilution news was not taken well by investors, this will avoid an extremely costly debt refinancing (imagine the rates for a drybulk shipper from Greece). With the current charter coverage and a decrease in managerial overhead, Star Bulk should be able to ride out the current drybulk slump.
With a current dividend yield of 13.2%, this will need to be decreased, or even cut, to ensure financial stability. Although investors will likely drop the price short-term if the dividend is cut, this would be a smart long-term financial decision that will save the company approximately $16M each year.
Other Trading Opportunities
Excel Maritime (NYSE:EXM) also trades below liquidation value, and Baltic Trading (NYSE:BALT) and Paragon Shipping (PRGN) trade at slim premiums.
Disclosure: I am long SBLK, EXM, PRGN.