Motorola Mobility (NYSE:MMI) just released earnings, dashing the hopes of bulls one more time.
My long-time readers know that I have been negative on Motorola Mobility ever since its split from old Motorola. As the chart below shows, I put my analysis into action by going short on Motorola.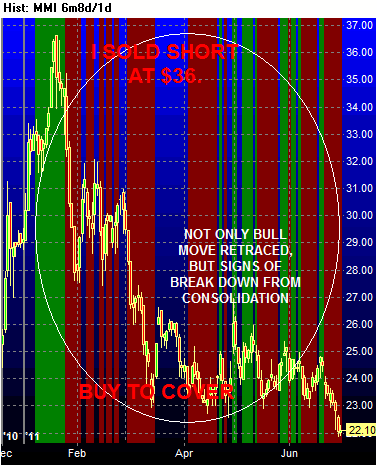 Motorola Mobility reported EPS of $0.09 vs. consensus of $0.06. The company shipped 11 million devices. So far so good, but here is the rub. Motorola shipped only 440,000 tablets. It was not that long ago bulls were projecting several million tablets to be shipped this quarter.
To get an idea of how bad this number is, take a look at the earnings report from Apple (NASDAQ:AAPL). In the last quarter Apple shipped 9.25 million iPads. For the entire year, Motorola expects to ship 1.3 million to 1.5 million tablets.
In smart phones, Motorola is not doing much better. In the last quarter Apple sold 20.34 million iPhones. Motorola sold 4.4 million smart phones.
Bad news does not end here. For the Q3, MMI sees EPS of $0.10 vs. consensus of $0.24. For 2011, MMI sees EPS of $0.48 to $0.60 vs. consensus of $0.71.
The only good news in the earnings report is that Motorola did well in China. However, a new unexpected challenge is likely to appear in China. Chinese ecommerce company Alibaba (OTC:ALBCF), in which Yahoo (YHOO) has a stake, launched its own mobile operating system.
"Mobile users want a more open and convenient mobile OS, one that allows them to truly enjoy all that the Internet has to offer right in the palm of their hand, and the cloud OS, with its use of cloud-based applications, will provide that," said Wang Jian, president of Alibaba Cloud Computing, a unit of Alibaba Group.
Bulls on this stock have been pinning their hopes on the introduction of Droid Bionic at both Verizon (NYSE:VZ) and AT & T (NYSE:T). MMI confirms that Droid Bionic will be in stores in September. As the company's own projections for this quarter show, the hopes of the stock market bulls are much higher than the company's own projections.
The stock is down about 4% after hours. The correct level for this stock is $16.00 to $18.00. The stock has air related to speculation about patents underneath it that keeps it levitating.
On the conference call (see transcript), the CEO said,
As most of you know, we own one of the strongest and most respected patent portfolios in the industry. We have over 17,000 patents granted and over 7,000 patents pending with particular strength in 2G and 3G essentials, nonessential patents important to the delivery of competitive products in the marketplace; video, particularly compression, decompression and security technologies; and finally, a leading position in 4G LTE essentials. With new entrants to the mobile space resulting from the convergence of mobility, media, computing and the Internet, our patent portfolio is increasingly important.
Bulls seem to be encouraged by the price that Northern Telecom's patents fetched in a recent auction. Bulls either ignore or do not understand that Northern Telecom went bankrupt. For an ongoing concern like Motorola, it is very difficult to monetize patents and receive a value anywhere close to an auction price. Simply put, it would be suicidal for Motorola to auction off its patents.
It is time to sell this stock and aggressive investors may consider short selling it on any major bounce. I plan to short sell this stock on a major bounce.

Disclosure: I have no positions in any stocks mentioned, but may initiate a short position in MMI over the next 72 hours.

Additional disclosure: I am long AAPL from $131