With financials already falling, a key threat for investors is that the broader stock market may soon follow. In a recent post, I identified the strong relationship that has existed for years between financials and stocks overall in both up and down markets. But so far in 2011 this relationship has broken down, so it's likely that they will work to meet back up at some point. And the worst case scenario for markets today is a replay of 2007-2008, when financials kept falling and eventually pulled the overall market down into the maelstrom. Given this concern, what is the next key indicator worth watching to determine if we might see a 2007 like scenario play out in 2011? The preferred stock market.
The preferred stock market provides important insight into the perceived solvency of financial sector companies. This is due to the fact, as discussed in a previous post on preferred stocks, that this is a segment of the market that is heavily concentrated in financials. Overall, between 80% to 90% of preferred stocks are from the financial sector. But these preferred stocks (technically known as fixed rate capital securities under a variety of titles) rank higher than common stocks on the capital structure. As a result, if the solvency of institutions in the financial sector began to come into question, we would likely see this profoundly making its way into the preferred stock universe.
Back in 2007, the preferred stock market started to send up a strong early warning signal that something was truly wrong with the banks. Using the S&P 500 Index, the Financials Select Sector SPDR (NYSEARCA:XLF) and the iShares S&P U.S. Preferred Stock Index ETF (NYSEARCA:PFF) for illustration, we can see how it all played out. Starting in March 2007, the performance of financial stocks began diverging from the broader market. But preferred stocks initially held steady. It was not until the end of July 2007 that things began to change. Not only did financial stocks begin to accelerate to the downside, but the preferred stock market began to deteriorate as well. This was an indication of mounting concern that banks were facing the rising risk of default.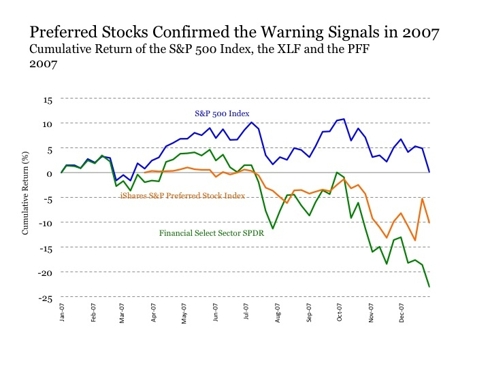 Fast forwarding to 2011, the good news is that we're not seeing the same type of drop off in the preferred stock universe that we saw in 2007. Instead, they have been tracking closely with the broader stock market. This is a positive sign for investment markets in general, as it indicates that the perceived threat of default or suspended dividend payments from the financial sector is minimal to this point. But it will be worthwhile to continue watching the preferred stock market closely in the coming months. If the survival of the banks starts to come back into question, preferred stock listings like the PFF will be likely one of the first places that we'll begin to see it. And it was precisely around this time of year in 2007 that preferred stocks began their slide lower.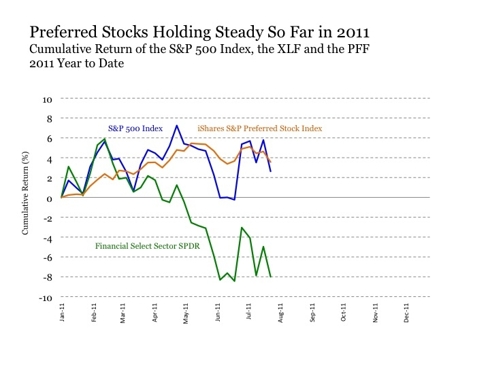 An important differentiation between today's threat versus what we experienced in 2007 is the epicenter of the problem. Back in 2007, the core of the problem resided in America. Today, the situation is most precarious in Europe. As a result, this might raise the question as to whether the iShares U.S. Preferred Stock Index ETF would provide the same early warning signal this time around, particularly since it has "U.S." in its name. Despite the seemingly American focus, this product comes with a heavy allocation to the major European financials that would be most directly at risk in the event of a European crisis. Overall, 24% of the total allocation in this product is concentrated in names like HSBC (HBC), ING (NYSE:ING), Barclays (NYSE:BCS), Deutsche Bank (NYSE:DB), Santander (STD) and several others across Europe. As a result, the PFF continues to have applicability as an important monitoring tool for a potential broader stock market downturn once again this time around.

Disclosure: I have no positions in any stocks mentioned, and no plans to initiate any positions within the next 72 hours.
Disclaimer: This post is for information purposes only. There are risks involved with investing including loss of principal. Gerring Wealth Management (GWM) makes no explicit or implicit guarantee with respect to performance or the outcome of any investment or projections made by GWM. There is no guarantee that the goals of the strategies discussed by GWM will be met.