Introduction
On January 15th, the Swiss National Bank (SNB) shocked markets around the world by abandoning the franc's cap against the euro. This event precipitated a series of dramatic financial events. One effect has been the steep rise in the price of gold, with gold rising from around $1,230 an ounce before the announcement to around $1,280 an ounce on Friday.
Understanding what happened with the move by the SNB will help allow gold investors to carefully plan short- and long-term investments. This piece will explain some of the ramifications from the SNB's actions and how this will impact gold mining stocks. In addition, one unknown wildcard that could significantly impact gold prices this upcoming week is the extent of the European Central Bank's (ECB) quantitative easing program. Depending on the extent of the program, this could either lead to a further appreciation in the price of gold or help to stifle its current momentum.
Switzerland Abandons Currency Floor
In September 2011, the Swiss National Bank stunned investors by setting a limit on the strength of the franc. It decided to peg the franc to the euro in order to devalue its currency and help its overall economy. This led to commentators at the time arguing that Switzerland's move could potentially lead to "currency wars." As Jeremy Cook, chief economist at currency broker World First, said at the time:
"That was the single largest foreign exchange move I have ever seen… The Swiss franc has lost close [to] 9% in the past 15 minutes. This dwarfs moves seen post-Lehman brothers, 7/7, and other major geopolitical events in the past decade."
Just as the Swiss National Bank shocked investors in 2011, its grand reversal last week sent shock waves through financial markets. The Swiss franc spiked in price, jumping 18 percent against the euro on Thursday morning and was up 39 percent at one point. This spike looks like a complete reversal from the dip it took in 2011: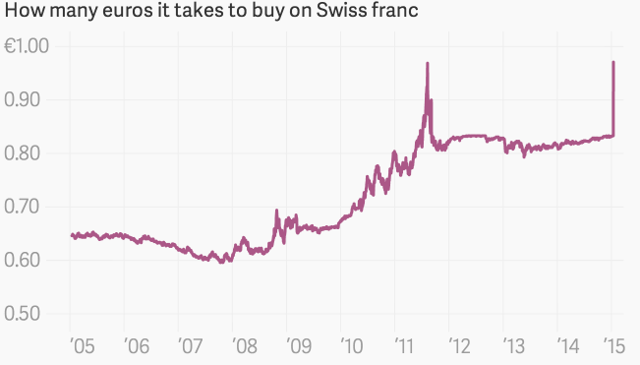 Source: Quartz.com
The Swiss National Bank made this move because it believed the 1.2 euro peg had become too expensive to defend. According to their press release:
Recently, divergences between the monetary policies of the major currency areas have increased significantly - a trend that is likely to become even more pronounced. The euro has depreciated considerably against the US dollar and this, in turn, has caused the Swiss franc to weaken against the US dollar. In these circumstances, the SNB concluded that enforcing and maintaining the minimum exchange rate for the Swiss franc against the euro is no longer justified.
The impact of this move on the price of gold has also been significant. This can be seen by looking at both longer and shorter term charts of the price of gold: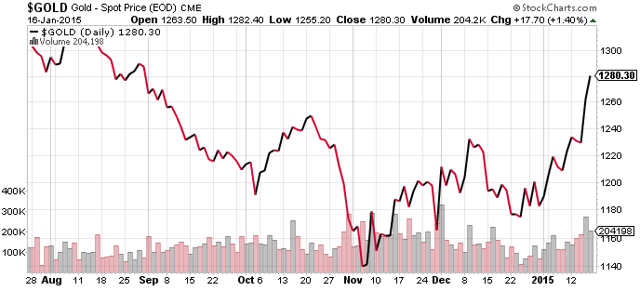 Source: Stockcharts.com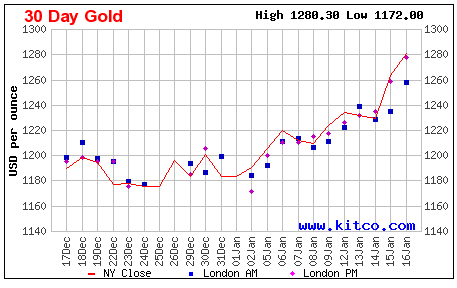 Source: Kitco.com
As deflation concerns grow in Europe and uncertainty about currency rates remains, many investors have turned towards gold as a safe haven.
Gold Mining Stocks
The rise in gold has benefited gold mining companies. Gold mining stocks are extremely sensitive to fluctuations in the price of gold. As gold has depreciated over the last several months, numerous gold mining companies have taken a significant hit. For example, Barrick Gold (NYSE:ABX), Kinross Gold (NYSE:KGC), and Goldcorp (NYSE:GG) have all seen substantial declines. However, in the last two days of trading, all three have appreciated significantly: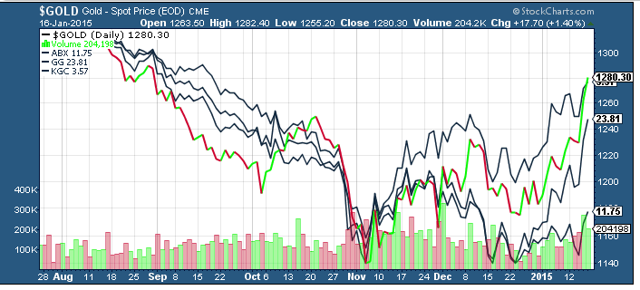 Source: Stockcharts.com
Barrick's stock has gone from a closing price on 1/14/2015 of $10.41 to a closing price on 1/16/2015 of $11.75, or a gain of nearly 13%.
Goldcorp's stock has gone from a closing price on 1/14/2015 of $20.50 to a closing price on 1/16/2015 of $23.81, or a gain of a little more than 16%.
Kinross Gold's stock has gone from a closing price on 1/14/2015 of $3.20 to a closing price on 1/16/2015 of $3.57, or a gain of about 11.5%.
Although other gold mining stocks have also risen, these three represent different strengths and weaknesses of gold mining companies and are good examples of how to consider long and short positions in this sector.
Barrick is the largest gold mining company in the world. Its strengths are that it has a diverse mining portfolio and extremely low gold productions costs, ranging from $880 to $920 per ounce. But it has many weaknesses, including management problems, costly failed investments, problems with large mining projects like Pascua-Lama, and has seen a series of recent downgrades. It has been unable to regain its share price from before the recent slide in gold and continues to face challenges. In spite of these challenges, Barrick's stock price has benefited from the recent rise in the price of gold. So, while a short-term position may prove profitable, any long-term position in the company is fraught with problems that investors should be aware of.
Goldcorp is another behemoth gold mining company that may end up being cash flow positive in 2015. Although it expects to record $2.3-$2.7 billion in impairment charges on its Cerro Negro mine in Argentina, it provides investors with a monthly dividend and has worked to improve its balance sheet. Even though its share price was brought down significantly by the slide in gold, its share price has managed to rebound substantially. On the whole, there are more positive factors for Goldcorp that make a long position in it more attractive than Barrick.
Kinross Gold is a medium-sized gold mining company that has been hurt by depressed gold prices. In Q3, Kinross Gold had an all-in sustaining cost of $919 per gold oz. sold. It recently completed the sale of the Fruta del Norte project in Ecuador for $240 million, which broke down to $150 million in cash and $90 million in shares of Lundin Gold. In addition, as of September 30, 2014, Kinross Gold had cash and cash equivalents of $835.9 million. It is working hard to cut costs and improve its balance sheet in an attempt to strengthen its long-term outlook. However, whereas Barrick and Goldcorp have more wiggle room when gold prices are depressed, Kinross Gold faces greater challenges to maintain profitability. As with other medium-sized producers, Kinross Gold is particularly vulnerable to low gold prices.
Each of these companies represent different types of gold mining companies and the challenges that they face. Barrick has a diverse portfolio, but faces a wide range of problems. Goldcorp has been more consistent than Barrick and continues to grow and improve its bottom line. Kinross Gold has faced serious hurdles and is working hard to fix its balance sheet.
Looking back at when gold was at an all-time high in 2011, Barrick shares traded as high as $54, Goldcorp nearly broke $55, and Kinross Gold traded at $16. Now, Barrick and Kinross Gold's share prices are down 75% from those lofty levels, while Goldcorp is down 55%.
With gold potentially continuing its rally this week, it is worth giving each of these companies - and other companies in the gold mining sector - a closer look.
European Central Bank's Decision
The big wildcard this week is the European Central Bank's quantitative easing program. The ECB is expected to act to fight deflation. The size and magnitude of its bond-buying program matters. If Mario Draghi, the ECB president, is able to pass a program of at least €500 billion worth of government bond purchases, or promise an open-ended commitment to purchase sovereign debt, this will help to reassure jittery investors and should help stabilize currency markets. But the market expectations are set for a high package and €500 billion may not be enough. As Scott Wren, senior equity strategist at Wells Fargo Investment Institute, recently explained:
"There's a huge amount of anticipation, and a lot of volatility around this ECB decision on Thursday. It'll be a combination of what they say they're going to do, and their intentions [are] after that. I think the ECB will act next week, and make some type of announcement. But the market is likely to be disappointed by the magnitude that the ECB initially says they're going to do, as the market would like to see a trillion.
It remains an open question how sharply the markets will react to the ECB's actions. If the ECB appears to be dragging its feet, this will send more investors towards gold. But if the package is large and ambitious enough, then the flight towards gold may taper. Hence, gold trading will remain volatile this week as investors wait to hear from the ECB.
Conclusion
Gold prices surged after Switzerland abandoned its currency cap. Call options rose five-fold on February gold futures at $1,300. While gold dropped 28% in 2013 and 1.5% in 2014, it has already jumped 8% this year. With the potential for continued appreciation this week as investors seek a safe haven, short-term traders should give gold mining companies a closer look. Long-term investors should be aware of the differences that exist amongst gold mining companies, as each has different strengths and weaknesses. Until the ECB announces the scope and scale of its quantitative easing program on Thursday, gold investors should expect continued volatility.
Disclosure: The author has no positions in any stocks mentioned, and no plans to initiate any positions within the next 72 hours.
The author wrote this article themselves, and it expresses their own opinions. The author is not receiving compensation for it (other than from Seeking Alpha). The author has no business relationship with any company whose stock is mentioned in this article.