If so which one should you choose? Are too many of them untested? Are there any that aren't volatile? These questions among many others that can be posed on the subject coupled with the traditionally taboo topic of Marijuana among investors make many Cannabis-related stocks seem unattractive for portfolio. But are there Cannabis-related stocks that are worthy of holding?
Here is a List of Three Cannabis Related Stocks that is worth taking a second look at:
1. CannaVest Corporation (CANV)
CANV provides a chance to invest in all of the major areas of the Cannabis Industry. Recently, the stock has stayed between $2.38 and $3.58 since August 18th 2014 proving its current stability when compared to its recently volatile past. CANV is a one of a kind stock in the Cannabis industry due to its omnipresence throughout different areas of the industry such as beauty products, pharmaceutical reach, certification program, and push for mainstream usage of hemp oil products. CANV specializes in five areas of the market through five subsidiaries that include:
CannaVest Laboratories: Which focuses on research and development of hemp oil for pharmaceutical and nutraceutical purposes.
U.S. Hemp Oil: Focused on marketing and distributing hemp-oil, protein, food and body products. In its description, it notes that it is determined on bringing media exposure to hemp seeds and its nutritional values and environmental benefits of growing industrial hemp.
PlusCBD™ Oil: The first universal standard for CBD quality control and assurance. PlusCBD™ assures customers that they are getting a safe, legal ingredient in products of tested companies.
Cibaderm™: Is a personal care line infused with Cibaderm's™ Hemp CBD Complex™. It is created with natural steam distilled botanicals.
Cibdex™: The first commercially available phytocannabinoid-rich hemp extract. (In accordance with FDA's Current Good Manufacturing Practices)
CANV: $2.86 opening 1/12 to an intraday $3.75 1/16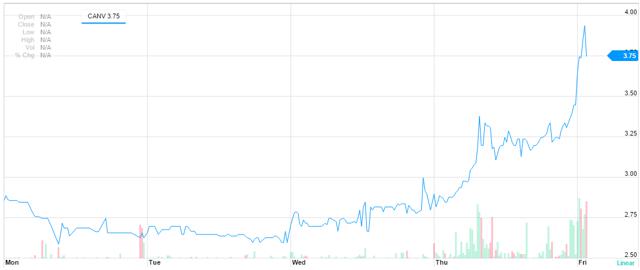 CANV shares have climbed from $2.50 a share on October 16th to $3.45 per share increasing 23.21% on January 15th 2015.
Although CANV is a volatile stock, its higher price compared to other cannabis-based penny stocks mitigates volatility risk.
This time last year CANV began its climb from ~$17.90 on December 20th 2013 to an intraday $201 on February 21st two months later.
It didn't take too long for the price to drop back down to $17.28 on May 29th.
2. United Cannabis Corporation (OTCQB:CNAB)
Unlike CANV, CNAB focuses on one area of the Cannabis industry. CNAB specializes in bio cannabinoid technologies. CNAB uses cannabinoid technologies for medical purposes. The CEO and CFO of CNAB began their experience in the medical marijuana industry in California and have been involved since 1999. Once medical marijuana became legal in Colorado in 2009, their focuses shifted to the new frontier. CNAB's Prana Bio Nutrient Medicinals and A.C.T. Now Programs have been used to treat upwards of 15,000 patients allowing CNAB to use those testimonials to further prove the viability and importance of the company. CNAB is comprised of five subsidiaries:
WeedMD: WeedMD may be its most unique affiliate. WeedMD has created 18 long-term care facilities, where it has become an expert in gerontology, and geriatrics. It sees medicinal marijuana as the newest means of providing quality services to seniors.
DNA Genetics: DNA Genetics focused on genome sequencing, and genetic mapping of very cannabis strains.
Emotek: Founded in 2012 with goals for safer extraction processing techniques. Based in Denver, Colorado, Emotek creates extraction units to create hemp oil from the marijuana plant.
T.H.E. Melts: T.H.E. Melts focuses on safe ways of condensing hemp oil using ice, water, and aggregation techniques.
Cannabinoid Research & Development (CRD): Based in one of the "weed capitals of the world" CRD's Jamaican headquarters focuses on bio medical research in development of marijuana for nutraceutical uses and is currently pursuing local licensing.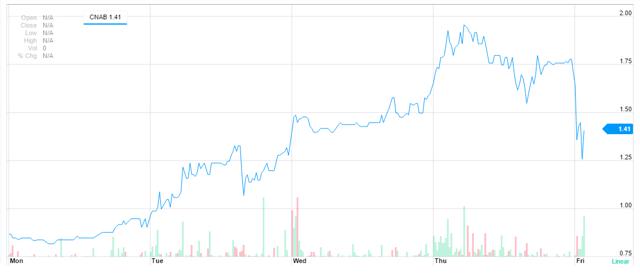 CNAB began a one week rally from $.70 per share on January 8th to $1.78 per share on January 15th a gain of 154%.
CNAB's 52-week change of 456% may not help its case for being a stable stock, but the growth compared to an S&P 500 52-week change of 8.37% reveals it as a rising star among penny stocks. The company also had a 4:1 split in its stock on March 24th 2014 from $16.20 a share on March 21st to $3.89 March 24th which has since declined to $1.78 per share.
Although CNAB tends to focus on one area of the medicinal marijuana industry, it has four major affiliates, Emotek, T.H.E. Melts, Cannabinoid Research and Development, and WeedMD.com.
3. Cannabis Sativa (OTCQB:CBDS)
With quite possibly the most interesting CEO in the medicinal Marijuana Industry, former New Mexico Governor Gary Johnson has transitioned from running for President in 2012 to running one of the fastest growing businesses in the Marijuana Industry. To add to its array of high profile staff is former U.S. Senator Mike Gravel (D-Alaska) who is the CEO of CBDS's KUSH and CBDS board member who develops and markets marijuana infused products. Aside from its high profile leadership, CBDS is comprised of two main subsidiaries:
Wild Earth Naturals: Wild Earth Naturals provides a wide array of skin care products infused with hemp-oil.
Hi Cannabis Lozenge: "Hi" for short is a marijuana edible in development. CEO of CBDS, Gov. Gary Johnson shares his enthusiasm for the product:
"Now that the truth is out about the positive effects of cannabis, the race is on to craft the best, most pleasing and reliable delivery system for its active ingredients. Hi offers a formulation no other edible cannabis product can equal."
CBDS: $7.30 opening 1/12 to an intraday $7.95 1/16
Conclusion:
All three stocks CBDS, CNAB, and CANV have seen a tremendous upward swing in the past week which certainly justifies giving attention towards the industry. The young companies still have tremendous growth that could be seen through many of their projects such as CBDS's "Hi" edible that has not yet come out as well as many research and development projects like those being done by CDR in Jamaica which will go into full swing once local licensing is obtained. Coupled with their involvement with various aspects of the Marijuana industry makes all three options more stable bets than other Marijuana-oriented penny stocks that tend to focus on one aspect of the industry. All three companies reported losses for nine months ended 2014 citing higher selling, general and administrative expenses than profits. Although they are incurring losses, the value in these high-risk stocks may be classified as deep value long term - purchasing all three, rather than a single one, can diversify your allocation to this sector, and allow you to have exposure to the industry which has dramatic upward potential.
Disclosure: The author has no positions in any stocks mentioned, and no plans to initiate any positions within the next 72 hours.
The author wrote this article themselves, and it expresses their own opinions. The author is not receiving compensation for it (other than from Seeking Alpha). The author has no business relationship with any company whose stock is mentioned in this article.
Editor's Note: This article discusses one or more securities that do not trade on a major U.S. exchange. Please be aware of the risks associated with these stocks.