The sovereign debt crisis with the PIIGS has caused European stocks plenty of stress over the past few months. However, the mess in Europe has created some high yield opportunities with growth upside. One of these is utility/waste management company Veolia Environment (VE). Veolia is a good buy due to a 6.99% dividend yield, growth potential in its water purification business, and that the stock is oversold based on both fundamental and technical analysis.
Veolia is the leading water purification company in the world. It specializes in providing clean water (an increasingly scarce resource in emerging economies as discussed here) in 66 countries, and demand for this service is booming as governments around the world have set water security as a priority. VE's Operations include: Management and operation of drinking water plants, wastewater decontamination and recycling plants, drinking water distribution networks, and wastewater collection networks. Other services include: Energy and waste management. However, the water business (35% of revenues) is the driver for an expected growth of 20% per year over the next five years.
Veolia's financials and technicals indicate that the stock is oversold. The stock is only trading 6% above book value versus the 48% industry average. Its PEG ratio is also low at 0.48 and its price to sales ratio is only at 0.26. Technically, the stock is trading near two support levels at 24.80 and 24.00 per share respectively. Veolia also is oversold based on moving averages and the relative strength indicator.
click on image to enlarge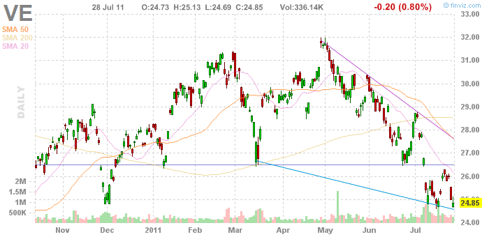 The main risk to Veolia is the weakening of the European economies. Despite large amounts of growth opportunities in Asia and Latin America, 67% of Veolia's revenues still come from European markets. Utility Companies tend to not have cyclical demand, but the continued weakness in Europe will drive the entire market down along with the euro/dollar exchange rate which will hurt investors.
Overall, Veolia is a good opportunity at these depressed prices. It pays a 7% yield, so hold the stock during these rocky times, and growth in its water purification system will improve the stock's long term performance. Also, once the PIIGS issue is either resolved or temporarily disappears from the news I expect that the company's stock will correct itself towards the upside.
Disclosure: I am long VE.