We already know about the bullish thesis on crude (NYSEARCA:USO) after it experienced a drop from >$100/barrel to less than $50 per barrel. It rests mainly on two angles:
The likelihood that we'll be getting less supply as capex (especially on shale) slows down. This is particularly true for shale wells since their production declines steeply and they thus require large ongoing drilling just to compensate for those declines. The drop in capex is already starting, along with a decrease in rig counts (though it's still early);
The likelihood that demand for crude will keep on increasing, namely because of increased demand from emerging countries, China chief amongst them.
What I haven't talked about as much, is that there's also a powerful bearish thesis. The main argument of this thesis is also backed by existing data and could easily delay the drop in supply which forms the backbone of the bullish thesis. That bearish thesis will be the subject of this article.
The main bearish thesis
So, what does the main bearish thesis on oil consist of? First a little background. EIA publishes a monthly report called "Drilling Productivity Report" which concentrates on seven different "key tight oil and shale gas regions". These regions are "key" because, as EIA says:
The seven regions analyzed in this report accounted for 95% of domestic oil production growth and all domestic natural gas production growth during 2011 - 13.
In other words, these shale regions are "all that matters" when it comes to supply growth in the U.S.
The regions are Bakken, Eagle Ford, Haynesville, Marcellus, Niobrara, Permian and Utica. Within these and for crude specifically, those that matter the most are the Bakken, Eagle Ford, Niobrara and Permian.
Rig productivity
Now, as the report's name already hints, there has been an ongoing trend worthy of notice. This trend is towards higher drilling rig productivity. Meaning, for each drilling rig deployed, we're getting more and more new production each month. In turn, this new production is allowing these regions to post higher and higher production in spite of significant drops in production from "legacy wells" (wells drilled in previous periods).
A quick glance at the 4 most relevant regions for crude bears this out clearly for oil: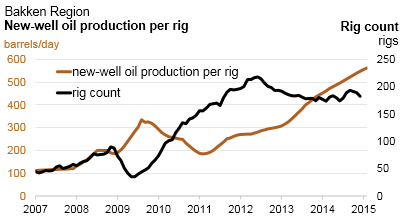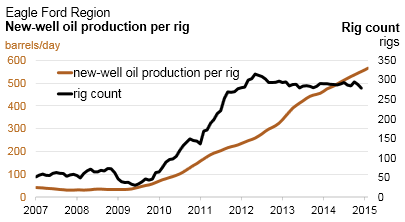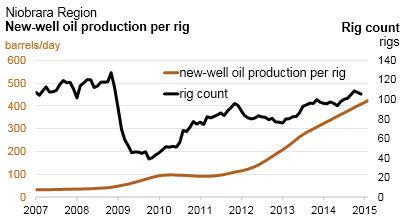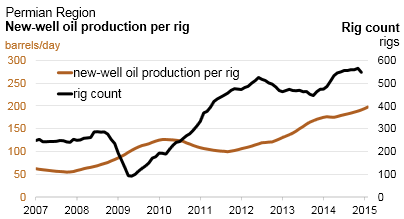 The powerful uptrend in rig productivity is pretty evident in all these regions. The number of barrels/day in new production added per rig is increasing mightily, with increases adding to 400%-500% or more since 2009. For context, an increase in rig productivity of a mere 100% would mean that for one to get the same production increase, one would need just half the rigs.
It's evident that if these increases continue unabated, a significant drop in rig numbers might not produce a significant drop in new production. This on the other hand can have bearish implications for crude prices. It can also have catastrophic implications for oil services companies (NYSEARCA:OIH) running/holding those rigs.
An exercise
Let us explain just how delayed the oil production drop can be. I will concentrate on the Eagle Ford region.
Eagle Ford had, as of December 2014, 279 rigs in operation. As per the EIA report's estimates, these will drill new wells able to increase production by 158,000 barrels/day in February 2015. This, in turn, will compensate a drop in legacy production of -133,000 barrels/day, leading to overall increased production of 25,000 barrels/day in February 2015.
For production in Eagle Ford to stop growing, how many rigs would have to be demobilized? Well, to just meet the 133,000 barrels/day production drop at the estimated 566 barrels/day February 2015 rig productivity, you'd need 235 rigs, versus the 279 you had in December 2014. So you'd have to "lose" just 44 rigs. This is hardly difficult - the rig count at Eagle Ford already dropped from 295 to 279 in just a couple of months (October to December), and the drop is likely to accelerate. I'd say that if current oil prices remain depressed, it will be just 3-4 months before this rig count drops enough to flatten Eagle Ford production - but that's if rig productivity stayed the same!
What if it keeps on growing?
From December 2013 to December 2014, rig productivity in the Eagle Ford went from 455 barrels/day to 551 barrels/day. If this increase in productivity keeps at the same (linear) pace, it will hit around 650 barrels/day by December 2015. At 650 barrels/day, instead of needing 235 rigs to keep production stable, you'd need just 205. And instead of needing 3-4 months for the rigs to go away, you'd need 5-6 or more.
In short
If rig productivity keeps going up, clearly the number of needed rigs to keep production from falling decreases rapidly. This in turn means that the already observable reduction in rig count would need to be much more severe and take much more time for it to lead to flattish, and then down, oil production.
This is the main bearish thesis for oil right now. Production will simply take longer to be contained due to increased productivity from existing rigs.
A counterpoint
The increased productivity being observed comes from many sources. Some have to do with the increase in experience by rig crews in what regards a new technology (shale wells). This type of improvement offers diminishing returns. This means that we should be seeing a slowing down of the productivity increase. While the productivity charts don't seem to bear it, one needs to understand that the scales on these charts are linear. Indeed, if we compare rig productivity with the situation 12 months earlier, we can already see that productivity gains are slowing down (Source: My own chart, based on EIA data):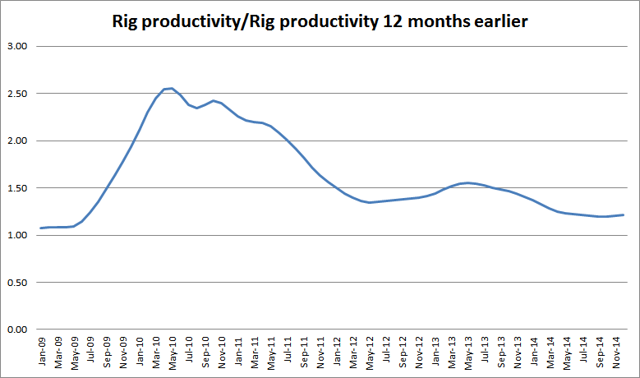 Some other sources for increased rig productivity, however, aren't so linear. They have to do with technology/production advances. Things like longer laterals, pad drilling or improved rig mobility (fully assembled rigs traveling from location to location, for instance). The technology advances are less linear and less predictable (though their deployment also offers diminishing returns as the new advances spread).
Finally, another variable in rig productivity can be the better understanding of the fields themselves. This leads to rigs concentrating on better prospects first and then moving to worse prospects. This gives a boost to rig productivity initially and then makes it harder later on.
Other possible bearish arguments
The shale revolution will go international
The same technologies being applied to shale deposits in the U.S. will be applied elsewhere. This will lead to production increases in many other places, thus negating much higher crude prices.
In my view, this is realistic to expect and is already happening, but it will lead to a lower cap on oil prices, not necessarily to lower prices than those already existing today.
Speculative positioning is still unfavorable
While oil prices took a large tumble and this was in part predictable (1)(2) because of the extremely bullish speculative positioning, the fact is that this long speculative positioning is not yet gone even though it has been reduced (Source: Barcharts.com)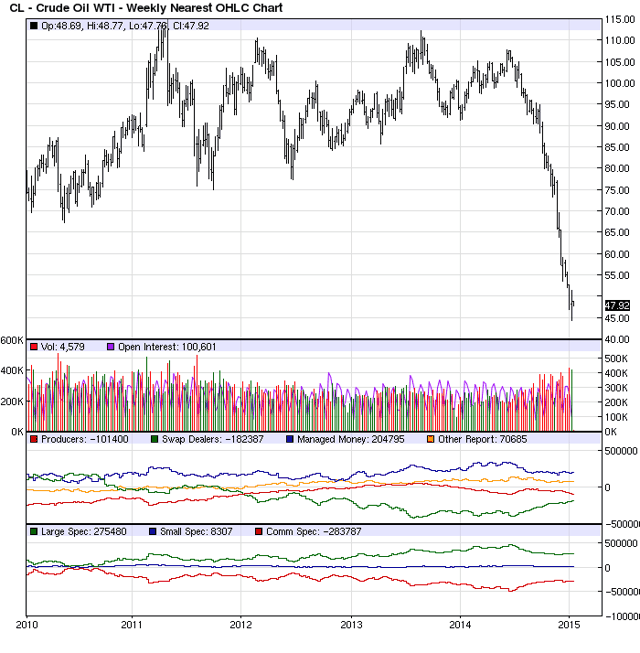 This, in turn, increases the chance that there's still some more "speculative puking" to happen. Indeed, at times is worrisome to contemplate just how many people seem to be trying to catch the crude bottom (me included).
Conclusion
There is one very valid bearish thesis regarding crude oil. It centers on a trend that's been ongoing, is borne by the data and has significant implications. This trend is the increase in rig productivity.
At the very least if this trend keeps up, it will be enough to delay the flattening of production growth and subsequent drop in production by several months. My own take is that production flatness will happen in H2 2015 so it already accounts for some productivity increase, but it's still important to recognize that rig productivity can have a substantial effect on the timing of any bullish thesis on crude, and thus delay things substantially.
Disclosure: The author has no positions in any stocks mentioned, and no plans to initiate any positions within the next 72 hours.
The author wrote this article themselves, and it expresses their own opinions. The author is not receiving compensation for it (other than from Seeking Alpha). The author has no business relationship with any company whose stock is mentioned in this article.
Additional disclosure: I have a long position in crude futures.