With the recent oil price crash and natural gas prices in a multi-year slump, it's worthwhile to take a look at natural gas prices in a historical context. After the twin bubbles of the 00's, natural gas has never fully recovered. Unlike oil prices, however, natural gas continues to sell at subdued levels historically.
The low prices are partly driven by technological advances that have reduced the costs of production. All the development from the previous boom has also helped keep supply high and prices low. Another factor for low gas prices has been the Shale Boom. With oil prices high, oil producers have been selling off natural gas for cheap, making the bulk of their profits on oil. Together, these factors help explain the 6-year bear market in natural gas.
Historically prices cannot tell us everything about a commodity, because conditions change in every market over time, but I do think they can provide some context about where we are in the cycle. Past history can also give us hints at the overall range for a particular commodity.
For this exercise, I'm interested primarily in real prices, as opposed to nominal prices. As such, I've used CPI to create inflation-adjusted natural gas prices using three different figures: Wellhead prices, Henry Hub spot prices, and City Gate prices.
The Historical Price Series
First up is the Henry Hub spot price. This data series runs from 1997 through 2014. Inflation-adjusted natural gas prices appear to still be at relatively low levels historically based on this series. The average Henry Hub spot price in that 18 year timeframe was $5.61 per Thousand Cubic Feet ["TCF"] when adjusted for inflation. As of November 2014, Henry Hub was about 27% below that at $4.12 per TCF.
All figures in US Dollars per Thousand Cubic Feet.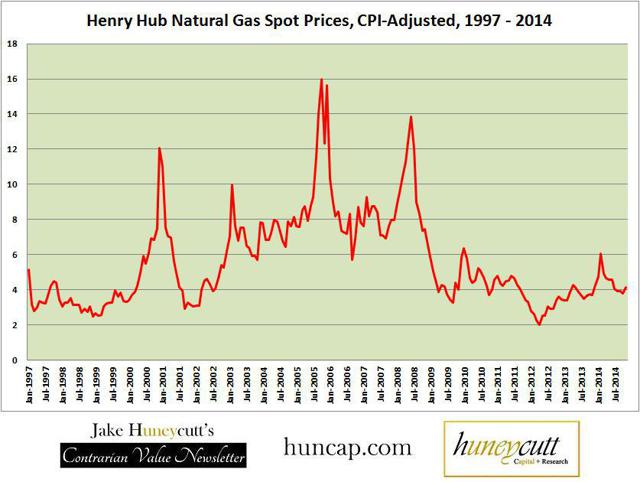 Next up is the City Gate price. This is the price paid by a natural gas utility when it receives the gas from a transmission pipeline. I chose this series because it goes back into the 1980's, making it one of the longest-running active metrics on natural gas prices. Based on the 32-year period running from 1983 - 2014, the average inflation-adjusted City Gate price was $6.51 per TCF. As of October 2014, the index stood at about 20% below that level at $5.16.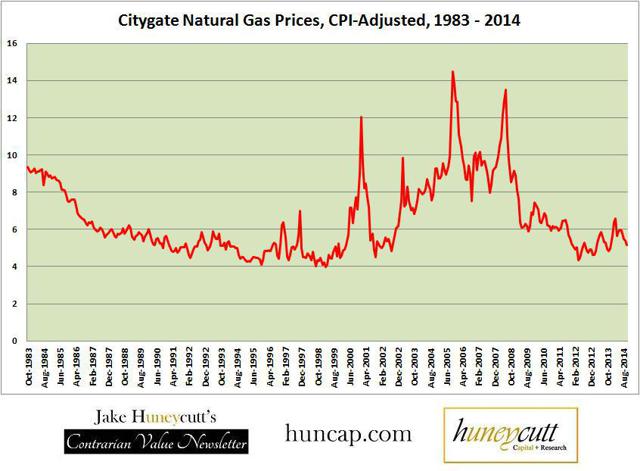 Finally, let's jump over to Wellhead price series. The one disadvantage to this data set is that it was discontinued at the end of 2012. However, I'm posting it here because it allows us to see prices all the way back to 1976.
The average inflation-adjusted price for the Wellhead series is $4.49 per TCF. I'd estimate that Wellhead price in November 2014 was probably in the $3.70 - $4.00 range, slightly below the long-term average.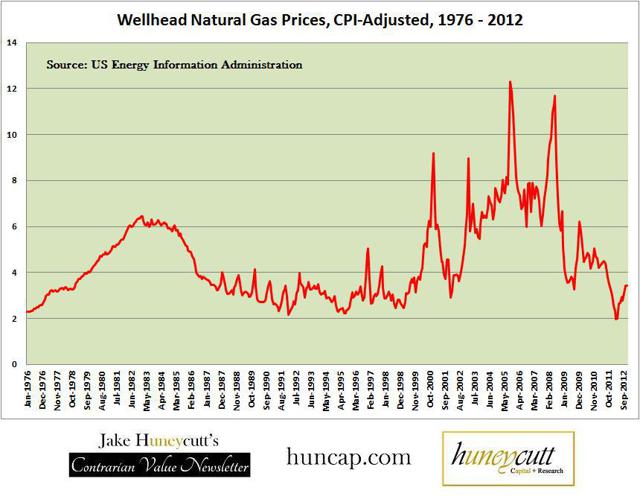 Overall from using these metrics, we can see that natural gas is selling 15% - 30% below historical inflation-adjusted levels.
Overall Synopsis
The historical price levels may not tell us the future, but they can give us a sense of where we are in the commodity cycle. From reading this data, we can see that natural gas has gone through long bull- and bear- markets. From 1976 till around 1985, natural gas was in a strong bull market. It then entered a bear market that lasted until roughly 1996. The period from 1996 till 2008 might be roughly classified as a "bull market", but it was filled with volatility and included several dramatic boom and bust periods.
From around late 2008 till the present day, the market for natural gas has been subdued. That means we're in about Year #7 of a natural gas bear market. Based on the information presented here, the historical bull and bear markets have tended to last 8-12 years, suggesting we're about mid- to mid-late cycle of the current bear market.
None of this guarantees that natural gas will be a good investment moving forward, but I do think natural gas focused producers, such as Devon (NYSE:DVN), Chesapeake (NYSE:CHK), Southwestern Energy (NYSE:SWN), and Range Resources (NYSE:RRC) could provide some value for long-term investors at some point in the future. Unfortunately, this comes with a huge caveat: many of the gas producers also jumped into the oil boom at the peak of the bubble and bad oil investments could hamper results for a few years. Nevertheless, it's a sector to keep an eye on, particularly if the prices become more attractive in the next 24 months as a result of the oil bust.
Disclosure: The author is long CHK.
The author wrote this article themselves, and it expresses their own opinions. The author is not receiving compensation for it (other than from Seeking Alpha). The author has no business relationship with any company whose stock is mentioned in this article.