We are definitely nearing a bottom on the market right now technically, but further issues with the debt ceiling could mean breaking some key support levels on the market and dropping through them. Improvements in the debt ceiling and a possible deal would be a rallying point (even if short-term), and at some point, these companies' earnings have to be reflected in stock prices as they have been quite strong across the board.
So here are several trading ideas given different market conditions that we think will make you money:
For upside plays or limited downside from here:
- Norfolk Southern (NYSE:NSC) - Norfolk Southern had amazing earnings for Q2 that showed record revenues and net income levels. The company, further, spoke very positively about the rest of the year, and we see this company moving towards $90 by the end of Q3. The company has barely budged though off its earnings as market conditions have made rallying hard and profit-taking strong. We believe coming out of a pullback, NSC could be a pretty strong company with good growth. As well, we see the downside limited as this company would have trouble crashing through pre-earnings levels. That is why we are a fan of buying some stocks on signs of a for-sure bottom as well as complementation with selling puts.
Position: Long Stock, Sep17 Bull Put Spread 72.50/67.50 (for income)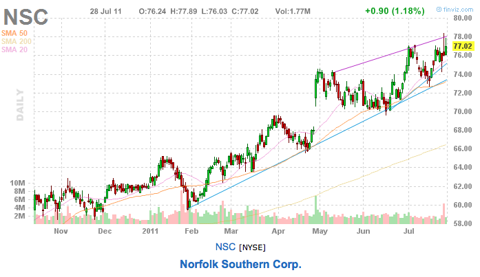 - Las Vegas Sands (NYSE:LVS) - The company pulled 55% in gross margin for their latest quarter, beat estimates, and showed great strength internationally. They look poised for a big run-up, but this market has held them in check so far. August is LVS' historically best month as they have had good Q2 results, and the summer month does them well. Moving into a month when the market may not look solid, LVS should be rewarded for their great earnings. We like them as a holding for August, and we believe that you can do a nice two-part trade with limited downside risk for them given their earnings.
Position: Long Stock, Aug20 Bull Put Spread 45/42 (for income)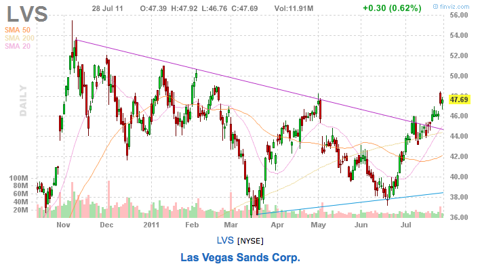 - Coinstar (NASDAQ:CSTR) - We like CSTR for a post-earnings play given historical results that show they make around 7% in the week after earnings with a 75%+ rate of moving up on an earnings beat. With a beat in AH on Thursday, CSTR may make a solid play because the market conditions may set up for them to have a curbed impact from earnings or even open neutral on more debt impasse. That will allow for a great opportunity on a company that has lots of upside. The company has been dropping on supposed issues at Redbox, but we still see them as the best rival for Netflix (NASDAQ:NFLX). Further, the recent developments in price hikes at NFLX is a buying point for CSTR, but they have been dropping since that news. We think CSTR is a great recovery play from this pullback, but the entry is key.
Position: Long Stock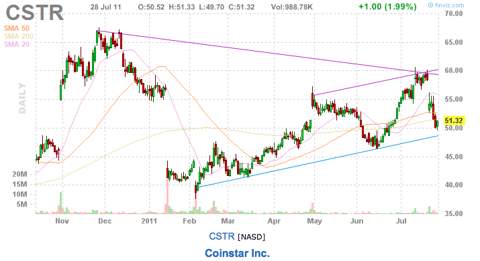 What About If This Is Just the Start of Something Major?
- Ultrapro Short QQQ (NASDAQ:SQQQ) - The Nasdaq has been drastically outperforming the Dow and S&P. Technology has been strong, and we agree that the valuations are definitely cheaper on tech, but a major pullback in the market would probably see a large drop in the QQQ that may outweigh the move in the other major indices. We believe that a great way to play this is through SQQQ. We are currently holding a $25/$31 Bull Call Spread, and we see this as a cheap but effective hedge on the market and can make you money on the way down.
Position: $25/$31 Bull Call Spread, Aug20 Expiration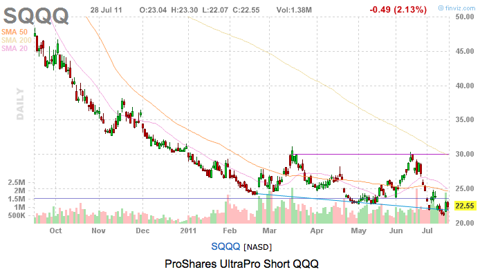 - Direxion Daily Financial Bear (NYSEARCA:FAZ) - The financials have been amazingly strong during this market pullback and earnings season, and while they were do for a recovery, we do not think the story has changed here. The companies are not growing revenue, they have major headwinds still ahead, and they are beating EPS estimates on write-offs, one-time charges, etc. The core business of these companies is weak, and we see them as being a leader in a major market correction if there was one on a debt crisis.
Position: Long ETF
Dollar Strength on a Deal Would Be Good for...
- Shorting Oil - We have been a fan of shorting oil throughout this entire crisis as a play off dollar strength on a done deal, but it has not made a major move yet as the deal has dragged on. We believe that shorting oil off a deal is a nice contrarian play. Rising inventories, coupled with a strong dollar, and attention to jobs issues would again draw down oil. We see a lot of headwinds for oil, but historically, it has been strong in August. The trade may be only be good for an initial push off the debt passage, but if oil breaks 94-95 range, it could be moving to 90 before more support is found.
Position: Best ways to do this is long SCO, short UCO, Bear Call Spreads on USO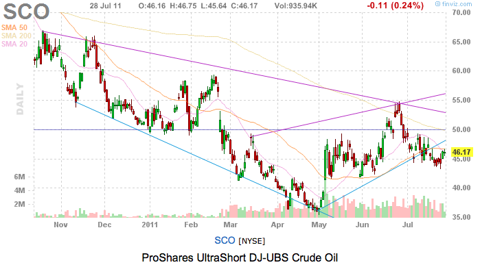 - Brazil - The country has been getting killed by the dollar strength as they are commodities based, and higher real is not good for Brazil. Dollar strength would be major relief for Brazil.
Position: Long EWZ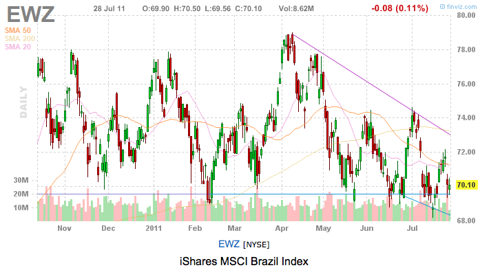 Disclosure: I am long SQQQ