Ancestry.com (NASDAQ:
ACOM
) reported solid second-quarter results Thursday that showed nice subscriber growth and impressive EBITDA margins. The firm raised its outlook for revenue and adjusted EBITDA in 2011, but held the line with its previous subscriber guidance, a move we think is conservative given the huge influx of subscribers in its first quarter. We think the firm has tremendous upside and we are retaining its current position in our
Best Ideas portfolio
. Subscriber growth of 28% from the same period a year ago fueled a 36% increase in the company's top line during the quarter. We were particularly impressed with the level of average monthly revenue per subscriber, which continues to move steadily upward. Churn did increase a bit during the period, but we think the uptick in churn is more a function of the substantial first-quarter subscriber growth than any impact from the economic situation, a view management reiterated on the call.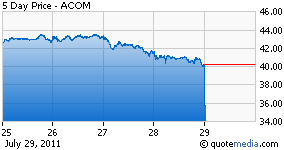 Impressively, the firm's adjusted EBITDA margin hit 37.9% in the quarter compared with 33.9% in the year-ago period. Management did caution, however, that these levels may not be reached again in the back half of the year due to a heightened focus on acquiring new content and ongoing marketing and advertising spend. Free cash flow nearly doubled from the same quarter a year ago, and we believe the firm to be significantly undervalued on the basis of
our DCF process
.
We think the firm may trade off following the second-quarter report, as management continues to be conservative with its 2011 subscriber growth forecast. We maintain, however, that consensus estimates for this year and next are too conservative and think performance will continue to be strong in the quarters ahead.
Disclosure: I am long ACOM.