Waste Management (NYSE:WM) posted poor second-quarter results Thursday and lowered its earnings outlook for the year on the expectation of weaker volumes. We have reduced our fair value estimate to $39 per share on the weaker volume outlook and slightly lower yield expectations.
Revenue jumped 6% thanks to higher commodity prices, improving recycling volumes and a modest improvement in pricing. The company noted that volumes hit "a soft patch" in May and June, but look to be improving modestly in July. However, it took down its full-year waste volume guidance to the range of -1.5% to -2.5%. Commentary regarding yields wasn't all that encouraging either, with the measure facing some pressure from large municipal contracts in Florida and the Gulf Coast.
See the full earnings call transcript
However, management suggested it will be raising prices through the course of the year, with the intention of hitting its yield target of 2% growth (it was 1.6% in the second quarter). We think this is achievable, but nonetheless below the firm's pricing potential.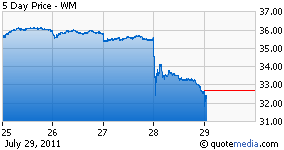 The rubbish handler's operating margin for the period was very disappointing, falling to 15.1% from 18.6% in the year-ago quarter, and we think the firm's cost-reduction and pricing actions will only modestly improve the metric in the remainder of 2011. Waste Management reduced its full-year earnings per share guidance to the range of $2.14 and $2.18 (was $2.24 to $2.30) and announced the acquisition of Oakleaf Global for $425 million, which may reflect a move to offset troubles in its core operations with respect to both volumes and yield. Oakleaf generated roughly $580 million in revenue, and Waste Management believes it can generate roughly $80 million in annualized EBITDA after a three-to-six month integration process. At 5.3 times EBITDA, we don't have too much concern regarding the purchase price.
All told, we have reduced our fair value estimate to $39 per share on this weaker outlook (was $43), but have added the name to our watch list. We'd be looking to add the firm to our Best Ideas portfolio should potential for capital appreciation exceed that of peer Republic (NYSE:RSG) or its dividend yield become too great to ignore. Our long-term view on the waste industry remains intact. Given the new risks highlighted in the firm's quarter, we'd now demand a mid-4% dividend yield on this name, however.
Disclosure: I have no positions in any stocks mentioned, and no plans to initiate any positions within the next 72 hours.