It does not bring me pleasure to expose frauds in China since I have invested too much of my personal time working in this space to simply leave it. But I've been sitting on this information for far too long, and no one has put this info out into the open yet.
In mid-May something fishy appeared on my Kingold Jewelry (OTC:KGJI) news feed, so I poked around the Chinese web until I found this webpage pictured below. This is a posting from the minority shareholder of KGJI's mainland subsidiary offering to sell its 4.1667% stake in the company (picture of the web posting - full posting shown in appendix )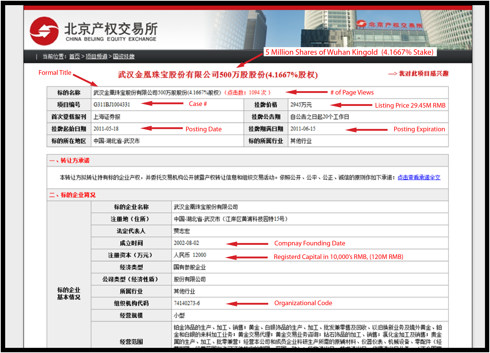 The posting ran from May 1 to June 15 at CBEX, and was taken down after June 15. As well, here is a Chinese news report from mid-May, clearly stating that Kingold's subsidiary has posted its shares for sale on the Beijing Equity Exchange.
(Clarification of Translation: This minority shareholder is listed in SEC filings as Beijing Shouchuang Investment Co. Ltd, (北京首创创业投资有限公司). According to Beijing Shouchuang's website, they use the English name "Beijing Capital Investment Co., Ltd." They are held by the Beijing Capital Group, ((北京首都创业集团有限公司) a state owned company with 68 billion in assets under management. This posting is listed by the Beijing Capital Group, which is whom will be referred to from hereon. Beijing Capital Group website can be found here. And here are Chinese articles from 2008 citing Beijing Shouchuang's investment in KGJI's mainland operating subsidiary here & here.
So I Dug Deeper
First Red Flag: The shares are being offered at a much lower price than the NASDAQ shares.
The selling price was much less than what the stock of the parent company was trading for on the Nasdaq. On May 18, Beijing Capital listed their 5M shares, representing 4.1667% of the operating company, for sale for 29.45M RMB. At a USD:RMB exchange of 1:6.53, that works out to $4.5M, or roughly $0.90 per share. Compared to the recent average price of around $1.80, this begs the question, Why? Why does the domestic partner want to get out? Why sell at a reduced price when the company is claiming that it's growing yearly?
Second Red Flag: The reported revenues and profits are much lower than what KGJI has filed with the SEC.
The annual revenue and income figures for KGJI reported by this minority shareholder are much less than what KGJI reported to the SEC. For instance, in KGJI's SEC-filed 10-K, they reported 523M USD in Net sales, but the numbers posted by Beijing Capital have KGJI's 2010 revenue at 389M USD. For 2010 Net income, the SEC 10K lists 19M USD, but Beijing Equity Exchange lists a net income of 9M USD for KGJI's operating subsidiary. Different fiscal accounting periods cannot explain the massive difference in net income.
Reported by Beijing Capital

KGJI filed with SEC

% Overstatement of SEC

Millions of RMB

Millions of USD

Millions of USD

Discrepancy

Revenue

2,539.8

389.5

523

34%

Operating Profit

78.8

12.0

31

158%

Net Profit

58.7

9.0

19

111%

Total Assets

353.3

54.2

84.3

56%

Total Equity

319.2

48.9

73.8

51%
The screen shot of the posting below shows the numbers' origins:

How Reliable Is This Information?
This information is listed on the China Beijing Equity Exchange, a government sanctioned exchange. The numbers reported here were audited by a local firm in Wuhan (武汉天立合伙会计师事务所). This subsidiary is the only source of revenue and profits for KGJI.
BJ Capital Group Ltd., is a large scale State-Owned-Enterprise affiliated to the State Owned Assets Supervision and Administration Commission of the Beijing Municipal Government. One would think, agencies affiliated with the government wouldn't report numbers on a government sanctioned exchange unless they were correct. Furthermore, what reason could they possibly have for reporting lower numbers when they're trying to sell their stake?
The information was exposed in broad daylight, with contact numbers which you can find on the posting. I reached out to the following parties hoping for some clarity and closure as to why these numbers are so different from the numbers reported to the SEC. Below is a summary of the run-around I was given:
Beijing Capital Case Representative, Cheng Ma 马赪 (ph: +86 010-58385566)

Q: These numbers are far below SEC numbers. A: Wow, really, that big of difference? Good luck with that…..
A month later I called to ask if they had found a buyer, Mr. Ma said they have, but he still cannot disclose the name yet as the transfer is not complete.
The auditor, Wuhan Tianli Partners Accounts 武汉天立合伙会计师事务所 (ph: +86 027-87257009).
They confirmed they have audited the said company, but would not speak any further without permission from Kingold. Needless to say, we could not get that permission.
Beijing Capital Case Manager, (refused-to-give-a-name) (+86 010 68964806)
Stonewalled. Kept assuring me the discrepancies don't concern them.
Beijing Equity Exchange case representative Zhao Xuan (ph:+86 010-66295566)
Wouldn't vouch for authenticity of the numbers, told me to contact Mr. Ma of Beijing Capital
What dumbfounds me was that was I trying to ask why they were seemingly low-balling themselves, by selling at lower revenue and profit levels. In other words, I wasn't accusing anyone above of any wrongdoing, just asking for confirmation. I get the impression that they do not want to add fuel to the fire which Mr. Jia Zhihong may soon be in. For Mr. Jia's sake, I hope this hunch is wrong, but in my experiences, if it looks like a fish, smells like a fish, and tastes like a fish, it's probably a fish.
Did KGJI Not Actually Reach Their Make-Good Target
Reported by Beijing Capital

KGJI's

2010 Make-Good Target

KGJI filed with SEC

Discrepancy

Net Profit)in USD Millions)

9

10.7

19

111%
The net income figure for 2010 posted by Beijing Capital is below KGJI's make-good target promised to private placement investors, and yet the SEC filed number is above the target. (Make-good target for 2010 was 70% of 100M RMB, or roughly $10.7M, see pg. 12 of 10-K)
What Are the Implications for KGJI's Stock Price?
Estimated Price Target for KGJI: $0.40-$0.50
On July 20, KGJI had a price of $1.82 per share with a P/E of 4.26 for $19M in reported net income. If you were to apply that 4.26 P/E to $9M net income, the market price would be roughly $0.86. However, given the potential loss of confidence, and the fear in the sector, I believe the P/E will also take a hit and sink to the lower ranks of the tarred and feather China RTO stocks. With that in mind, I believe a market price between $0.40 to $0.50 is a reasonable estimate. Given the supporting information I have presented and more supporting evidence to be released shortly in the second half of this report, I believe this chart lays out some probable scenarios for KGJI's stock price.
Investor Reaction

Net Income USD

Market Sentiment

Resulting P/E

Resulting Stock Price

Rationale

Uniformed or

In Denial

(SEC Filed #'s)

19

Disregards all new info in this report

Current 4.26

$1.75

Dismissive of new information presented.

Cautiously Optimistic

(Mainland Subsidiaries Reported)

9

"KGJI may be deceptive, but

this should 'blow over'"

(Maintained)4.26

$0.86

Still believe company can overcome tarnished reputation.

Reasonable Middle Ground

(Mainland Subsidiaries

Reported)

9

Confidence Compromised

&

Concern of Litigation

(Halved)

2.13

$0.43

Price seems to reflect new relevant info & new perceived risks.

Doomsday Scenario

(Mainland Subsidiaries

Reported)

9

Fear of Stock Halting and/or Delisting

(Destroyed)

<1.0

Illiquid, possibly move to pink sheets

The sky is falling.
I don't doubt that Kingold does have an underlying functioning business operating in China. What I question is the validity of their reported numbers. On May 2, the Chairman of Kingold wrote an open letter to shareholders trumpeting improved transparency asking anyone whom had interest in seeing Kingold's domestic filings to access them through the CFO Bin Liu. While the letter's intent was comforting, in actuality the local Wuhan gov't had put in place unusual measures to block standard third-party access to KGJI's SAIC filings. Whether or not KGJI is responsible for these roadblocks, having Bin Liu present the tax filings seems a little like the fox guarding the hen house.
Conclusion
KGJI was able to complete a $23 million financing in January of 2011 based on what appear to be incorrect financial statements filed with the SEC. (The financing was done at such a seemingly 'low' valuation that an independent director resigned in protest.) It would also appear that the make-good targets outlined in the December 2009 financing were not achieved. It would now seem that significant litigation risk exists, as prior investors did not receive what they were legally due, and that the investors who participated in the $23 million financing in January of this year, were materially mislead about the financial performance of the company. While the company should be able to withstand these legal headaches, it will be interesting to see how sternly the SEC handles this given the recent negative media attention to RTOs. Most importantly, if KGJI is ever going to restore confidence with investors, KGJI must go to great lengths to explain Beijing Capital's actions this past May.
Appendix
Kingold's 10-K filing can be accessed here.
Chart of Chinese and English Business names translations:
Entity

English Name

Chinese Characters

Chinese Phonetics ('ping-ying")

Web Links

4.17% owner of equity interest in Wuhan Kingold (as listed in 10-K)

Beijing Shouchuang Investment Co. Ltd, /

Beijing Capital Investment Co. Ltd.

北京首创创业投资有限公司

Beijing Shouchuang Chuangye Touzi Youxian Gongsi

4.17% owner of equity interest in Wuhan Kingold as listed on Beijing Equity Exchange (technically the holding company of the fund listed in KGJI's 10-K)

Beijing Capital Group

北京首都创业集团有限公司

Beijing Shoudu Chuangye Jituan Youxian Gongsi

Official: http://www.bjcapital.com/

Overview: http://baike.baidu.com/view/108134.htm

Domestic Auditing firm

Wuhan Tianli Partners Accounting Firm

Wuhan Tianli Hehuo Kuaijishi Shiwusuo

Listing: http://4692400.71ab.com/

2nd: Listing http://www.71ab.com/view_4692400.html

Kingold Jewelry Inc's mainland subsidiary. The subject of the VIE Contracts.

Wuhan Kingod Co., Ltd.

Wuhan Jinhuang Zhubao Gufen Youxian Gongsi

Chinese Site:http://kingold.com.cn/

(Western Site for KGJI:http://www.kingoldjewelry.com/s/History.asp)

Exchange where this 4.17% stake in the subsidiary is listed for sale

China Beijing Equity Exchange

北京产权交易所

Beijing Chanquan Jiaoyisuo

Official: http://www.cbex.com.cn

2nd link

Kingold Founder

Zhihong Jia

Jia Zhihong

Kingold GM

Bin Zhao

Zhao Bin
Clarification that this posting is for KGJI's subsidiary:
Both Beijing Capital's posting and KGJI's 10-K list Wuhan Kingold's date of incorporation as: August 2 2002.
Both Beijing Capital's posting and KGJI's S-1 list the original registered capital of of Wuhan Kingold as 120M RMB.
Both Beijing Capital's posting and KGJI's 10-K both list the same shareholder numbers for Jia Zhihong, Zhao Bin & Beijing Capital all match up with KGJI's 10-K filing.
From the 10-K: Wuhan Kingoldis 55.31% owned by Zhihong Jia, our founder, chairman and chief executive officer, 1.67% owned by Bin Zhao, our general manager and director, 4.17% owned by Beijing Shouchuang Investment Co. Ltd., a PRC state owned enterprise, with the balance of 38.85% owned by a total of 44 other shareholders, who are all PRC citizens. All of Wuhan Kingold's shareholders, other than Beijing Shouchuang Investment Co. Ltd., have entered into the VIE agreements (source: 10-K page 13).
From Beijing Capital's post on the Beijing Equity Exchange:
| | | |
| --- | --- | --- |
| No. | Wuahn Kingold Top Ten Shareholders | Stake |
| 1 | Jia Zhihong | 55.3054% |
| 2 | Tianjin Fortune wealth equity investment fund center (limited partnership) | 10.7292% |
| 3 | Beijing Capital Group Ltd. / Beijing Shouchuang Investment Co., Ltd.) | 4.1667% |
| 4 | Dai Garden | 3.3333% |
| 5 | TANG Po | 3.3333% |
| 6 | Shenzhen, Dong Fang Anying invested enterprises (limited partnership) | 2.6042% |
| 7 | Yellow River | 2.5% |
| 8 | Shenzhen Venture Capital Management Co., Ltd. Huayang St. | 2.3438% |
| 9 | Zhao | 2.0833% |
| 10 | Zhao Bin | 1.6667% |
The Beijing Capital Offering Its 4.1667% Holding on the China Beijing Equity Exchange
The Original Beijing Capital Posting was here (http://www.cbex.com.cn/G3/2011010285.shtml) and was taken down after it's June 15 expiry. Here is a link to picture of the full webpage: http://i.imgur.com/Ps8AV.png.
This report can also be downloaded here.
Disclosure: I am short OTC:KGJI.
Additional disclosure: I work as an analyst for a fund that is short OTC:KGJI.