In one of my recent articles, I had opined that China's equity market rally is not sustainable and investors need to avoid the broad Chinese index in 2015. As I write this article, Chinese equities are down by 6.3% and I believe that bearish sentiments will continue for China in the near-term and also in 2015.
The reason for the carnage in today's market has been driven by margin trading suspension in China in order to prevent more speculative traders from entering the market.
According to an article from Bloomberg -
Chinese brokerages' shares plunged after the securities regulator suspended three of the biggest firms from adding margin-finance and securities lending accounts for three months following rule violations... Regulators may have been concerned that stock gains, partly driven by margin financing, are too rapid... The regulators are doing this to cool down the stock market...
There are several important points to note here -
First, the Chinese authorities are themselves concerned about the abnormal rise in Chinese equities when economic fundamentals are getting worse.
Second, the unintended consequences of easy money is clear and the abnormal surge in equities shows that policymakers can only create liquidity, but have no control over where liquidity flows.
Third, a three month ban on big trading firms and regulator's eye on speculation implies that the rally driven by liquidity is likely to be over and the focus will be back on fundamentals.
Therefore, my view is that the speculation driven rally in Chinese equities is over. However, my concern is that easy money flows from one asset class to another and there can be a potential bubble or liquidity excess in some other sector of the economy following the check on equity rally.
The point I want to make here is that lowering interest rates or further QE is certainly not going to work for China. It will be more damaging for the financial sector in the medium to long-term.
Coming to the real economic fundamentals, the key growth indicators for China remain depressed and are an indication of the point that the economy is still under meaningful stress.
The chart below gives the producer price index for the industrial sector and the negative trend in PPI have been accelerating in the recent past.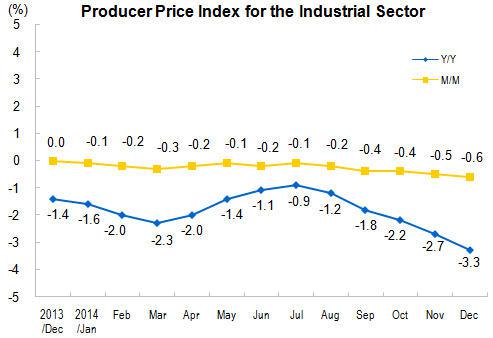 The second chart below gives the monthly growth rate of revenue from businesses and total profits. While revenue and profits growth still remains positive, a sharp decline continues for profitability growth while revenue growth is also witnessing a gradual decline.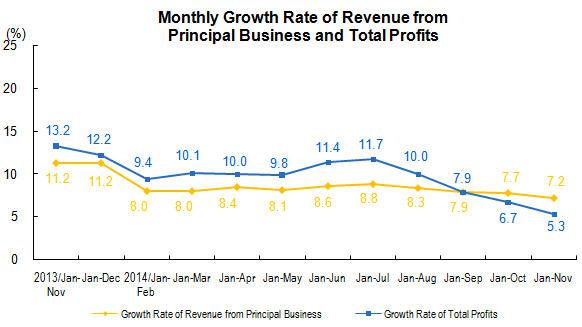 In addition to these gloomy indicators, the official PMI for China was at 50.1 for December 2014 and I believe that China's manufacturing sector is certainly in a recession considering the point that the government published numbers always look relatively better.
Amidst the gloom in the manufacturing sector, I must add here that China's non-manufacturing PMI (seasonally adjusted) has been trading higher gradually and this is a positive from a long-term perspective.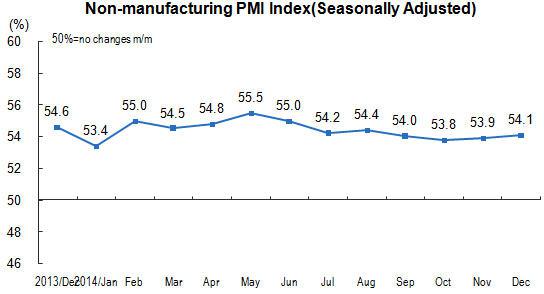 However, the overall sentiment related to the economy remains bearish and the key concern for policymakers will be the unintended consequences of easy money. This is particularly true at a time when China's banking sector is witnessing an increase in NPAs.
From an investment perspective, my view is that investors need to avoid all ETFs that have high exposure to the financial, real estate sector or industrial sector.
The SPDR S&P China ETF (NYSEARCA:GXC) has 33.23% allocation to the financial sector and 8.2% allocation to the industrials sector. A high allocation to the financial sector makes this ETF undesirable in current market conditions.
The iShares MSCI China ETF (NYSEARCA:MCHI) is also worth avoiding as the ETFs top 10 holdings have around 26% exposure to the financial sector. With the ban of margin trading, brokerage firms will be impacted and if excessive speculation continues across sectors with easy money, the banking sector will take a hit.
China Real Estate ETF (NYSEARCA:TAO) is also worth avoiding with 94.2% exposure to the real estate market in China. As mentioned earlier in the article, easy money can still create excesses in the real-estate sector and with a weak economy; it is unlikely that strong real-estate sector growth will come in 2015.
In conclusion, China equities are likely to have a difficult and volatile 2015. With other attractive markets such as US equities (NYSEARCA:SPY) and the Indian markets (among emerging markets), it would be best to stay away from China.
Disclosure: The author has no positions in any stocks mentioned, and no plans to initiate any positions within the next 72 hours.
The author wrote this article themselves, and it expresses their own opinions. The author is not receiving compensation for it (other than from Seeking Alpha). The author has no business relationship with any company whose stock is mentioned in this article.