Energy prices are once again under pressure after the International Monetary Fund, or IMF) revealed that they were cutting their growth forecast for global growth in 2015. The IMF also called for governments and central bankers to be more accommodative in order to spur growth, but traders are latching onto the idea of lower growth and equating that to lower demand growth for oil.
The precious metals continue their rally, with gold and platinum leading the way and silver following. Those bullish of precious metals have been emboldened, especially those based out of Europe and Asia where weakness in currencies have been helping fuel gains.
Chart of the Day:
Natural gas is getting crushed today, with prices falling over 8% on the session. It will be a week before cold weather hits the east coast and southeast, so this is probably not a trade readers should just jump into.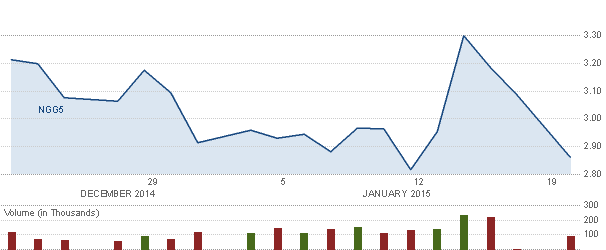 Source: CNBC
Commodity prices are as follows (at time of submission):
Gold: $1,293.40/ounce, up by $16.50/ounce
Silver: $17.97/ounce, up by $0.22/ounce
Oil: $46.78/barrel, down by $1.91/barrel
RBOB Gas: $1.3389/gallon, down by $0.0199/gallon
Natural Gas: $2.857/MMbtu, down by $0.27/MMbtu
Copper: $2.5715/pound, down by $0.045/pound
Platinum: $1,284.00/ounce, up by $14.60/ounce
JP Morgan's China Call Looks Good
Barron's ran an article online over the weekend that JP Morgan recently went bearish of Chinese oil names, including CNOOC (NYSE:CEO), PetroChina (NYSE:PTR) and Sinopec (NYSE:SNP). The firm actually updated their ratings for each company, moving CNOOC from a 'Hold' to a 'Sell', PetroChina from a 'Buy' to a 'Hold' and keeping Sinopec as a 'Hold'. With investors questioning when China's growth will finally pick back up, it seems reasonable to believe that energy names will lag unless a major stimulus package is announced that could help work through the surplus in global energy supplies.
The fact that this call was made in advance of China's moves against certain financial firms which resulted in margin being reigned in is more luck than skill, but as they always say, "it is better to be lucky than good."
Investment In Russia
In a rather interesting move, Schlumberger (NYSE:SLB) is set to invest $1.7 billion for a minority stake in a Russian energy services company. The Russian company, Eurasia Drilling Company, is the largest onshore service company in Russia and will delist its shares from the London Stock Exchange as part of this transaction. With the purchase of this 45.6% stake, Eurasia has granted Schlumberger a window in which it can purchase the remainder of the company.
This transaction raises some eyebrows due to the sanctions imposed by the West on Russia, which include the transfer of intellectual property and joint ventures in the energy sector. In the current environment this seems a rather large risk, but long-term this could provide Schlumberger with new prospects for growth, even if they simply maintain their minority stake.
Halliburton Beats
In another surprising beat within the oil services industry, Halliburton (NYSE:HAL) reported adjust EPS of $1.19 on revenue of $8.77 billion. The EPS figured beat the analyst consensus of $1.10/share, however overall revenue just missed the $8.78 billion that analysts were looking for. The company also said that it is moving forward with its merger with Baker Hughes (BHI) and that there would be thousands of job cuts as the companies look at trimming costs.
Disclosure: The author has no positions in any stocks mentioned, and no plans to initiate any positions within the next 72 hours.
The author wrote this article themselves, and it expresses their own opinions. The author is not receiving compensation for it (other than from Seeking Alpha). The author has no business relationship with any company whose stock is mentioned in this article.